Since tires are often seen as a grudge purchase, it only makes sense to sweeten the deal for consumers with promotions and rebates.
Although their approach changes from year to year, Yves Richard, Senior Director Products and Pricing for Fountain Tire Ltd., notes that they try to ensure it's easy for customers to claim the manufacturer rebate, while layering on an instant rebate when possible.
"Whether we're selling through the website, over the phone or in person, we make it very clear what they'll see on the invoice," explains Richard. The promotion or rebate will depend on the product line being featured. There are a variety of instant rebates throughout the year, the strongest of which are in play early in changeover season. The rebate can take a range of formats, from percentage discounted to a dollar amount.
Instant rebates are the most effective, since the customer can partake in savings immediately. With manufacturer rebates, the customer usually receives something like a prepaid credit card. "Manufacturer rebates are definitely a consideration, but customers prefer to see savings on the invoice," says Richard.
Scratch and save
Fountain Tire has also offered scratch and save promotions, where the customer can win an opportunity to win a discount or a prize. During a specific local event, a grand opening, or a customer appreciation event, there might be giveaways. And there have been coupons for service, that customers can take advantage of when they require it.
Promotions and rebates are marketed through traditional media, point of sale, and social media. "We still invest in traditional media such as radio and television," explains Richard. "The proportion of our spend that is going towards social media and pre-roll ads (video ads that play just before a feature video on i.e. YouTube),  has increased year over year for the past several years."
All Fountain Tire locations have a local marketing fund, and some stores have created loyalty cards for local businesses. "We encourage our stores to interact with local businesses for many reasons," says Richard. "It's good for business, whether it's a business that needs automotive service or tires or not—they're still people and they still drive cars. If relationships are built, it could mean more customer opportunities."
Fountain Tire has supported an organization called "Grow Calgary," an urban community farm that supplies fresh produce for social agencies in Calgary. When the farm started having trouble with their vehicle, and lacked funds to support a repair or replacement, the community jumped in. "We had a group of stores in Calgary band together to take care of the vehicle, bring it back to working condition and beyond, and then had a presentation to the organization," describes Richard. "It was very impressive."
Community engagement
Local involvement is key to the Fountain Tire model of ownership, since there are local owners in the vast majority of their stores. "It ensures we have someone in the community, that's engaged in that community, that's also invested in running a successful store," notes Richard.
For Michael Coggins, Co-owner of eight OK Tire locations in Nova Scotia and New Brunswick, it's important to offer promotions and rebates at the same time. Manufacturers usually offer rebates of about $100 to $150 on a set of tires. He often gets customers coming in on a budget, and looking for a Tier 3 entry level set of tires, which don't offer rebates. "But a better set of tires will have a rebate for $100 or $120," explains Coggins. "Then, we can put them in a better set of tires, since the rebate will off-set the price difference."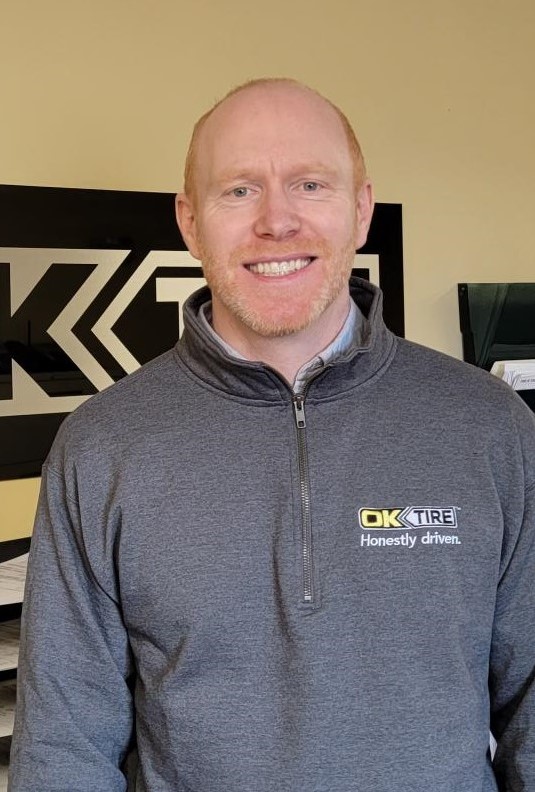 Promotions work well, especially at tire changeover season. "Tires are an expensive purchase, so if you want to draw customers in, you have to provide value," declares Coggins. His OK stores have tire sales at certain times of the year, before the season, to provide a better discount. He gets the word out through social media and customers will come in early to get the better price. It allows him to free up some inventory right away.
Giveaways and raffles are always successful – people like to win! "We put those on Facebook and do a 'like and share' program," notes Coggins. "People like to win a free alignment, a battery pack, or even a free set of tires. "It gives people a great price and attracts a lot of business to our Facebook site, where they can see all the other rebates we have."
Advertising
Coggins also does traditional media, with radio advertising and coupons. "People are looking for deals," he explains. "You have to get the word out." With mail-in rebates, people have to wait for the rebate, or sometimes, even forget to mail them in. With promotions, they get something up front.
Over at Point S Action Tire in Barrie, owner Dustin Kellar believes in providing promotions and rebates all the time, but especially in changeover season. His most popular promotion is the free installation offered on certain brands at certain periods througout the season. "In the spring and fall, we'll have a couple of weeks where we do free installation on Michelin or Goodrich," he says. "This year we tried free installation on Pirelli. That really motivates people, it's our best promotion of the year."
Kellar also provides an early bird tire storage discount. He stores 400 sets of tires at one Barrie location, and another 400 at his other Barrie location. If customers come in the last couple of weeks of September or the first couple of weeks in October, they get a discount on storage. "The idea is to get our customers get their tires on early enough that when the snow does fly, you don't have a logjam of customers," he explains.
Giveaways
Also, Point S works hard with manufacturers to develop attractive incentives exclusive to their stores. The company does radio, billboard, bus and television advertising. Kellar markets online, using keywords and SEO, and recently hired a social media marketing manager.
Action Tire also does free giveaways online, supporting the Barrie Colts, a local hockey team. For every single home game, they give away two tickets and a parking pass, which gets impressive engagement online.
"We've done a lot with our marketing efforts and leveraging the current customers we have," explains Kellar. "We get a lot of referrals, and have had decent success during this time, where others may not have."