Traditionally, if a tire was designed to advance performance in one area, it often meant a compromise in others…
Vehicle OEMs are currently looking to maximize fuel efficiency as much as possible, yet customers want traction and handling. Since tires are the only part of the vehicle that's directly connected to the road surface, engineering them to excel in these different areas is no small feat.
To help understand the chemistry involved in making a tire that's able to advance in these different areas, Smithers hosted a webinar series delving into what's behind so-called green tire technology.
Smithers explained how it's evolved and what's required to develop a tire that not only provides good dry and wet weather traction but also minimizes tread wear and boasts low rolling resistance to help maximize fuel economy. The so-called "green" tire is aimed at high-efficiency vehicles such as hybrids.
Performance without sacrifice
Presented by Christine Domer, General Manager of Akron Labs and Smithers Tire Analysis Reports, as well as Dr. Walter Waddell, an Independent Consultant for Smithers, the webinar delved fairly deep into "green" tire chemistry. It provided an understanding of the compounds required to manufacture tires that advance the performance envelope without significantly sacrificing the traditional issues of tread wear and rolling resistance.
What's interesting is that while we've got a focus on fuel economy and "green" low rolling resistance tires over the last few years, the technology is nothing new.
In fact, the origins of this technology go back more than 30 years, when Michelin looked at silica-filled tread technology to improve tire performance and lower rolling resistance. In 1993, Michelin was granted U.S. patent 5,227,425 for manufacturing silica-filled tire treads and this patent built upon research the company had already conducted in Europe, experimenting with highly dispersible silica or HDS.
Significant leap
Christine Domer noted that a key advancement in developing green tire technology via HDS was switching from traditional carbon black compounds used in tire construction to silica-filled treads resulted in a significant leap in tire performance and capability.
Using a Tread Formulations Table for reference, Domer referred to different tread designs:
T signifying traditional carbon black,
C signifying conventional silica
S with HDS (Highly Dispersible silica)
N (which used a new patented polymer created by Michelin)
I (an invention which features a new patented polymer—patented silica with a reinforcing agent and reduced aromatic oil content to improve tread wear).
Referencing the Tread Formulations Table, Domer said that all these different tread formulations were mixed at tire plants and used to manufacture 175/70R13 tires with the only difference being the tread formulation.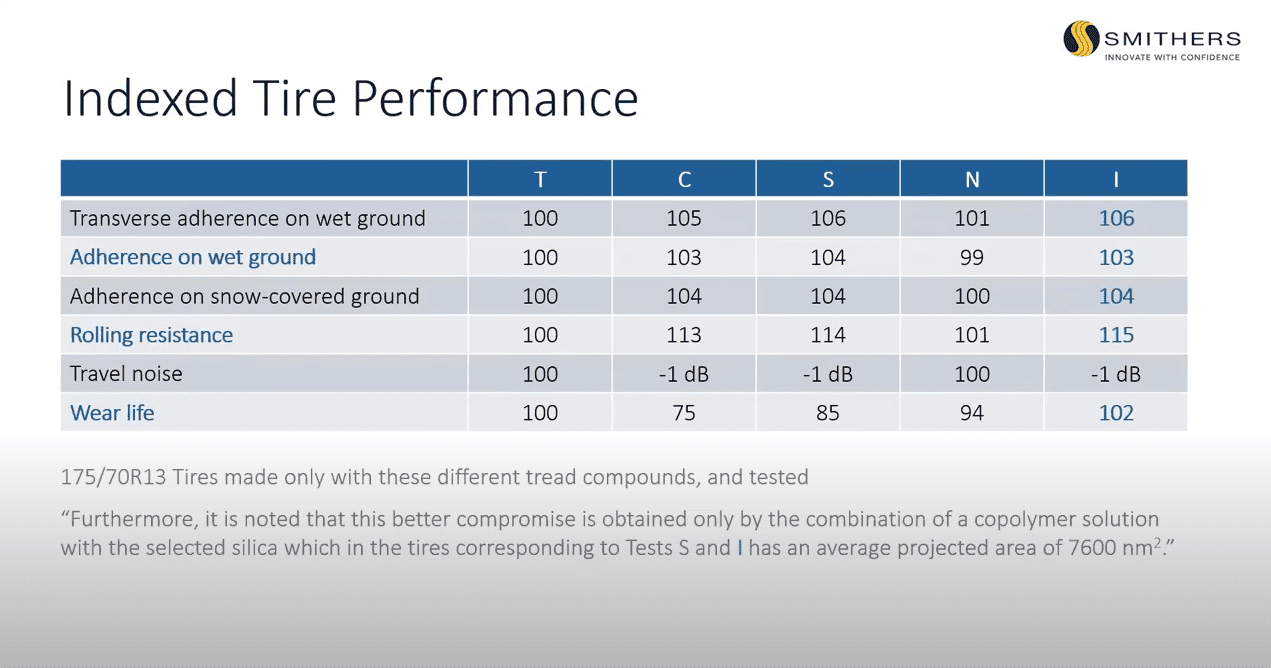 The results from testing were very interesting. With T used as the traditional yardstick for tire performance, shifting from carbon black to conventional silica (C) saw an improvement in wet weather and snow traction, as well as a significant improvement in rolling resistance over T.
The highly dispersed silica-based tread (S variant) saw that traction and rolling resistance were very similar to T, but tread wear life was improved. Moving to N, which contained the new patented polymer, performance parameters including wet weather traction and rolling resistance were marginally inferior to C and S but tread wear was improved slightly.
Improved in all areas
For I (the Invention or "green" tire) which basically incorporated the silica tread technology we see in tires today, the performance was significantly improved in all areas, including wet and snow traction, rolling resistance and tread wear.
The significance of this silica tread technology cannot be understated, since it has allowed tire manufacturers to produce tread designs that can advance both vehicle performance and fuel economy, whereas previously, focusing on one envelope (such as performance and grip) meant creating a tire that tended to wear much faster and offered greater rolling resistance.
Yet, with OEMs and regulators continually focused on achieving greater fuel economy and safety, there's been a push for tire manufacturers to come up with compounds that can provide solid wet weather traction and lower rolling resistance. Meaning, modern tires can provide a better all-around performance and less compromise than those available a generation ago thanks to advances in compound technology and formulation.
Christine Domer noted that with a modern set of rolling resistance tires, fuel economy on a typical passenger vehicle can improve by as much as 10-15 percent.
"It is very important that we continue to find ways to reduce that rolling resistance, especially as the world continues to consume 85 to 100 million barrels of oil per day."