Dynamic Tire is reintroducing the Triangle brand to the TBR market in Canada.
If you're looking for a cost-effective tire brand that can supply you with the vast majority of your tire needs, then take a closer look at the Triangle tire brand. Available in Canada exclusively from Dynamic Tire, Triangle offers a unique mix of affordability, quality, flexibility and availability.
Dynamic Tire has a long history with the Triangle brand. Their 20-year relation-ship with Triangle is based on the quality and dependability of the Triangle brand. Now, Dynamic is relaunching the Triangle brand here in Canada.
Founded in 1976, Triangle is one of the largest tire manufacturers in the world. Listed on the Shanghai Stock Exchange, Triangle has more than 8,000 employees working at four manufacturing plants in China, and two R&D Centres—located in China and the USA. Triangle is well established in the global market, selling into 170 countries around the world.
To supply product to all those custom-ers, Triangle produces tires on a massive scale. Their current annual production is roughly 20 million PLT units, 4 million TBR units, and 0.4 million OTR units. But to keep up with demand, the company is expanding production plans to 30 million PLT, 7 million TBR, and 0.5 million OTR.
Triangle is trusted in the industry with a number of major OEMs depending on the brand to supply them with OE tires in PCR, TBR & OTR. Most importantly, Triangle has passed Dynamic Tire's stringent requirements, which means that if Dynamic Tire trusts Triangle's quality, so can you.
"When we pick a factory to partner with, our technical staff helps that factory reach the level of quality assurance that we have set as a benchmark internally," says Ron Dolan, President, Dynamic Tire. "We won't do business with any factory that does not meet our criteria. There are many potential sup-pliers that we have simply refused to do business with because they have not met our standards."
The Triangle advantage
What sets Triangle apart from other Tier 3 suppliers is their commitment to quality and to the customer. Their class-leading 3-point warranty on TBR tires includes a road hazard component, along with a 30-day no hassle trial, and a three retread guarantee.
Triangle makes tires for all segments of the tire industry, with full lines available for PLT, ST, TBR and OTR. With factory direct shipping, tire retailers can order a mix of any of the above, which makes it easier for retailers to build loads. "This is pretty unique in the industry," says Darrin Bossence, VP Sales, Dynamic Tire.
Inventory is another benefit of dealing with Triangle. Quite simply, the company has a large in-house inventory, and lead times are typically 45 days, as opposed to 90, which is the industry norm.
"Most factories in China produce to order," Bossence explains, "whereas Triangle actually has massive inventories they can draw from to fill orders." In addition, Dynamic Tire carries significant stock here in Canada, which means tire retailers who carry the Triangle brand will never be left stranded waiting for a specific tire in a specific size to become available for a customer.
Advanced factory & facilities
Another key factor that sets Triangle apart from much of the competition is the fact that their tires are manufactured in facilities that are highly automated with machines and robots doing most of the work—and the less human workers, the less room for human error. "It's a highly technologically-advanced facility," Bossence explains. "Very few people work there, and everything is automated."
Their climate-controlled facility is used to warehouse casings, keeping them on hand for quick turnaround when orders roll in. "They're kept in a climate-controlled warehouse so they don't start curing," Bossence adds.
Supply and demand
If you're working with customers who need TBR products, three tires in the Triangle lineup can help you cover most of your customers' needs: TRD97, TRD01 and TR663.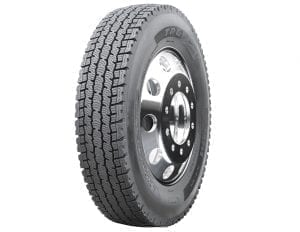 The TRD97 is a Super Regional drive tire, ideal for regional trucks, line-haul trucks, coach buses and delivery trucks. It's suitable for both regional and line-haul applications, hence the designation of "Super Regional."
A truly versatile over-the-road drive tire, the TRD97 is designed to deliver great traction on both dry and slippery roads, without compromise to tread life. Deep 26/32 inch tread design coupled with extensive siping across the tread face and wide open shoulders ensure maximum contact for all-weather traction, while providing excellent tread wear.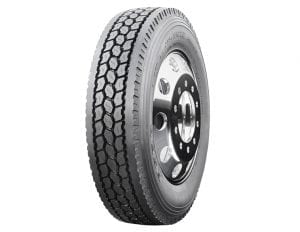 The TRD01 features a special com-pound for better traction, and thanks to TMS low-temperature mixing technology it also offers high mileage, while an optimized carcass cross-section design assures high durability.
Finally, the TR663 is for regional trucks, dump trucks, garbage trucks, ready mix trucks, delivery trucks, multi-axle trailers and dump trailers. This is a heavy duty mixed service all-position tire designed for on and off road applications.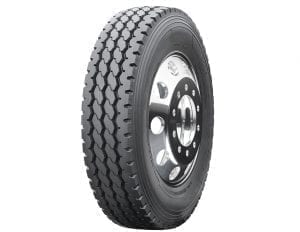 The TR663 features a deep 22/32 inch tread depth to provide traction and ex-tended tread life for many applications. Solid shoulders deliver stability in all positions, while a wide footprint resists uneven wear.
Ticks all the boxes
Triangle offers a quality product at a Tier 3 price, with a Tier 1 warranty. The company stocks massive quantities of tires, which means you can order the mix you want and expect delivery in half the time of the industry norm.
Their advanced and highly-automated facilities pump out millions of tires a year for customers all over the world, and in Canada, Triangle is distributed exclusively through Dynamic Tire, a company that sets very high standards for its suppliers. If you're in the TBR market, take a closer look at what Triangle has to offer.