The idea that electric vehicles require virtually no maintenance is one of the most recent myths circulating in the automotive industry.
"Obviously, there are no brakes, suspension or steering components, or even tires on electric vehicles," laughs Wilson Almeida, Training Director at the Vast-Auto Academy. "Electric vehicles have proven their reliability, but that said, they have mechanical parts, their share of accessories and complex systems that require some love. For example, the air conditioning system that keeps passengers comfortable is also essential for maintaining the battery's performance, and requires careful and rigorous monitoring."
As this expert points out, consumers need to erase from their minds the idea that they won't have to carry out any maintenance on their new-generation vehicle. He adds that the maintenance guide and the maintenance and repair platforms, whether Mitchell or ALLDATA, will tell the technical advisor what preventive work needs to be done. "You have to carry out maintenance on EVs, but it's different from what a mechanic is used to doing on petrol vehicles. I'd stress that it takes training to understand the particular needs of EVs, to know how to diagnose them and how to meet them."
Different and complex interviews
The expert adds that each family of EV has its own particularities, requiring different maintenance sequences. "And part of preventive maintenance is based on road conditions or driving habits. Our roads put a lot of strain on the suspension and steering components of these particularly heavy vehicles, and the brakes of a driver who systematically uses electric regenerative braking are going to require maintenance if we don't want them to rust into place."
At Bumper to Bumper, training specialist Billy Thomas points out that electric motorists are particularly sensitive to issues of autonomy. "Everything to do with regenerative braking or the optimum condition of the battery is of prime importance to them," says Mr Thomas. "We can also talk about the importance of lubricating parts, because that too affects range. Similarly, it's essential to check the pressure in the tires. The whole heat exchange system is at the heart of electric vehicle operation, and technicians need to be trained to diagnose it and work on it safely and efficiently."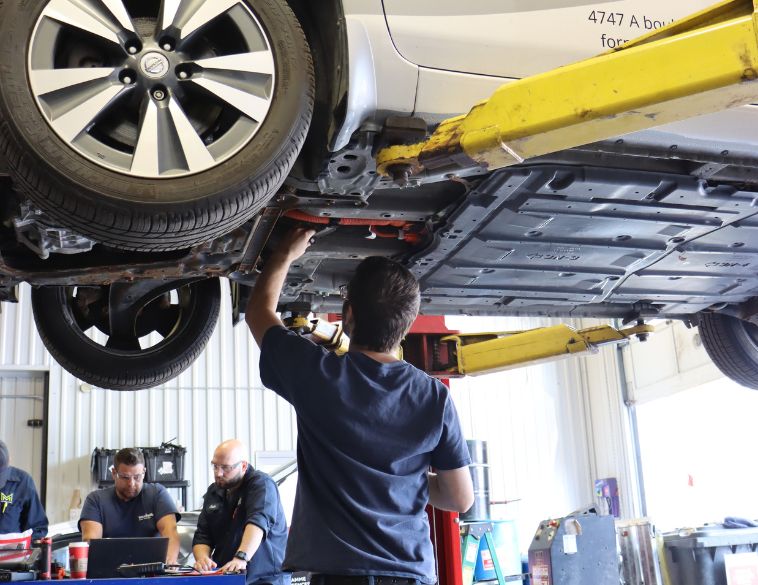 Diagnosis and repair
He also stresses the importance of training, especially if the workshop aims to one day work on high-voltage batteries. "On these cars, there are so many things to diagnose, from charging efficiency to faulty cells in the battery on top of everything else!"
Thomas also reminds us that whether a car is electric or not, it needs good windscreen wipers and working headlights. Things that are often overlooked during inspections. "Not to mention the tires," he adds. "You need specific tires to cope with the extra load and high traction of these cars. The maintenance guide also indicates the recommended permutations to ensure even wear."
"Often," says the trainer, "the electric car will require more maintenance than the replacement of parts." However, the time spent on these interviews is often equivalent to the hourly rate charged for electronic diagnostics.
"The world of electric transport is making training compulsory," he insists. "Aftermarket workshops that don't invest will gradually see their market shrink."
Several systems work together on these cars. Yves Racette, Development Manager for NAPA's NexDrive programme, illustrates this point by saying that incomplete or slow recharging can be caused by a coolant that has lost its effectiveness and is no longer able to protect the battery adequately.
Parts in a bad way
"We see vehicles arriving in our workshops with many parts designed to be lighter and therefore less resistant," he continues. "A common problem with ageing EVs is wear and tear on steering and suspension parts, which are exposed to our road and climate conditions and have to cope with considerable weight. We mustn't forget the coolants, which are the lifeblood of electric vehicles. Replacing them in accordance with the rules of the trade at the prescribed intervals with specific products represents a significant amount of money."
For Mr Racette and his colleagues, there is no doubt that demand from electric motorists for maintenance services from independent workshops will accelerate, and that these services will be profitable for the workshops. "Of course there are new developments, and you have to be trained to be able to work on these vehicles," explains the manager. "Workshops need to update themselves, as they have done historically, as soon as carmakers introduce new technologies, whether electronic fuel injection or ABS brakes, for example. The market is moving towards this, and there will be a gradual learning curve."