Recently we saw the new Carquest/Worldpac warehouse officially opened in the Caledon area! Many were on hand to watch this positive event and take a tour of the immense warehouse built with expansion in mind.
Currently, this is the largest aftermarket auto parts warehouse in Canada!
Bob Cushing, Executive Vice President of Professional Business for Advance Auto, Carquest and Worldpac welcomed all to the 580,000 sq. ft. facility. It is located in Bolton, Ontario at 8399 George Bolton Parkway. He also explained that in building it, the companies had three goals—safety, efficiency and accuracy.
Servicing the Canadian market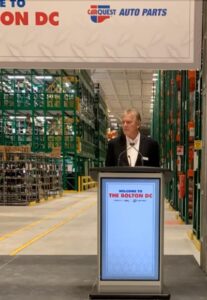 The new facility certainly has the capacity of storing the vast array of automotive parts—they have the ability to carry 350,000 SKUs—needed for the current Canadian import and domestic vehicles thus bringing great strength to the marketplace. As Cushing said, "It's all about serving the Canadian market!" And Robert Speranza, Senior V.P. Professional Business, Advance Auto Parts stated, "We chose this area because it's a dynamic market and we believe there's potential here." Much of the workforce at the WD comes from the surrounding area. Two hundred Team Members are employed at the DC over the span of five shifts each day as well as overnight shifts.
In addition to Advance Auto, Carquest and Worldpac members, two special people were on hand to help with the ribbon cutting namely Annette Groves, Mayor of Caledon and Sylvia Jones, MPP, Deputy Premier of Ontario. Both dignitaries presented Awards to Carquest for their participation in the community. Carquest has already been hard at work in the Caledon area with their specific charities—Breakfast for Kids, and Coats for Kids and will continue to help in any way they can.
An impressive structure
Touring the facility was extremely interesting… seeing the processes from start to finish was amazing. It has a four-level pick tower (the Big Green Monster) that is one of two to be built for expansion. Sixty-five percent of Carquest's outbound volume comes from this Green Monster! We learned that 1,600 items can be packed and shipped per hour by the eight Team Members who pick there. All product is received and picked using handheld RF scanners for accuracy. The Pallet Pick and Flow Rack Pick Rate is designed for their high-velocity SKU and two Team Members pick that area at the rate of 1,000 pieces per hour!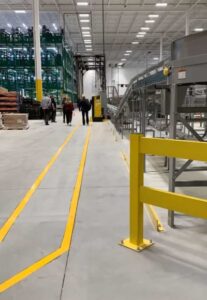 The conveyor system is awesome—it takes just eight minutes from the time the item is put on the conveyor belt—now on its lowest setting but three times faster than the old system—for it to get to the shipping lanes. In addition, this belt has the capacity to process ten times faster than the old system and can be reversed! Walking in the facility has been minimalized; the pick rate is up to 850 units per hour and of course, the warehouse services independent customers as well as corporate Worldpac and Carquest stores—they have what is wanted! Carquest and Worldpac work as one, sharing the network by putting their buying power together.
All in all, it was a very auspicious day for Advance Auto Parts and their Canadian Carquest/Worldpac organization as they brought everyone together and much strength to the marketplace. This state-of-the-art warehouse is extremely impressive.