Designed for ease of use and navigation, plus efficient communication with customers these platforms are essential for today's independent service providers.
Finding the right shop management software (SMS) solution isn't always easy for aftermarket service providers. Firstly, they need to have a solution that's tailored to their specific requirements, offering a range of functions that offer ease of use, navigation and functionality for staff, vendors and customers. These include features such as robust CRM, parts cataloguing, and repair information. A good SMS also needs to incorporate the ability to easily upgrade and scale. This is something that leading providers of SMS to the auto care sector clearly understand in creating solutions designed to work with an individual shop's particular requirements. Here we highlight a range of high-quality options currently available in the aftermarket space.
Epicor
Epicor provides a suite of solutions aimed at service providers. These include Epicor Service CRM which incorporates best-in-class Epicor technologies to help shops attract and retain customers, recapture lost customers, generate more revenue per vehicle, and maximize their presence on social media and online. In 2022, Epicor further enhanced Service CRM by adding a mobile app that enables shop staff to connect with Service CRM and customers through their own handheld devices. Service CRM includes a comprehensive and time-saving marketing campaign management suite; OBD4 dashboard with KPI data panels that allow users to track key data including customer responses; Frequency reporting that allows shops to track their performance and prioritize marketing with actionable reporting; plus, a Mtexting feature that enables shops to send repair estimates, along with photos, to get faster approval from end customers.
The shop can also send service reminders, special offers, notifications that the customer's car is ready for pick up, and other communications that add value to the relationship. Shops can use this feature to encourage customers to post positive reviews on Google and other sites.
Epicor also provides other solutions for service providers, including its Integrated Service Estimator, Epicor PartExpert replacement parts eCatalog; and SideKick360 SideKick360 solution, which features a "Maintenance Hunter" feature that tracks unaddressed service needs on each vehicle based on OEM service intervals as well as the shop's own custom parameters.
GEM-CAR
Since 2001, GEM-CAR has been offering its complete shop management software solution for the automotive aftermarket. Based in Montreal, Que., GEM-CAR takes a unique approach to SMS by incorporating an easy-to-use and navigate solutions platform that incorporates a whole raft of functions to help service centres save time, increase sales, boost customer loyalty, and streamline operations.
GEM-CAR was designed to help service centres to boost profitability by selling more labour per technician, as well as scheduling maintenance appointments, sending email reminders—the ability to communicate fast and effectively with customers via text as well as allowing shops to diversify business by providing additional software modules for car rental, glass repair, tires, fleet management, rust proofing and more. GEM-CAR also provides fast, efficient solutions for managing inventory, including reduced turnover, faster and more streamlined core and return management, as well as paperless document and signature functions.
GEM-CAR recently launched its Software as a Service Version 15 interface, which features cloud-hosted solutions for customers, including updated Point of Sale and scheduling functions.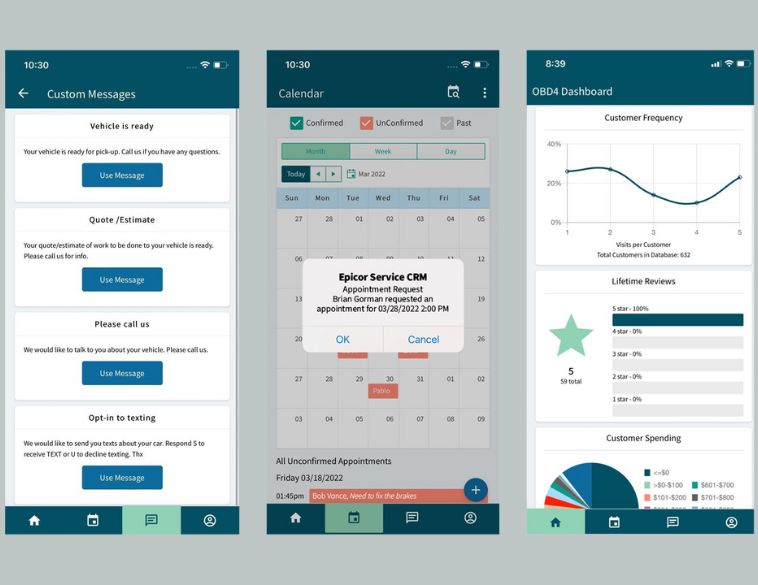 VL Communications
First introduced in 2007, AB Magique, available from VL Communications, is a "turnkey" Shop Management Software solution that's designed to cover every aspect of service centre operations in order to drive success and profitability. Featuring an MDI interface with programs such as MS Word and Excel, AB Magique provides a complete, simple-to-use management solution for service shops. A high level of functionality within the platform allows employees to set appointments and consistently prepare accurate estimates and invoices.
AB Magique also enables staff to order parts from suppliers and verify vendor prices online, as well as send estimates or purchase orders via the Internet. Additionally, integrated accounting allows the monitoring of statistics in real time. AB Magique also integrates with the catalogues and e-commerce websites of major auto parts distributors such as NAPA, CARQUEST, and Uni-Select, as well as providing SMS texting to shop customers notifying them of repair completion and when their vehicle is ready for collection. A new 2023.007 update for AB Magique, includes compatibility with the multi-store functionality of the NAPA ProLink e-commerce platform that enables verification and parts transfers from multiple store locations via the same interface. AB Magique can also create new suppliers automatically if they are not part of the existing supplier database. The email function also now features a Message ID feature designed to improve the visibility of emails for intended customers.