The ultimate in performance and protection for today's engines.
Since 2011, automakers have been under growing pressure to boost fuel economy and reduce emissions, driven by government regulations, including stringent standards for Corporate Average Fuel Economy (CAFE).
One way of doing this is by developing smaller displacement engines while utilizing power adders—typically turbochargers to maintain or improve upon performance of larger displacement six and eight-cylinder engines. Additionally, technologies such as Gasoline Direct Injection (GDI), where the fuel is injected directly into the cylinder, as well as tighter tolerances are all designed to further improve fuel economy. All this results in relatively small, fast spinning engines that generate significant amounts of heat. As a result, good lubrication and protection is more critical than ever to maximize both performance and engine life.
As fuel economy standards continue to tighten, and ever lower viscosity oils are required, lubricant manufacturers have responded with new and innovative products designed for the ultimate in protection, performance, longevity and efficiency.
Castrol EDGE with Fluid Titanium Technology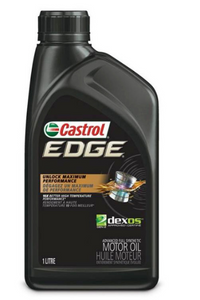 Available through Wakefield Canada, Castrol EDGE with Fluid Titanium Technology, represents the ultimate in maximum engine performance, sludge and wear protection. Castrol EDGE has been specifically designed to withstand the stress and friction placed on modern, high output, small-displacement engines and provides 10 times more temperature performance than the current industry standard. Additionally, Castrol EDGE transforms its structure under pressure. This enables it to keep metal surfaces apart from each other to reduce friction, while maximizing engine performance. Castrol EDGE has also proven to deliver six times the wear protection required by the latest Sequence IVA test limits. It also has the strength to maintain this unsurpassed level of engine protection for an extended drain cycle of up to 16,000 km between oil changes. In 0W grades, Castrol EDGE also improves fuel economy and is recognized as a Carbon Neutral product in meeting a range of API and industry classifications.
Castrol EDGE Extended Performance, which offers the same high-performance qualities, 30% improved oil film strength and extended drain intervals (32,000 km between oil changes), plus the ultra-high performance Castrol EDGE Euro Car designed for modern super cars, are also available through Wakefield Canada, providing service centres and their customers with the ultimate in fully-synthetic engine protection and performance.
KLONDIKE 0W-20 dexos1 Full Synthetic Engine Oil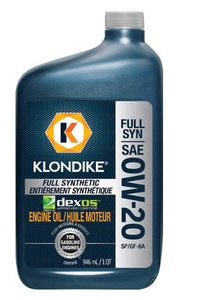 This fully synthetic engine oil is API SP/GF-6A certified and is a premium quality multi-grade lubricant designed to maximize engine protection and deliver superior fuel economy, even under extreme driving conditions. Formulated using top-tier synthetic base oils, along with advanced additive technology, KLONDIKE 0W-20 dexos1 is designed for optimum engine protection. By utilizing fully-synthetic base oils, it provides robust resistance to high temperature oxidation thickening and superior cold-flow performance. This enables KLONDIKE 0W-20 dexos1 to outperform conventional motor oils, reduce friction and wear during start up, as well as providing protection against sludge and varnish deposits which can rob engines of power.
Recommended for use in passenger cars, light trucks, SUVs and other mobile and stationary engine applications, KLONDIKE 0W-20 dexos1 meets or exceeds requirements for all engines specifying SAE 0W-20 grade oils and API SP/GF-6A Standards. Having undergone rigorous testing, KLONDIKE 0W-20 dexos1 is also OEM certified by General Motors, for use in all engines specifying GM dexos1 approved motor oil in the specific 0W-20 viscosity grade.
Pennzoil Ultra Platinum Full Synthetic Motor Oil
Made from natural gas, Pennzoil Ultra Platinum Full Synthetic motor oil is designed to withstand the toughest operating conditions. Utilizing Pennzoil's PurePlus Technology, a revolutionary process that converts natural gas into a 99.5% pure base oil, the result—when combined with high performance additives—is a motor oil that delivers total protection without compromise under both normal and extreme driving conditions, including stop-and-go, regular short trips, heavy loads, unpaved roads and dusty conditions.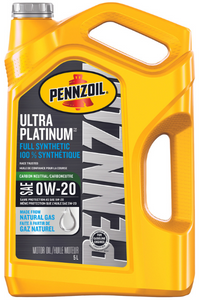 Pennzoil Ultra Platinum keeps pistons up to 65% cleaner than the toughest industry standards, as well as providing unsurpassed friction wear protection. Pennzoil Ultra Platinum also enables better fuel economy and superior performance and protection under both extreme low and high temperature conditions.
Recommended by Hennessy Performance and also utilized in Chrysler Group SRT high-performance vehicle engines, Pennzoil Platinum Ultra meets API SN, SM, SL and SJ industry standards, as well as ACEA A1/B1-10, A1/B1-12 (SAE 0W-20, SAE 5W-20, SAE 5W-30, SAE 10W-30*) and ILSAC GF-5 requirements.
It also meets OEM requirements for: Chrysler MS-6395 (SAE 0W-20, SAE 5W-20, SAE 5W-30, SAE 10W-30); Chrysler MS12633 (SRT) (SAE 0W-40); GM dexos1 Certification (SAE 0W-20, SAE 5W-20, SAE 5W-30); GM 4718M (Corvette and Cadillac) (SAE 5W-30, SAE 10W-30); GM 6094M (SAE 5W-20, SAE 5W-30, SAE 10W-30); Ford WSS-M2C930-A and WSS-M2C945-A (SAE 5W-20); Ford WSS-M2C929-A and WSS-M2C946-A (SAE 5W-30); Ford WSS-M2C947-A (SAE 0W-20) and Honda/Acura HTO-06 (SAE 5W-30)
*Engine protection only