From monitoring airflow to controlling exhaust gas, these sensors still perform a critical role.
Almost every aspect of modern vehicle operation is governed by sensors. From tire pressures to wheel speed, steering angle, collision alerts, speed control, braking, stability, and powertrain, optimal sensor operation is critical to maintaining factory vehicle performance and safety. In this product showcase, we'll take a look at powertrain sensors, which monitor engine performance and operation. First gaining widespread use in the mid-1980s with the mass adoption of electronic fuel injection, today these components still perform a critical role, from measuring airflow, to manifold pressure, to exhaust gas levels and temperature. Here we take a look at some of the options available through the traditional automotive aftermarket.  
Bosch Exhaust Gas Temperature Sensors
Bosch Automotive Aftermarket offers a range of sensors designed to help late-model vehicles comply with emissions requirements. All are integrated with the vehicle's OBD II software and can be quickly identified and checked using a diagnostic tester. Bosch's exhaust-gas temperature sensors can be installed at different locations within the exhaust duct of both diesel and gasoline engines. They measure exhaust gas temperature and send an electric voltage signal to the vehicle's engine control unit (ECU). In diesel engines, these exhaust-gas temperature sensors monitor the temperature of the particle filter. As a result, they significantly contribute to compliance with emission limit values and fuel efficiency. In gasoline engines, exhaust-gas temperature sensors are used to protect critical components such as catalytic converters and turbochargers found on many modern light-duty vehicles. Since July 2020, the Bosch Automotive Aftermarket range of sensors designed for use by service centres consists of some 90 SKUs covering most European vehicle brands.
Continental Engine Management Sensors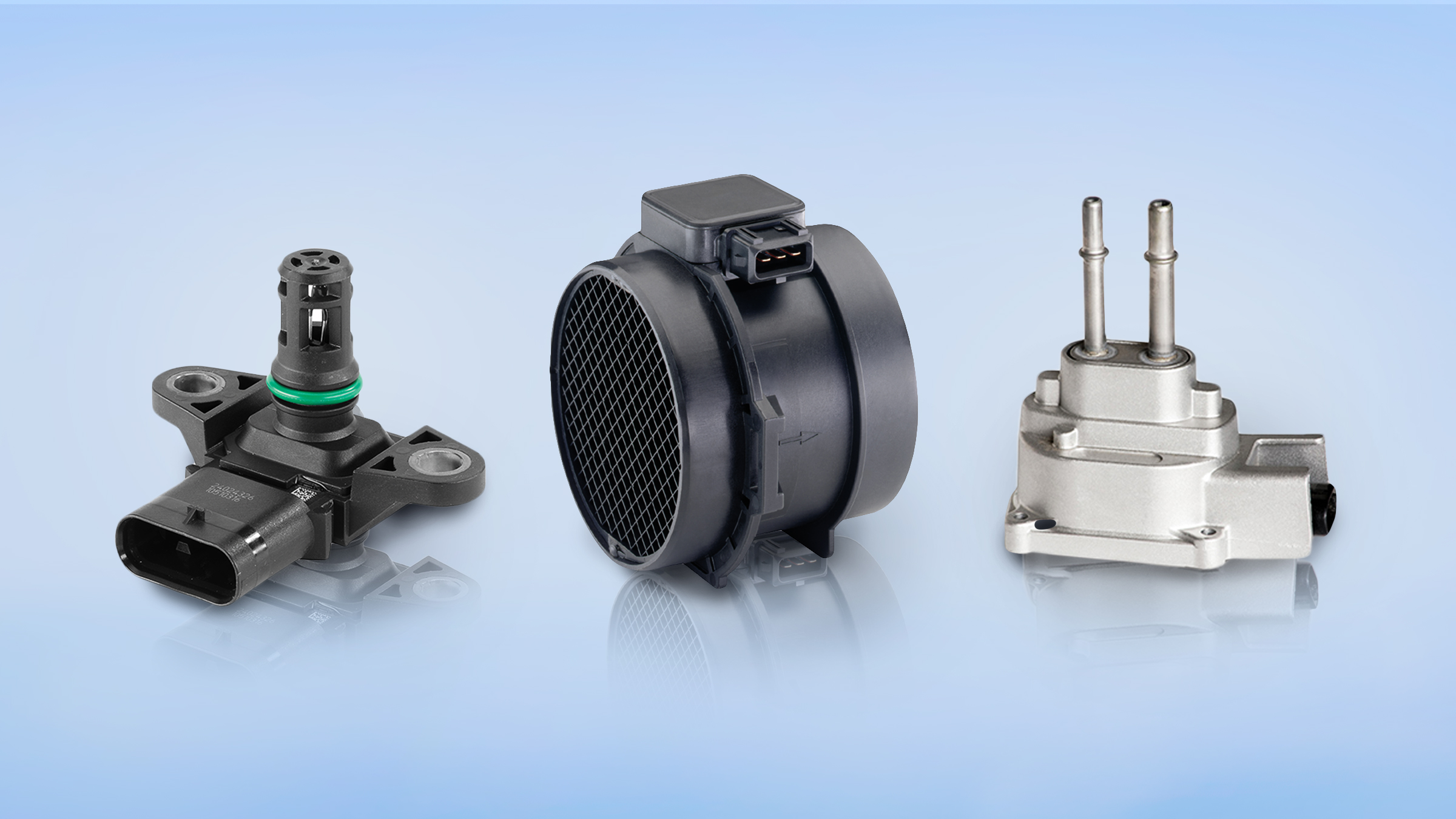 Continental offers a range of engine management sensors including Manifold Absolute Pressure (MAP), Mass Air Flow (MAF), and Flex Fuel Sensors. These are genuine replacements for OEM units. The MAP sensors provide instant manifold pressure information to the engine's electronic control unit. Built-in ISO/TS certified facilities, Continental MAP sensors deliver coverage for a full range of BMW models from 2009 to 2016. Continental Mass Air Flow Sensors (MAF) are designed to help restore the vehicle's ability to reduce fuel consumption and harmful emissions. Identical in fit, form, and function to the OE sensor, these direct-fit sensors offer plug-and-play installation while delivering dependable performance and competitive pricing. Manufactured in ISO/TS certified facilities, Continental MAF sensors are available for wide application coverage on popular Audi, BMW, Chevrolet, Dodge Ram, Hyundai, Kia, Land Rover, Mercedes-Benz, Nissan, Subaru, and Volvo models. Finally, Continental OE Flex Fuel Sensors calculate the percentage of ethanol in fuel and adjust the output signal to the ECU creating dynamic ignition timing and E85 capability. These genuine direct replacement sensors offer trouble-free 'plug-and-play' installation and service reliability. Built-in ISO/TS certified facilities to the highest quality standards, Continental Flex Fuel Sensors are designed to help restore vehicle performance to OE specifications for popular Buick, Cadillac, Chevrolet, and GMC models.