When it comes to shop management software (SMS), service providers need to ensure they have a solution that fits their requirements, can easily bolt on with other functions such as CRM, parts cataloguing and repair information, be easy to use by staff and offers the ability for upgrading and scaling.
Leading providers of SMS understand this and have created solutions that can be tailored to an individual shop's requirements. 
Mindset plus solutions equal success
While the equipment itself is an important consideration, an arguably even bigger one, is the right mindset among shop owners and managers. In order to ensure maximum capability from their SMS, shops need to ensure they are focused on strong customer relationships, delivering a fast, efficient and satisfying customer experience. They also need to continually make sound investments in tools, technology, and training; as well as monitor and regularly evaluate staff and business performance.
These factors along with an emphasis on customer satisfaction can go a long way to providing good opportunities to capture new business and build robust retention among existing clients, leveraging the power of capable SMS solutions. Here, we highlight some of the SMS products currently available on the market and the features they offer for service centres.
ALLDATA
ALLDATA offers three different SMS solutions for service providers. ALLDATA Estimator was created as a simple, effective solution for shops to create professional estimates with parts and labour data direct from ALLDATA. 
There's also ALLDATA Shop Manager—an SMS solution designed for day-to-day shop essentials, including estimates, repair orders, invoices, customer management, parts ordering, basic sales, tax, and payment reports. 
Finally, there is ALLDATA Manage Online, the company's most robust SMS platform, which builds upon Shop Manager with additional business reporting functionality, a CRM manager solution, and integration with Quickbooks, myCarFax; Demandforce, MechanicNet, and Worldpay.
Additionally, ALLDATA provides multiple online resources, including training videos in addition to customer onboarding. These resources are designed to ensure that shop staff are able to quickly and effectively learn the capabilities of ALLDATA's SMS solutions, maximizing business performance and ROI.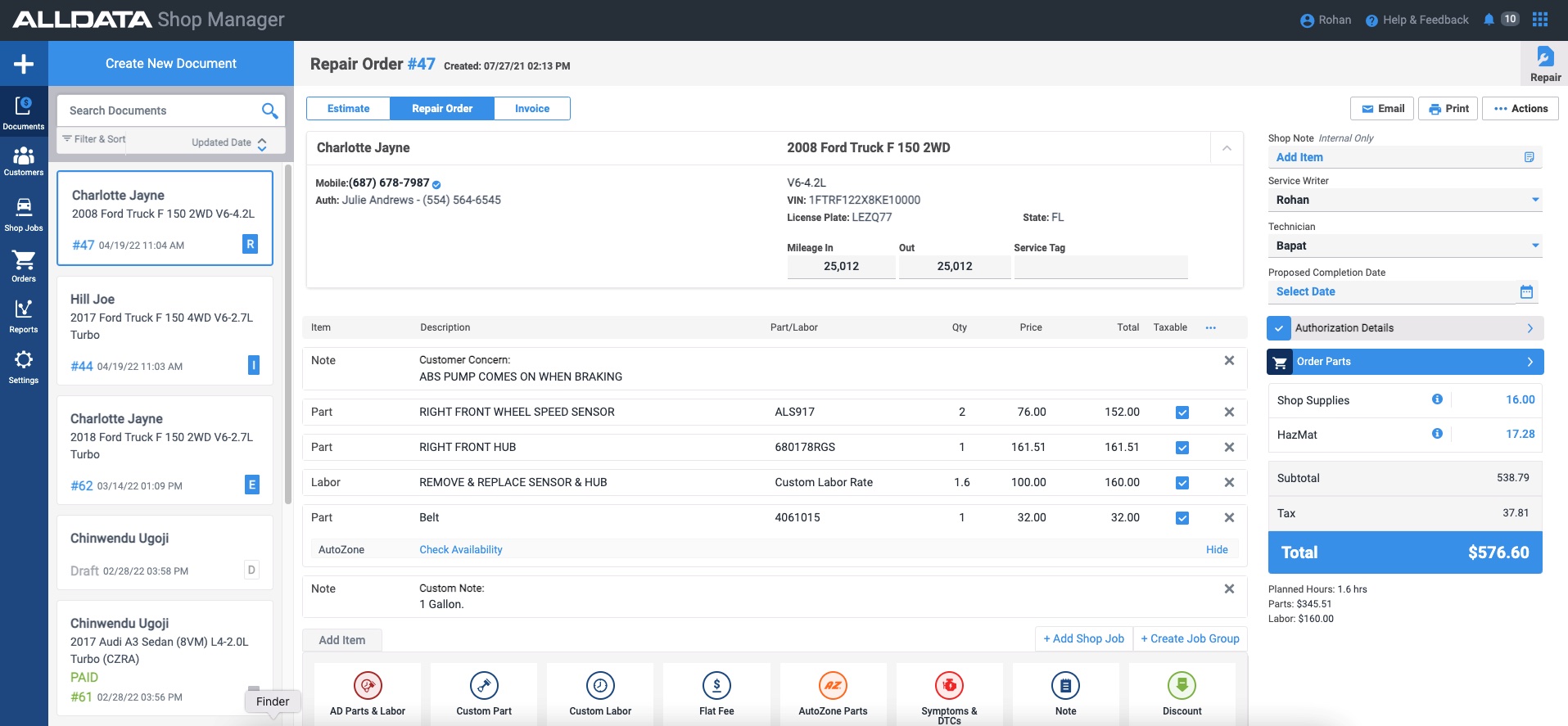 EPICOR
Epicor provides a suite of solutions aimed at service providers. These include Epicor Service CRM which incorporates best-in-class Epicor technologies to help shops attract and retain customers, recapture lost customers, generate more revenue per vehicle, and maximize their presence on social media and online. A new feature in 2022 is a mobile app that enables shop staff to connect with Service CRM and customers through their own handheld devices.
Service CRM includes a comprehensive and time-saving marketing campaign management suite; OBD4 dashboard with KPI data panels that allow users to track key data including customer responses; Frequency reporting that allows shops to track their performance and prioritize marketing with actionable reporting; plus an Mtexting feature that enables shops to send repair estimates, along with photos, to get faster approval from end customers. 
The shop can also send service reminders, special offers, notifications that the customer's car is ready for pick up, and other communications that add value to the relationship. Shops can use this feature to encourage customers to post positive reviews on Google and other sites. 
Epicor also provides other solutions for service providers, including its Integrated Service Estimator, Epicor PartExpert replacement parts eCatalog; and SideKick360 SideKick360 solution, which features a "Maintenance Hunter" feature that tracks unaddressed service needs on each vehicle based on OEM service intervals as well as the shop's own custom parameters.
VL COMMUNICATIONS
First introduced in 2007, AB Magique, available from VL Communications, is a "turnkey" Shop Management Software solution that's designed to cover every aspect of service centre operations in order to drive success and profitability. Featuring not only an integrated CRM but also an MDI interface with programs such as MS Word and Excel, AB Magique provides a complete, simple-to-use management solution for service shops. A high level of functionality within the platform allows employees to set appointments and consistently prepare accurate estimates and invoices.
AB Magique also enables staff to order parts from suppliers and verify vendor prices online, as well as send estimates or purchase orders via the Internet. Additionally, integrated accounting allows the monitoring of statistics in real-time. AB Magique also integrates with the catalogues and e-commerce websites of major auto parts distributors such as NAPA, CARQUEST, and Uni-Select, as well as providing SMS texting to shop customers notifying them of repair completion and when their vehicle is ready for collection.