Vince Pierno and Mike Burkart are Co-Owners of Micro Tune Auto Centres Limited—an automotive service facility which has been serving Regina, Saskatchewan since 1984.
They provide wide-ranging auto maintenance and repair services to their many clients in the area. Car Care Business (CCB) spoke with Mike to get some background about Micro Tune Auto Centres and how the business had fared over the years.
"I started working at Micro Tune when I was in high school, around 1985. I was trained as a service technician then went to school and received my Journeyman status in 1993," Mike relates. "I met Vince not long after that as he was a salesperson we did business with at the shop. In 1997, through several early morning coffee discussions, Vince and I decided to partner up and within two weeks we purchased Micro Tune from the original owner and have never looked back since then!"
For the first six years or so, Vince and Mike worked hard at the business, but they knew they definitely needed help—they were working some pretty long hours not to mention weekends as well. "We hired our first employee in 2003. He has just recently retired after being with us for 19 years," says Mike.
We learned that Micro Tune has not grown in physical size over the years, but their clientele list likely tripled in their first 10 years and to this day—25 years later—is still growing! Vince and Mike employ two other techs at their location to round out their number to four to fully service and maintain their many customers in the five-bay shop.
Many different services performed
Micro Tune Auto Centres provide many services regarding maintenance and repair—brakes, suspension, wheel alignments, tire sales and repairs… all mechanical and electrical repairs, computer diagnostics, and to keep their clients vehicles in safe running status, they always adhere to the manufacturers' scheduled maintenance procedures. They service and maintain domestic and foreign cars as well as light trucks.
In addition, the group also services automotive air conditioning systems. Micro Tune has A/C recovery and recycling equipment and both Mack and Mike are certified to repair A/C systems.
CCB asked about some of the equipment investments that had been made over the last decade or so because of vehicles becoming more advanced and computerized.
"We have had to invest in a tire changer plus a balancer since we decided to get into tire service, along with a computerized 3D wheel alignment machine, up-to-date scanners and module reprogramming equipment," Mike tells us.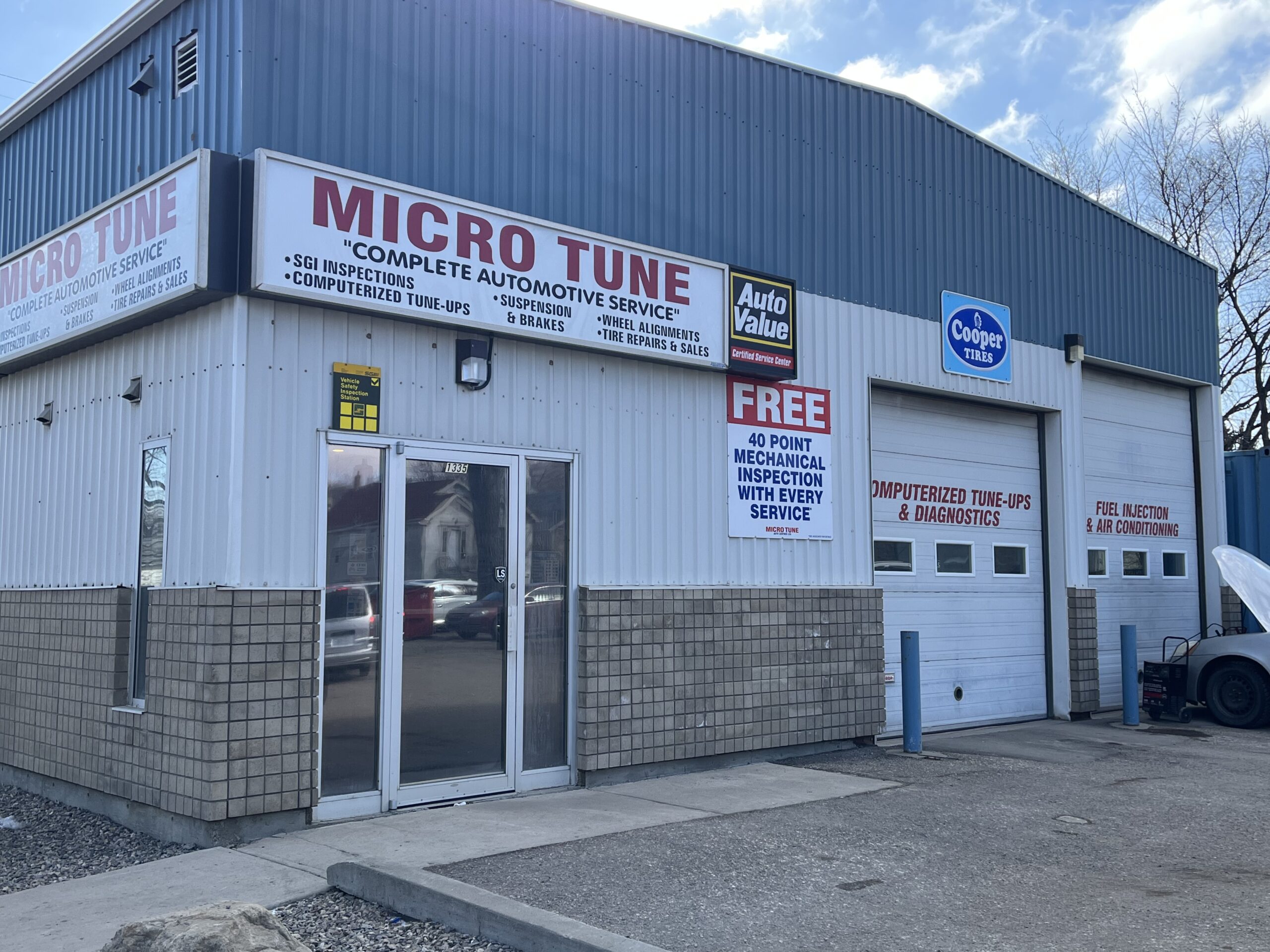 The latest in training
CCB wondered what Vince and Mike's approach to training was as they have an experienced team at Micro Tune of seasoned Journeyman technicians. Mike replied that keeping up-to-date with the latest technology is "crucial in our industry and training is a very important part of it. We have two journeyman techs including myself and one apprentice, so training is indeed a part of our curriculum and Auto Value, the group we joined in 2017 has a lot of programs that we gratefully utilize.
"Due to Micro Tune's extremely busy schedule, Auto Value's on-line training and webinars have been a convenient way for us to keep up with the essential new training. In the last year we have taken an electrical diagnosing course, Ford EPAS (electric power steering system) and a Ford Smart Charging Systems course.
"In addition, Mack (one of the Journeyman techs) and I are both certified to do SGI light vehicle inspections and truck inspections. We mainly focus on out-of-province inspections and not so much of the total loss.
SGI Inspections
"In our province, Saskatchewan Government Insurance requires that vehicles purchased or previously registered in other provinces go through a mechanical inspection. This is called First Time Registered Inspection. Total Loss Inspection would be required by SGI after a registered vehicle was in a collision where SGI deems a vehicle's damages more than the value of the vehicle. We also do Uber inspections, which is the same procedure as a First Time Registered Inspection," Mike tells us proudly.
In speculating about their future, Mike explained that Micro Tune Auto Centres and their employees "will continue to give the best service we possibly can to customers and stay as up-to-date as possible. After 25 years in business together, we have generations of customers coming to us from the same families and hope that those relationships continue to build. We don't do a lot of advertising except for word of mouth which seems to have served us well so far."
This attitude and commitment will very likely do just that in the future years to come for Vince and Mike of Micro Tune Auto Centres in Regina, Saskatchewan.