During AAPEX 2021, Autosphere had a chance to visit with industry-leading repair shop software provider Bolt On Technology.
Tim Cifelli, Chief Revenue Officer, explained that Bolt On is largely known for its digital multi-point inspection software, though acknowledges that not every repair shop is built in the same way.
"They have different types of customers and different types of services they provide," explained Cifelli, so rather than take a one-size-fits-all approach, Bolt On has tailored its digital inspection solutions to the needs of niche repair shops.
"Even if it is a general repair service, the shop may also sell tires or perform quick lube operations, or do a certain percentage of fleet repair," said Cifelli.
As a result, treating these kinds of customers is very different than your typical private motorist who brings their vehicle in for service.
In order to facilitate these different types of requirements, Bolt On has packaged its digital inspection solutions and DMPI software with a range of different add-ons and additional features that are specific to shops that work on fleet vehicles, sell tires and perform quick lube services.
To provide an overview of the capabilities of its digital inspection and other shop operations solutions, Bolt On also conducted live demonstrations on site at Joe's Garage during AAPEX as well as providing special incentives for show attendees.
Additionally, Autosphere Editor-in-Chief Huw Evans was invited to speak with Frank Leutz, COO of Desert Car Care and founder of the popular (and award winning) Wrench Nation car talk radio show, onsite at the Bolt On booth in Joe's Garage.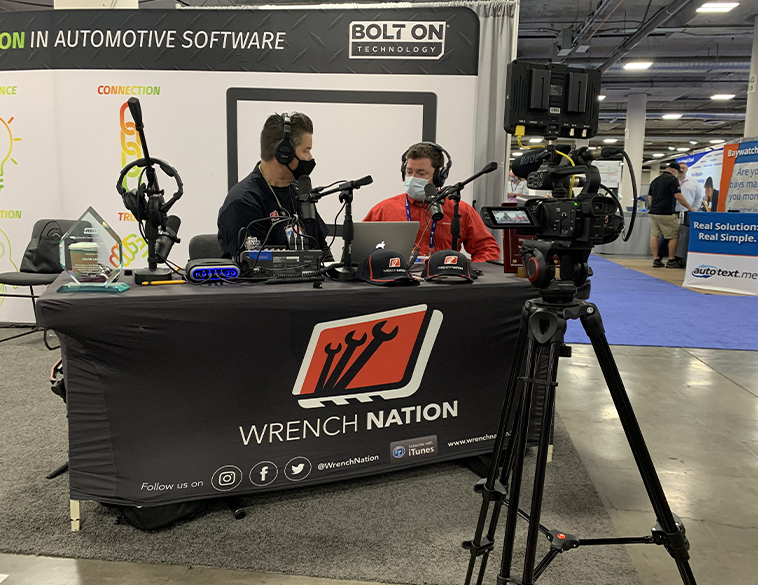 The two discussed a whole range of topics impacting the automotive service repair industry in both Canada and the U.S., including effectively marketing to your customers as well as dealing with the ongoing shortage of skilled service repair technicians.