In Langley, British Columbia, Corey Doell started out in the automotive industry working for his father in the engine machine shop when he was 13 years old to make money to race motocross.
As he continued to work in the shop, he learned more and more and eventually became an automotive machinist. As years passed, Corey was also put in charge of the family auto parts stores at different times. "We had eleven locations. But after my father became ill and couldn't carry on, we sold the business to Lordco who were looking to expand their operations.
"I started an automotive shop with a partner but after several years we each decided to go our own way. In 1998 I started Norlang Auto and grew it from a three-staff, three-bay shop in a warehouse to the 12-person,10-bay shop in the building we now have," Corey stated. "I had this ambition to have a small specialty shop, but it just kept growing. Demand became so high from customers that we took on more, kept growing and kept moving!"
A European specialty shop
There was a lack of European specialty shops in Langley and that was the path he wanted to follow. "There was a real shortage of Euro shops and an overabundance of domestic shops ten years ago. So, we started investing in people and equipment. We have three Asian/domestic techs and two European techs." Norlang Auto is recognised as 'the go-to shop' for owners of Audis, BMWs, Jaguars, Land Rovers, Mercedes, MINI, Volkswagen, Volvo, etc.
In a four-year period, he went from doing about 10% to about 75% European—a lot of that due to his location. His Euro rates are about $25 higher than domestic rates—the equipment needed to work on European cars is very expensive as are trained European technicians.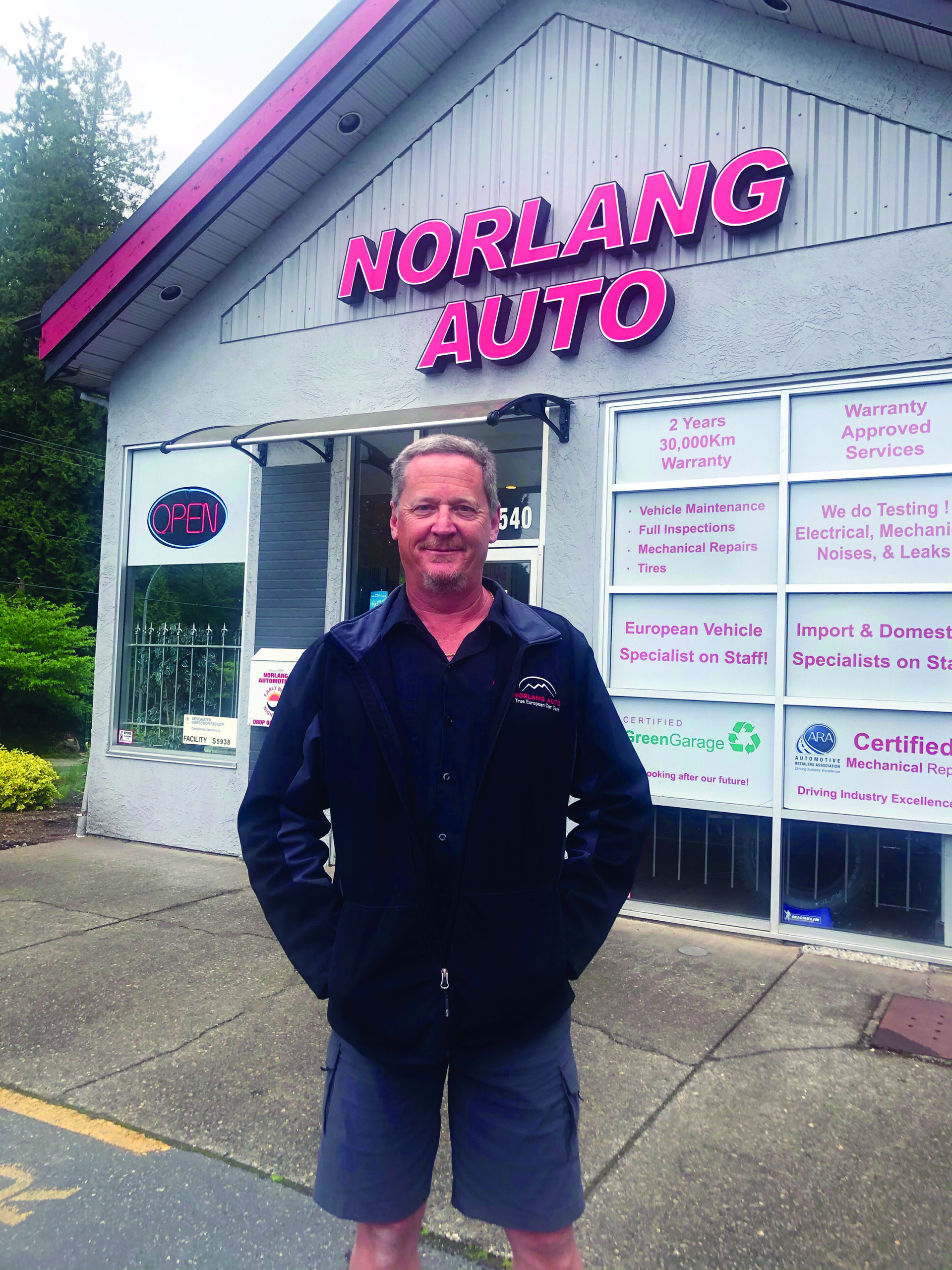 "Our counter staff is another part of our success… one advisor does all the European content and the other does all the domestic. Our domestic volume has grown to over 200 cars per month and European is about 100 cars per month but that part of the business brings in more dollar value. "This model is working very well  along with a management team that is awesome!" Corey states proudly.
We asked how technology had impacted Norlang's business in terms of Shop Management Software, bookings, scheduling, contactless payment, etc.?
"I have tracked costs related to technology for many years. Watching it increase and our investments taught us we needed to charge much more for diagnostics and increase labour rates if we were going to keep up. Along with constantly reviewing and investing in newer technology is a must, and when training is needed for my technicians, I happily pay for them to take it… even giving them a couple of extra days so they can take their family too."
What are some of the key things you feel are essential to remain successful in business long-term?     
"The 20 groups I belong to have been everything, very important. We frankly discuss how we each do things, we push each other to do better, and share everything from numbers to ideas. We're all driven to be leaders in the industry. Today, I am an absent owner… only coming to the shop 3-4 days a month. My management team is doing a great job. I stay out of the way of the day-to-day stuff and work "ON" my company. I'm always searching for the best practices, industry changes and newest equipment to keep my team and business on the leading edge."
Giving back
Another thing Corey does well is give back to the industry… he's always helping someone out. Much of the advice he is asked about is marketing. "I enjoy helping young people just starting out but also people who have struggled to find the success they desire in our industry. They're getting along in years, realize they haven't made any money, they'll never be able to afford to retire, or get out of this business. That concerns me. I enjoy helping owners turn their businesses into more profitable, enjoyable places to work and make a living.
"So many business owners don't take holidays, don't take time off. This doesn't work for us, we have systems and a lot of procedures in place. We have been able to develop a lot over the years, built a really great team of people, and a business plan that works really well. I would like to see others have the same. I'm available to talk to anyone and can be reached at [email protected] anytime.
"The industry has been great to me, I still have a love for it. I'm not so much into the day-to-day stuff, but the development and growth. I enjoy giving back to shop owners and want to see the independent owners succeed. That includes every shop, even the ones right around me!"