How aftermarket players are adapting to a changing marketplace and environment.
While most automotive aftermarket trade and industry events either had to be canceled or transition to a virtual format during 2020, Automechanika Shanghai in China, which ran from November 24-27, did actually hold a physical exhibition with manufacturers from around the world showcasing their products.
Due to ongoing pandemic restrictions, however, many visitors were not able to attend physically, so instead, Automechanika Shanghai brought the expo to them via a series of virtual tours of the expo hauls through the AMS Live platform.
Fast-growing network
One of the most popular exhibits in 2019 was the New Carzone display and this year, Vice President Jim Blair provided an update on one of China's fastest-growing national automotive aftermarket networks.
According to Blair, New Carzone represents a different way of doing business in the aftermarket sector in China, and is currently one of the only companies that provides a complete, full-service solution. "From online, to offline we help the end customer get great service on their vehicle," said Blair. A digital supply chain connects every aspect of the business, allowing fast, efficient access to parts to service and repair solutions through its F6 technology arm, as well as providing standardized customer service through its Tmall Autocare network of service centres.
"F6 is our central data hub, where we have all the information to help our offline garages become more profitable and better manage their products, services, labour and customers. All these pieces are integrated into the F6 system," explained Blair.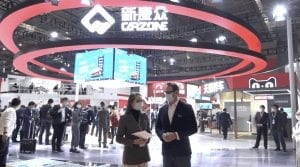 He noted that has the COVID-19 pandemic spread in China at the end of 2019, New Carzone was one of the first companies to migrate its training and services online, providing workshops to help the network prepare for when locations physically opened for business again.
Blair also provided more details about Tmall Auto care. "This is where the service really happens for our company," he said. Blair notes that as far as the Tmall Auto care brand is concerned, creating a very standardized setup for retail auto service is critical, especially in an aftermarket sector that is still heavily fragmented and suffering from significant over capacity of service centres. "Our Tmall garages all look the same, they have transparency in pricing and offer warranty to back up the service they do," said Blair.
Efficiently and properly
That level of transparency even extends to the service bays, where cameras allow both shop managers and customers to see how work is progressing on the vehicle to help ensure the job gets done properly and efficiently.
Blair noted that while the pandemic did cause disruptions for New Carzone, it also helped accelerate the online business, which through its partnership with Alibaba, has allowed the network to flourish in the current COVID climate. "It really gave us a chance to do training for our employees and training for our garages," remarked Blair, "and it helped us come out really strong once the market started to open back up here again."
The massive expo portion of Automechanika Shanghai is hard to imagine for those who have never attended in person and the sheer scale and number of exhibitors can be hard to fathom. For auto parts, to wheels and tires, exterior and interior upgrades along with electronics and other customization products there is, much like the SEMA Show in Las Vegas, something for everyone. Alongside local companies are many prominent aftermarket and performance equipment manufacturers and two we were able to sample on this tour were TEIN and Motul.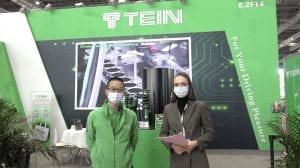 If you're familiar with import tuner cars and road racing, TEIN likely needs no introduction. The Japanese company is best known for its adjustable coil-over kits for late model cars, which are aimed at everyone from performance enthusiasts on the street, to serious racers who need every ounce of adjustability to optimize their vehicle's suspension for track use.
New interest
Local Sales Manager Lyman Quong, provided an overview of TEIN's coil-over kits and said that while the pandemic has impacted the company's business, being able to display in person at Automechanika Shanghai during 2020 was a significant benefit, especially in gaining new buyer interest and leads for new distributors in a fast-growing aftermarket sector.
Lubricant manufacturers are huge players in the automotive aftermarket and one of the oldest and most established is Motul, from France. Long known as a preferred supplier of-high performance racing lubricants, particularly for motorcycles, Motul offers a full range of products for both motorcycles and passenger vehicles, including cars and trucks. Local Director of Operations, Dennis Du, showcased some of the products Motul offers in the Chinese market including its flagship 300V line as well as the popular 7100 and 5100 series of lubricants for motorcycles and scooters.
Du said that Motul is releasing new products into the Chinese market in 2021 including additives, that will enable it to further develop and enhance its presence in a region where it has now been operating for more than a decade.