This month Newfoundland was on our radar to profile an ASP—Allan Brown of McCormacks Service Centre in Gander.
Allan tells us he purchased this business about six years ago. "McCormacks have been in business for approximately 40 years here in Gander. I have owned other businesses prior to this over a period of 25 years… and since purchasing McCormacks, I have made several changes," Allan states.
"We renovated the interior office space to fit in a customer waiting area and this included a refreshment area, television and internet capabilities. We invested in upgrading the computer systems for our administration as well as to accommodate enhanced shop diagnostics. We also purchased several new pieces of shop equipment."
McCormacks' business
McCormacks Service Centre employs three journeyperson technicians and two apprentices. In addition, there are two office staff. The facility includes four bays and approximately 4,000 square feet of shop space. McCormacks is fully computerized… everything from accounting, payroll and shop diagnostics… an up-to-date facility!
We asked Allan if diagnostic skills were strong in his shop. "Very much so," he answered. "We have a combined 80-years' of experience and prior to purchasing McCormacks, I taught automotive technology programs in post-secondary and industrial settings. In addition, two of us have ASE master certification.
"Training courses are also very important and we take courses as they become available. They are typically narrow in scope and focus on specific topicsi.e. Climate Control. But each of our technicians have areas of strength—usually an area in which they have a particular interest."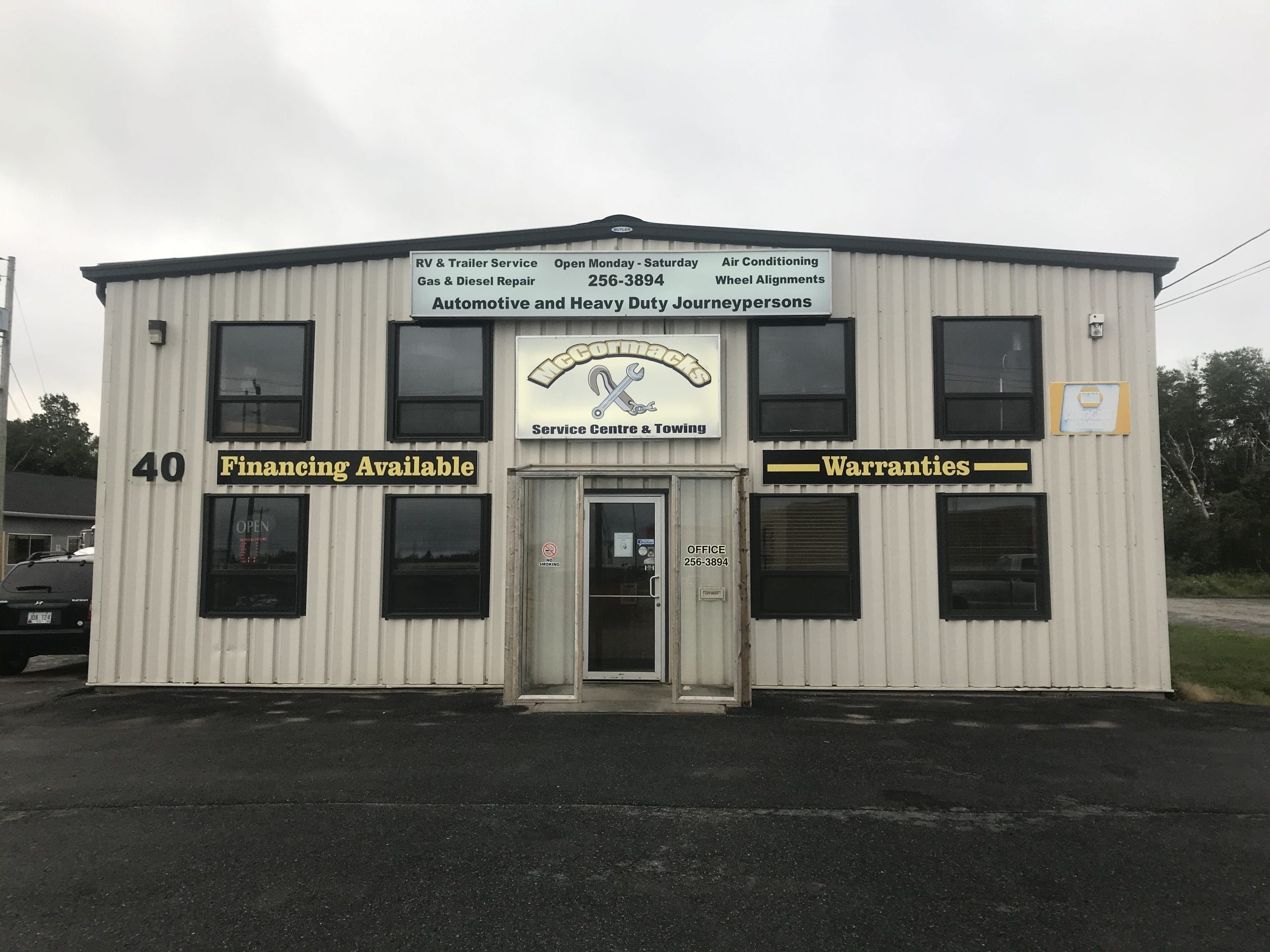 A well-rounded and professional shop
CCB asked what type of shop they were… general repair or do you specialize in anything?
"Our shop has the equipment and skills to professionally diagnose and repair anything that comes our way—including electrical/electronic issues, climate control, wheel alignment, diesel repairs along with basic repairs and preventative maintenance," Allan says proudly.
And when we asked if he had any trouble accessing information for repair purposes, he answered that they really has no issue getting the information.
"We have subscriptions for two online service information providers—ALLDATA and Identifix. Our computerized diagnostic equipment is updated constantly and we also have a database of information," Allan answered.
McCormacks' primary parts supplier is Colonial Auto Parts. They also purchase parts from various dealers and other suppliers as needed but says they have a great relationship with Colonial and they are a very important part of their business.
Employees are important
We asked that as both a technician and a service provider shop owner, what are some of the key things he felt were essential to remain successful in business long-term?
Allan replied, "Key to any successful business are the employees. Your staff need to be engaged and feel that their input is valued. Offer an environment that fosters a positive atmosphere. In turn those employees will take great care of your customers! A business also has to keep pace with technological advances. Invest in training and equipment that allows your staff to be at the leading edge."
Awareness of training and new technicians
When asked what needs to be done to increase awareness regarding training and developing the next generation of technicians and service provider business owners, Allan answered that, "Recruiting new staff is an issue for every business. There is currently a void in our industry—the number of quality graduates entering the workforce as apprentices have steadily declined in recent years. Our industry should be promoting the opportunities and benefits our industry has to offer. Interaction with high school guidance councillors, teachers and students would be helpful. Introduce automotive diagnosis, service and repair to those schools that offer some form of industrial trades/shop classes.
"Traditionally, our industry has not received the level of respect the type of skills required in this profession demands! That has started to change as the vehicles have become much more complex. The education and training required to have a firm grasp of the systems used on today's vehicles is substantial. Therefore the remuneration for such skills should be reflected in terms of salary, benefits and overall working conditions. Slowly starting to improve!"
Well said, Allan… let's hope the whole industry wakes up and takes heed of the wisdom of your words.