Like a number of OEMs, Ford Motor Company has invested heavily in the electrification of its vehicle fleet. A large part of this has been driven by legislative pressure to reduce tailpipe emissions but at the same time considerable effort has also been made to broaden the appeal of EVs among consumers.
30 years in the making
In terms of all-electric vehicles, Ford has essentially been playing around with the concept since the early 1990s, when it installed a pure-electric powertrain into a number of European Escort vans under the EcoStar program. This trial was followed up with the electric Ford Ranger pickup from 1998-2002, where conventional Rangers were taken off the assembly line and retrofitted with an-all electric powertrain.
At around the same time, Ford embarked upon its TH!NK urban mobility all-electric city car pilot project, leveraging technology it acquired from Norwegian start up Think Global. Although novel and innovative, the concept was ahead of its time and didn't lead to any large-scale development.
Since then however, electrified vehicle technology has continued to progress, not only in terms of pure electrics but also hybrids such as the Escape, Fusion and Lincoln MKZ as well as plug-in hybrids such as the C-Max and Fusion Energi models.
Currently, Ford has reached what it calls Generation 4 development for electric vehicles, the most notable being the highly touted all-electric Mustang Mach-E crossover, which will arrive in showrooms as a 2021 model.
While battery electric vehicles (BEVs) still constitute a very small segment of the overall vehicle market (less than four percent), they are growing in numbers, with both established OEMs and start-ups planning to introduce 33 new models between now and 2023.
Understanding the technology
So, what does this all mean for service technicians? Well, essentially that going forward, a fundamental understanding of BEV technology will be increasingly useful for service repair work and both they and shop managers should take the opportunity to capitalize on the training and service repair instructions available, whether it be online, in-class or virtual interaction.
During an online webinar presented the National Institute for Automotive Service Excellence (ASE) in the U.S., David Fabricatore, EV Hybrid Commodity Manager, Service Engineering Operations, Ford Motor Company, presented an overview of the current high-voltage battery and electric vehicle technology at Ford, as well as outlining some of the service repair procedures and equipment required to work safely and effectively on vehicles such as the Mach-E
While it's been a fairly long development road from the earliest sodium sulphur batteries to today's lithium ion units, over time; batteries have become smaller and more efficient. In the Mach-E for example, Ford says that range is up to 482 km (300 miles) with 0-96km/h (0-60 mph) acceleration times of well under four-seconds, a far cry from the 93 km (58 mile) range offered with the Ranger EV two decades ago.
On the serviceability side, the evolution of battery technology and the increasing integration of it at the design phase of the vehicle means, that today, most batteries are mounted in the floor of the vehicle, rather than being located in the trunk or cargo area.
In the case of the Mach-E, while there have been significant advancements in high-voltage battery range and performance, the extended range battery is still big and heavy, measuring 213 cm (7 ft) long by 152 cm (5 ft wide). It extends all the way to the pinch flange on the vehicle and from axle to axle—weighing in at a substantial 635 kg (1400 lbs).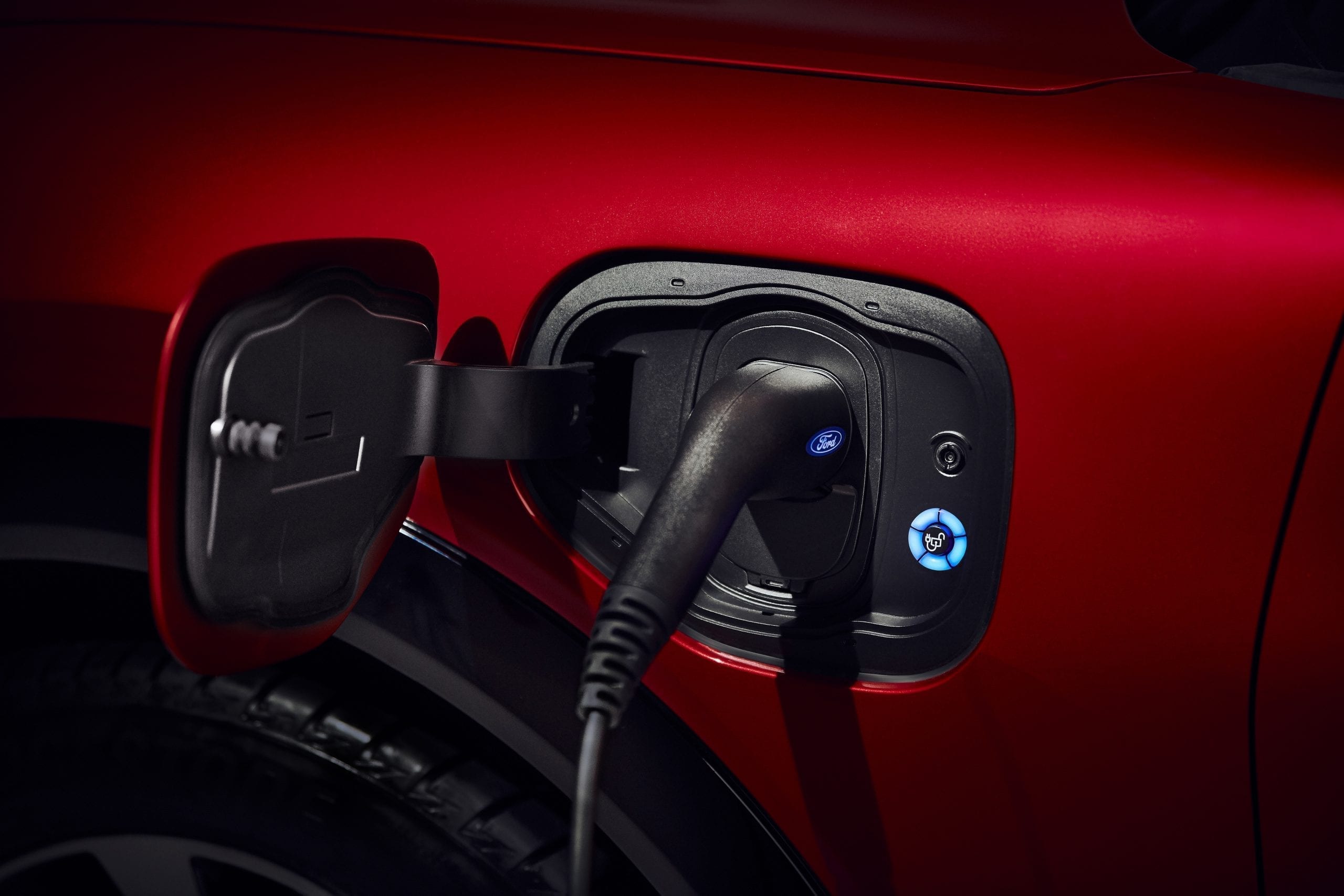 Specific service procedures
As Fabricatore notes, in order to work effectively on vehicles such as the Mach-E, Ford has developed specific service procedures, training modules and also equipment to help technicians.
These not only include traditional online and classroom instruction but also virtual training, where technicians put on a head set and can literally pick up tools and perform procedures without actually having to step inside a physical workshop and deal with an actual vehicle.
Because battery electric vehicles are still niche products, there tends to be a lot of mystery among service technicians that haven't spent much time around them.
Fabricatore says there has been a lot of feedback from technicians around "de-mystifying the box," in other words, knowing how to remove these high voltage batteries and what service procedures can be performed.
A big change between Generation 3 vehicles (such as the 2012-2018 Focus Electric) and Generation 4 models like the Mach-E, has not only been the relocation of the high voltage battery from the cargo area to under the floor, but also the cooling system to keep it at peak operation. Whereas Gen 3 systems relied on air cooling and most procedures could be performed with the battery still in the vehicle, on the Mach-E, liquid cooling is employed. As a result, because the battery has to be removed for virtually all servicing needs, it must be disconnected from the cooling system prior to doing so.
Additionally, says Fabricatori, "because we are in a wet environment (liquid cooling) with these new batteries, every time we lift the lid or put the lid back on the battery cover, we need to perform a leak seal test." He adds that when the harnesses from the vehicle are removed, the battery pack is no longer air-tight. As a result, it needs to be leak tested to ensure it re-seals correctly.
He also notes that all the serviceable items are located in a small, designated area on the high-voltage battery. "These batteries are made to be as shallow as possible to maximize ground clearance on the vehicle," says Fabricatore. "When we open the cover up, everything is there to look at." On the serviceable side, there are arrays or modules that are welded together inside a box, but technicians need to have a thorough understanding of what is needed before attempting service work on the battery.
Special Service Tools
Additionally, Ford says it has also developed some Special Service Tools (SSTs) for working on vehicles such as the Mach-E.
Due to the size and weight of the high-voltage battery, a special lifting table is required to remove it, both for technician safety and to prevent damage to the battery. And because the battery is so large and runs to the pinch flanges, you can't use those when lifting the vehicle in the air. As a result, Ford has engineered slots in the rocker panels of the Mach-E, with special service tools that clamp to the rocker panels, allowing the vehicle to then be safely lifted using a two-pull hoist pad.
An interesting point is that the hoist pad is heavy-duty enough to not only be used for lifting EV high-voltage batteries but can also double for lifting conventional engines and transmissions as well. "It's a fantastic table, not only for batteries but any other large pieces of equipment," says Fabricatore.
Additionally, because battery design and configuration can vary between vehicles, such as having arrays located at the rear or front, the centre of gravity is also different. Therefore, special spanner bars can be attached to the main bar, providing considerable flexibility for the service equipment when lifting different types of high-voltage batteries.
Fabricatore also says that with the Mach-E and moving forward, Ford has engineered its BEVs to allow for the arrays to be removed and replaced, via special adapters that attach to the lifting bar. "What is great about the lifting bar is that it is an I-beam and those adapters can fit up to one array, two arrays, different length of arrays—and then different adapters can be added as well if needed."
The arrays sit on a cold plate that provides heat transfer and the cold plate needs to be replaced and interface material applied via a special pneumatic tool whenever the arrays are changed.
Furthermore, Fabricatore says that when new arrays are shipped, they are typically at a 25 percent state of charge and so will need to be charged up by 25-80 percent to match the rest of the battery pack using a specified charger.
Overall, when it comes to serviceability on Ford's Gen 4 electric vehicles, Fabricatore says that a great deal of time and effort has been placed on making sure that technicians are able to work on these vehicles effectively and safely. He divides this overall approach into four distinct categories:
Limited Access: The first task a technician will do is pull Diagnostic Trouble Codes (DTCs).  Specific DTCs indicating a fault with the battery could expose the technician to high voltage, so in those cases, Ford suggests to just replace the battery pack itself, as these DTCs could mean a short to ground which could cause high-voltage shock.
Design / Access Prevention:The battery pack was designed to ensure that every high voltage connection is as finger proofed as possible.
Procedures:Ford has designed the workshop manual to ensure that service procedures remove exposure to potential high voltage. Fabricatore says that as long as the technician is only exposing the post to a single array at a time, there is no risk of high-voltage shock. By using protective capping, Ford says it has limited exposure to one array at a time, thus removing the risk of high-voltage shocks.
Training / Technician Certification:Whether it's traditional classroom training, online or virtual reality, as far as warranty servicing and repairs go, Ford requires technicians to undergo competency training as part of the Ford certification process. That means that a technician must attend and complete the entire curriculum—classroom, online and virtual in order to work on the battery pack and be paid under warranty.