Toyota's Canadian built RAV4 is one of the Perennial top-three small SUVs in this country and has been a long time. Along with its chief rival, the [also built in Canada] Honda CR-V it was one of original car-based "soft-roaders" in the late 1990s.
With the RAV4 taking the sales crown for 2019 (with over 62,000 sold), chances are that you'll see one in your service bays sooner or later.
The RAV4 underwent a considerable redesign for the 2019 model year, switching to the company's new TNGA (Toyota New Global Architecture) platform. Highly adaptable, TNGA is used in models as divergent as the 2020 Highlander and the current-generation Prius. Its flexibility is such that although not originally designed for it, the 2020 Camry will be available with all-wheel drive derived from RAV4 and Highlander components.
In reengineering the RAV4, Toyota was clearly careful not to mess with success in that both externally and mechanically the changes seem evolutionary, not revolutionary. Let's have a closer look at a 2020 Limited model.
Under the hood
All RAV4's utilize a version of Toyota's latest "Dynamic Force" 2.5-litre four cylinder engine, whether hybrid or not. Dubbed "A25A-FKS" and producing 203 hp in conventional RAV4s like our example, it achieves an impressive 40% thermal efficiency rating using technologies like a heated thermostat, liquid-cooled EGR, and Toyota's D4-S port and direct fuel injection system. Cam drive is via chain, while the accessories use a single conventionally-tensioned multi-rib belt.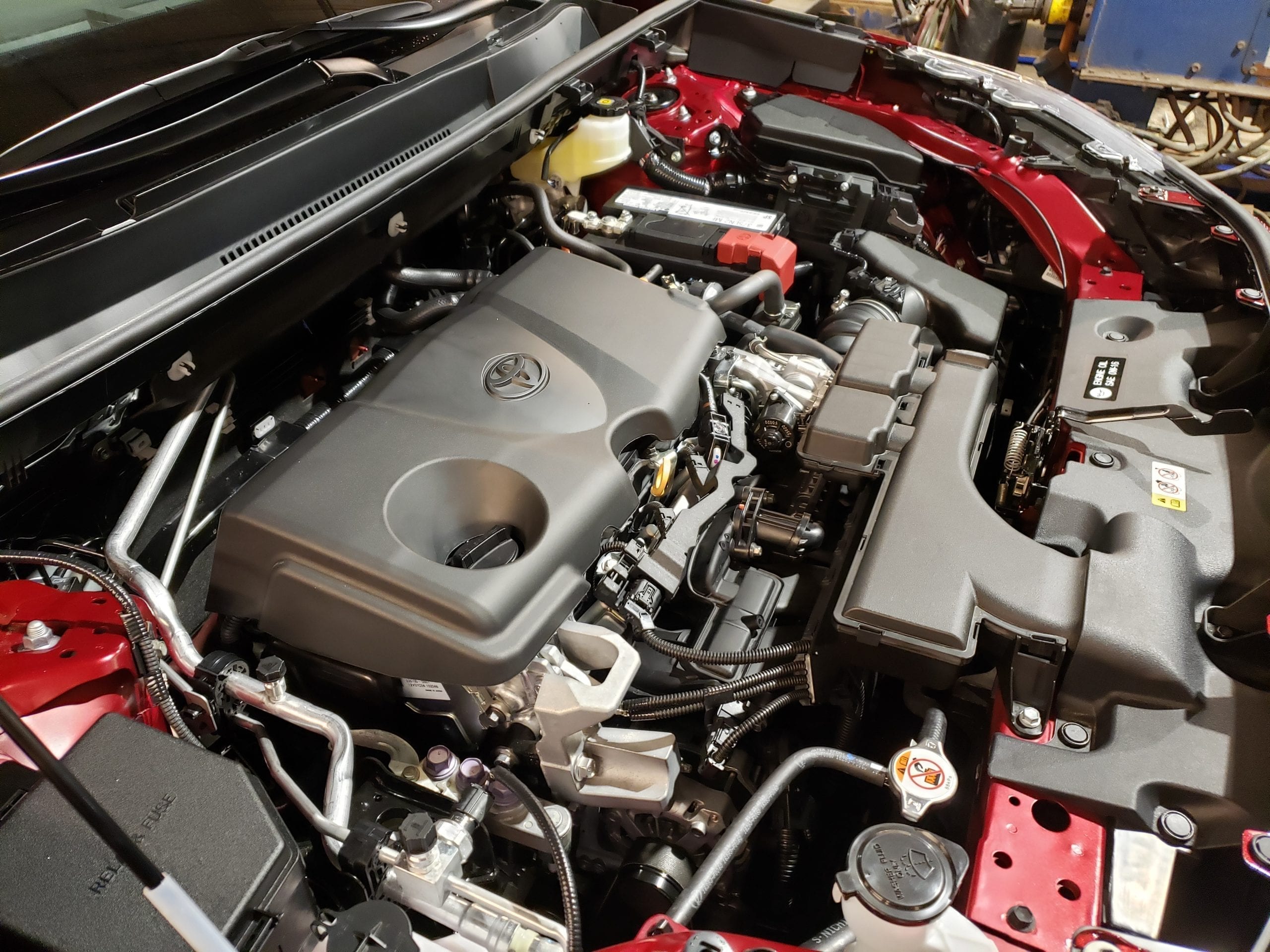 Non-hybrids feature a planetary gear-style 8-speed automatic transmission with a cable-operated shifter and optional all-wheel drive; Trail and Limited models add rear-wheel torque vectoring and driveshaft de-coupling capability. (Hybrids all use a dual motor/generator e-CVT and an electrically driven rear axle unit instead.)
A bolt-in upper rad support and minimal cowl overhang add to what appears to be generally favourable underhood service access. Full-underbody panels hide much of the underside of this vehicle, though a bolt-on cover aids oil filter and drain access.
Note that this vehicle specifies 0W16 engine oil (4.5 litres with filter change), a viscosity that's currently limited in availability. Toyota advises that 0W20 can be substituted if 0W16 is unavailable, but only until the next service.
Front Suspension
While still using a Mac-strut and an L-shaped, stamped steel lower control arm, the forward inner control arm bushing now features an integral bolt-on pivot, rather than using a subframe through-bolt as before. Thankfully, Toyota continued to use bolt-on lower ball joints and wheel hub assemblies, and the ABS sensors still mount to the upright, not the hub.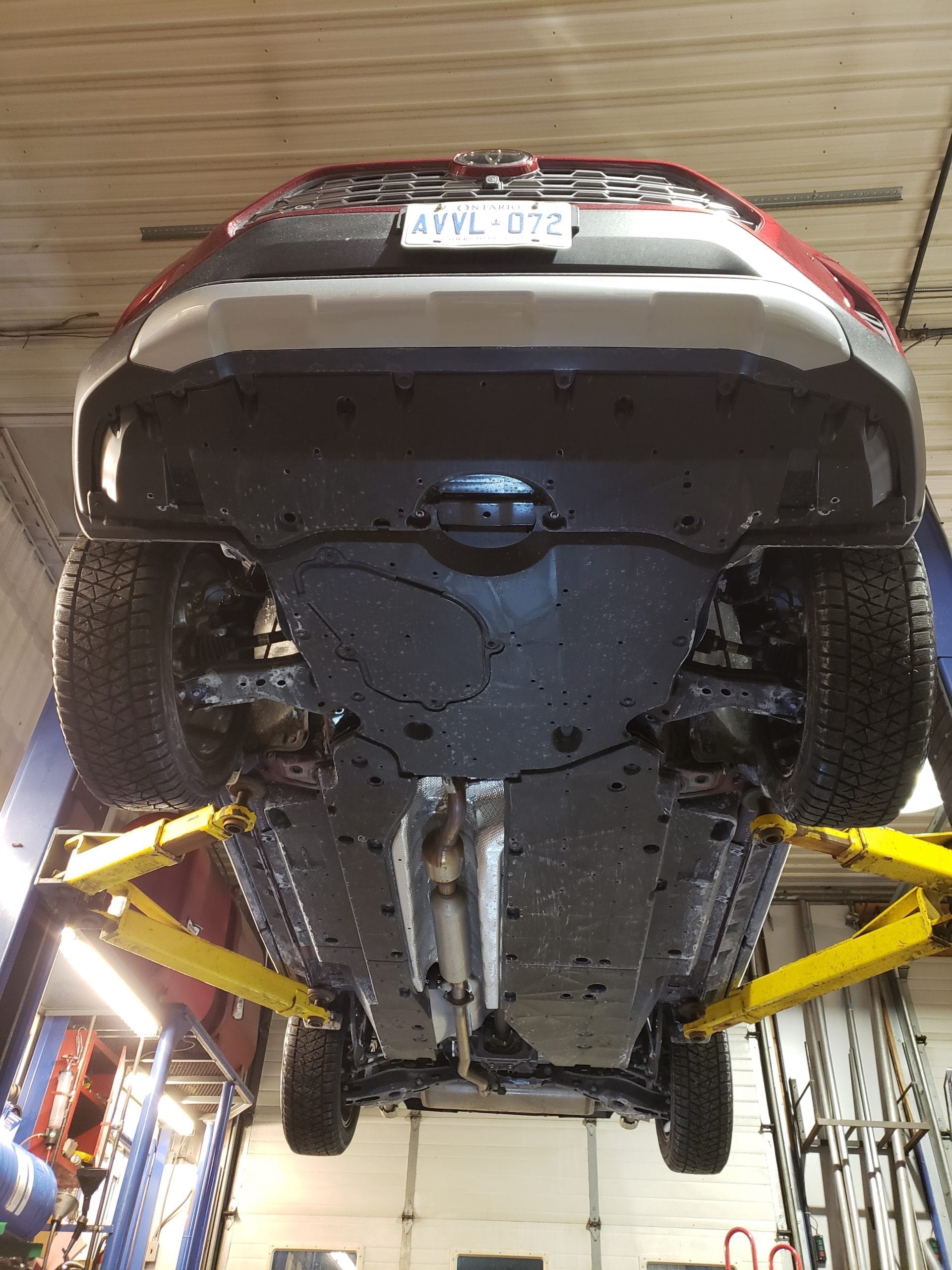 The rear suspension's features and changes are similar to those of the front, where the overall 4-link layout remains familiar, though it's clearly been overhauled. Wheelbase has grown by 3 cm.
Rear Brakes
It's no surprise that the RAV4 has joined the growing list of models equipped with an electronic parking brake. Where the 2018 and earlier RAV used a drum-in-hat system, the 2019-up features caliper-integral actuators. Interestingly – and probably positively – the parking brake can be set to automatically apply and release as the vehicle is shifted to and from Park. Primary braking at both ends continues to be from single-piston floating calipers.
Technology Overload
As in most redesigned models, technology has been added by the truckload. Inside you may find wireless phone charging, a partially reconfigurable gauge cluster, and a camera-based rearview mirror. To that end, as many as 6 cameras can be built into a RAV4, all versions feature a forward radar sensor, and many trim levels include sonar for parking, blind spot, and rear cross-traffic detection. It may override throttle input based on object proximity.
In fact, software built into this model can shut it down after idling in Park for an hour to prevent accidental carbon monoxide poisoning (say, if parked in an attached garage and inadvertently left running).
At least Toyota has made accessing what exterior lighting isn't now LED relatively easy, and the company has also resisted the urge to invent a new wiper mount—you'll find conventional hooks retaining the front blades.