Cargo vans continue to prove highly practical for fleets.
Many automakers are putting considerable resources into pickup trucks, which also spill over into the consumer side of their business, but they're not ignoring fleets that need the capacity of a cargo van.
While many of the vans on the market have only received minor updates for 2022, they're always to improve productivity or performance, and never just "change for the sake of change." We're also starting to see electrification making its way into the segment, with the potential to significantly reduce operating costs for some fleets.
Note that Nissan has now completely left the commercial segment. It no longer sells the NV full-size van, NV200 compact, or Titan pickup truck in Canada.
Ford
Ford Transit
The full-size Transit adds a new SYNC 4 infotainment system to select models, which includes wireless phone integration, cloud connectivity with conversational voice recognition, digital owner's manual, and other features.
Cargo models come as a two-seater van or five-seat crew van. There are two wheelbase lengths; regular, long, or extra-long body lengths; low, medium, or high roof; and in F-150, F-250, F-350, and F-350 HD rating. Engine choices are a naturally-aspirated 3.5-litre V6, or turbocharged 3.5-litre EcoBoost V6, both with a 10-speed automatic transmission. All-wheel drive is available.
Ford Transit Specs:
3.5-litre V6: 275 horsepower/262 lb-ft torque
3.5-litre EcoBoost V6: 310 horsepower/400 lb-ft torque
Maximum cargo capacity range: 6,986 litres – 13,800 litres
Maximum payload range: 3,140 lbs – 4,550 lbs
Ford E-Transit
An all-new model for 2022, the E-Transit is the all-electric version of Ford's full-size cargo van. Its 67-kWh battery is fitted below the floor so it doesn't affect cargo capacity, and has a range of approximately 203 kilometres on a full charge. As with the gasoline van, it comes in three lengths and three roof heights. All are rear-wheel drive.
The interior up-fitter points remain the same as the gasoline van, so units can be switched over. An integrated 2.4-kW Pro Power Onboard generator is available, and works both when stationary, or when driving, so tools can be recharged on the way to a job. The electric components are covered by an 8-year/160,000-km warranty.
Ford E-Transit Specs:
RWD electric motor
266 horsepower (198 kW)/317 lb-ft torque
Maximum cargo capacity range: 6,986 litres – 13,800 litres
Maximum payload range: 3,240 – 3,800 lbs
Ford Transit Connect
Ford's compact Transit Connect moves into 2022 virtually unchanged. It comes with a 2.0-litre four-cylinder engine with eight-speed automatic transmission, and for fleet customers, can be optioned to a 2.5-litre four with six-speed automatic. Both engines come strictly with front-wheel drive.
It comes in XL or XLT trim, and with standard or available features including wireless phone charging, adaptive cruise control, navigation, solid panel or fixed-glass sliding door, and glass or solid cargo doors.
Ford Transit Connect Specs:
2.0-litre I4: 162 horsepower/144 lb-ft torque
2.5-litre I4: 169 horsepower/171 lb-ft torque
Maximum cargo capacity: 3,607 litres
Maximum payload: 1,550 lbs
General Motors
Chevrolet Express/GMC Savana
These mechanical twins haven't changed much in many years, but their conventional configuration makes them a reasonably-priced alternative to the taller, European-style vans that competitors offer.
Both come in 2500 or 3500 rating, and both in regular or extended-wheelbase length, and with rear-wheel drive. Three engines are available, including a small diesel. Available features include cruise control, remote start, rear park assist, and forward collision assist.
Chevrolet Express/GMC Savana Specs:
4.3-litre V6: 276 horsepower/298 lb-ft torque
6.0-litre V8: 341 horsepower/373 lb-ft torque
2.8-litre I4 diesel: 181 horsepower/369 lb-ft torque
Maximum cargo capacity range: 6,787 litres – 8,054 litres
Maximum payload range: 3,013 – 4,120 lbs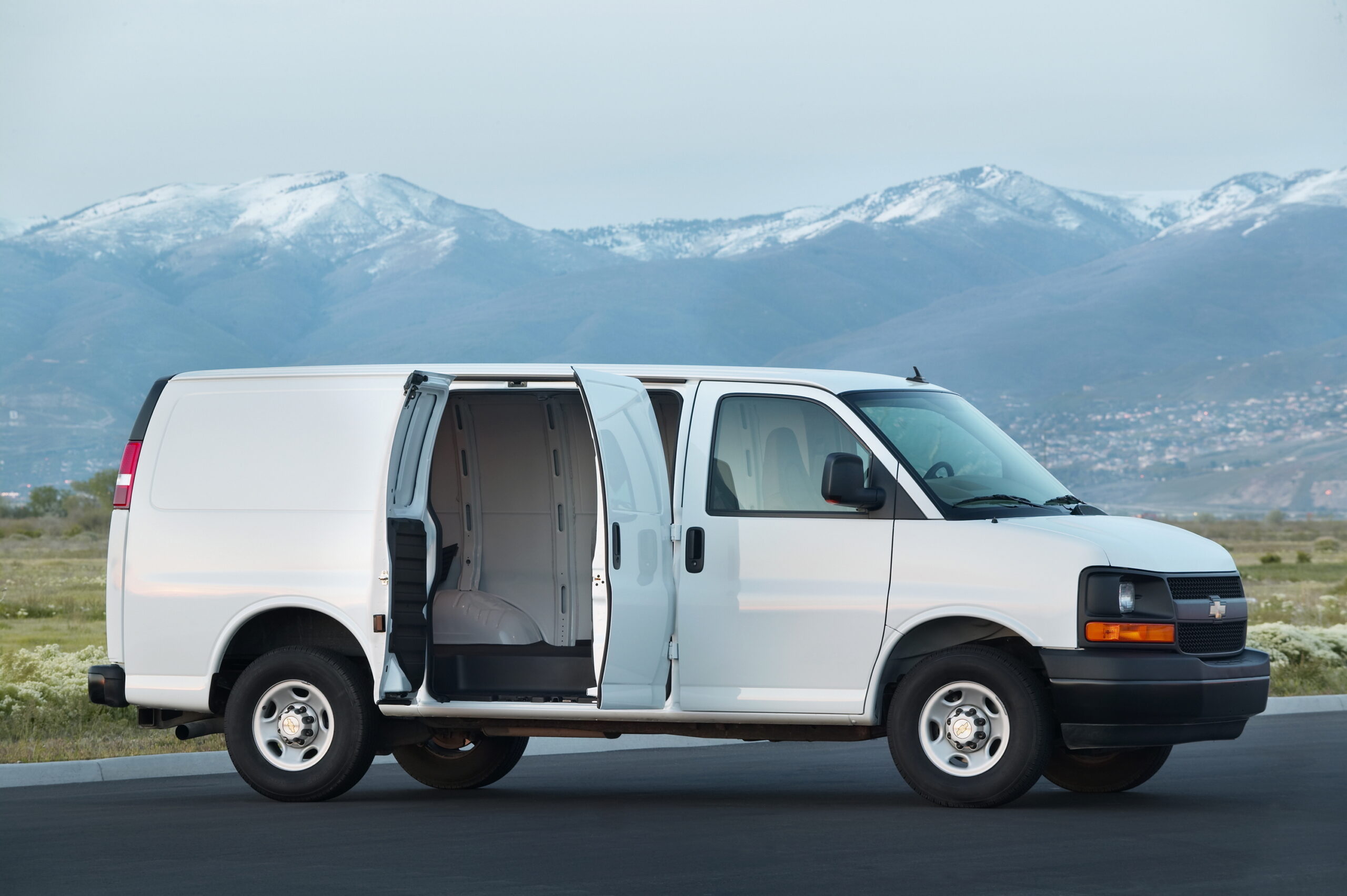 Mercedes-Benz
Mercedes-Benz Sprinter
The Sprinter's engine lineup is a turbocharged four-cylinder gas engine with nine-speed transmission, or four-cylinder or V6 diesels, both with seven-speed automatic. The available 4×4 system is replaced with a more responsive torque-on-demand all-wheel system, with greater AWD availability across more models.
A new Speed Delivery Door can be ordered in place of the regular passenger-side sliding door for parcel delivery. Sensors determine when a driver has moved from the seat to the cargo compartment, and the transparent door automatically unlocks and opens. The door can also automatically close and relock itself, and has a manual override.
The Sprinter comes in three lengths and two roof heights; as a crew van in two lengths and with high roof; and in 2500, 3500, 3500XD and 4500 configurations.
Mercedes-Benz Sprinter Specs:
2.0-litre I4 turbocharged gasoline: 188 horsepower/258 lb-ft torque
2.0-litre I4 diesel: 161 horsepower/266 lb-ft torque
3.0-litre V6 diesel: 188 horsepower/325 lb-ft torque
Maximum cargo capacity range: 9,034 litres – 15,083 litres
Maximum payload range: 3,318 – 4,488 lbs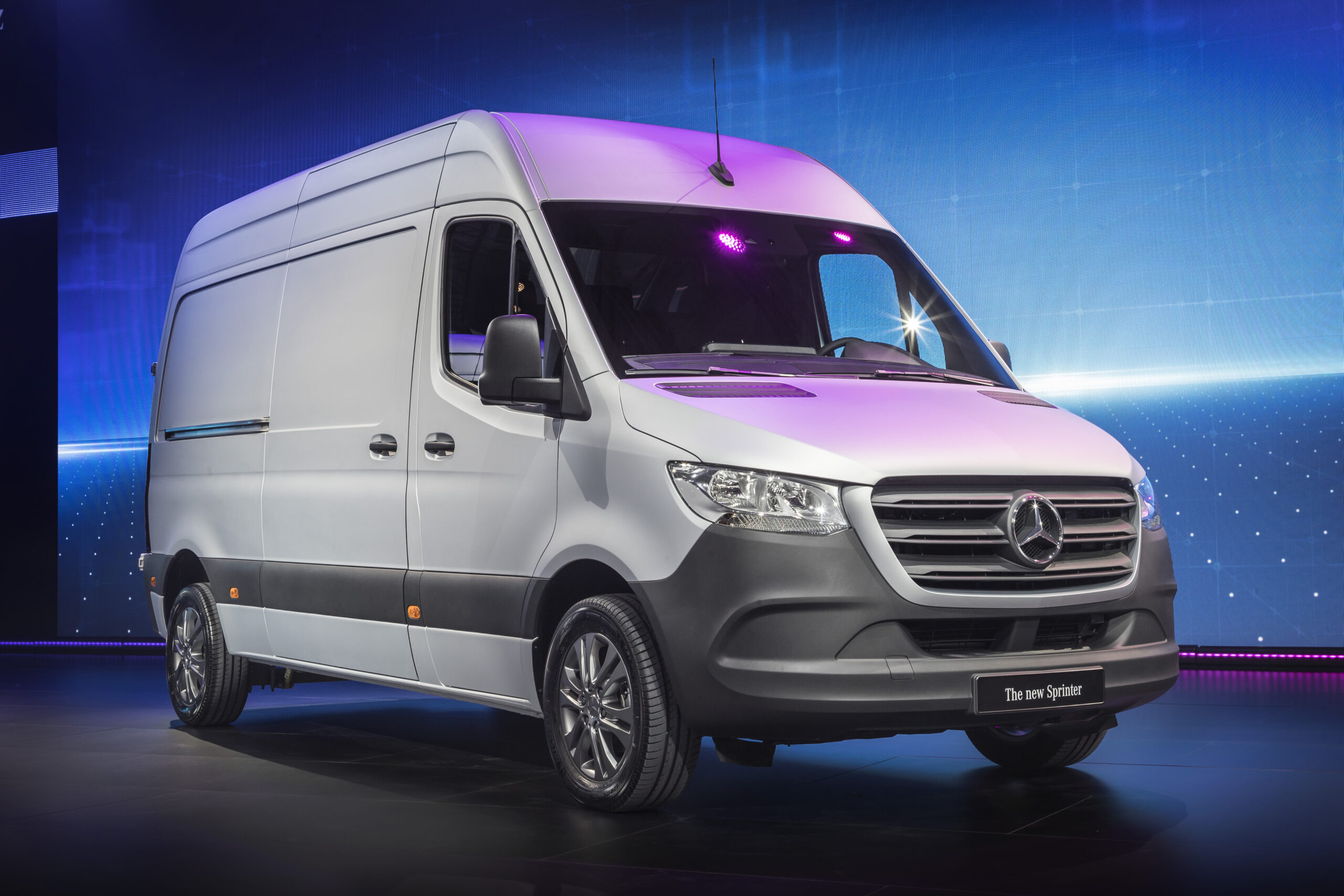 Mercedes-Benz Metris
The only entry in the midsize van segment, the Metris cargo van comes in two lengths with one roof height. It uses a turbocharged gasoline engine, and its previous seven-speed automatic has been replaced with a nine-speed.
Available features include a digital rear-view mirror, smartphone integration, adaptive cruise control, blind-spot monitoring, and driver attention assist.
Mercedes-Benz Metris Specs:
2.0-litre I4: 208 horsepower/258 lb-ft torque
Maximum cargo capacity range: 5,179 litres – 5,614 litres
Maximum payload range: 2,271 – 2,701 lbs
RAM
Ram ProMaster
The full-size ProMaster gets a nine-speed automatic transmission in place of the previous six-speed and adds a crew van with seating for three in the second row. New available features include Wi-Fi capability, wireless smartphone integration, safety assist technologies, and a telematics module.
Unique in the segment, the ProMaster is front-wheel drive, which gives it a lower step-in height. It comes in 1500, 2500 and 3500 rating, in three wheelbase lengths, four body lengths, and low or high roof.
Ram ProMaster Specs:
3.6-litre V6: 280 horsepower/260 lb-ft torque
Maximum cargo capacity range: 7,334 litres – 11,893 litres
Maximum payload range: 3,760 – 4,680 lbs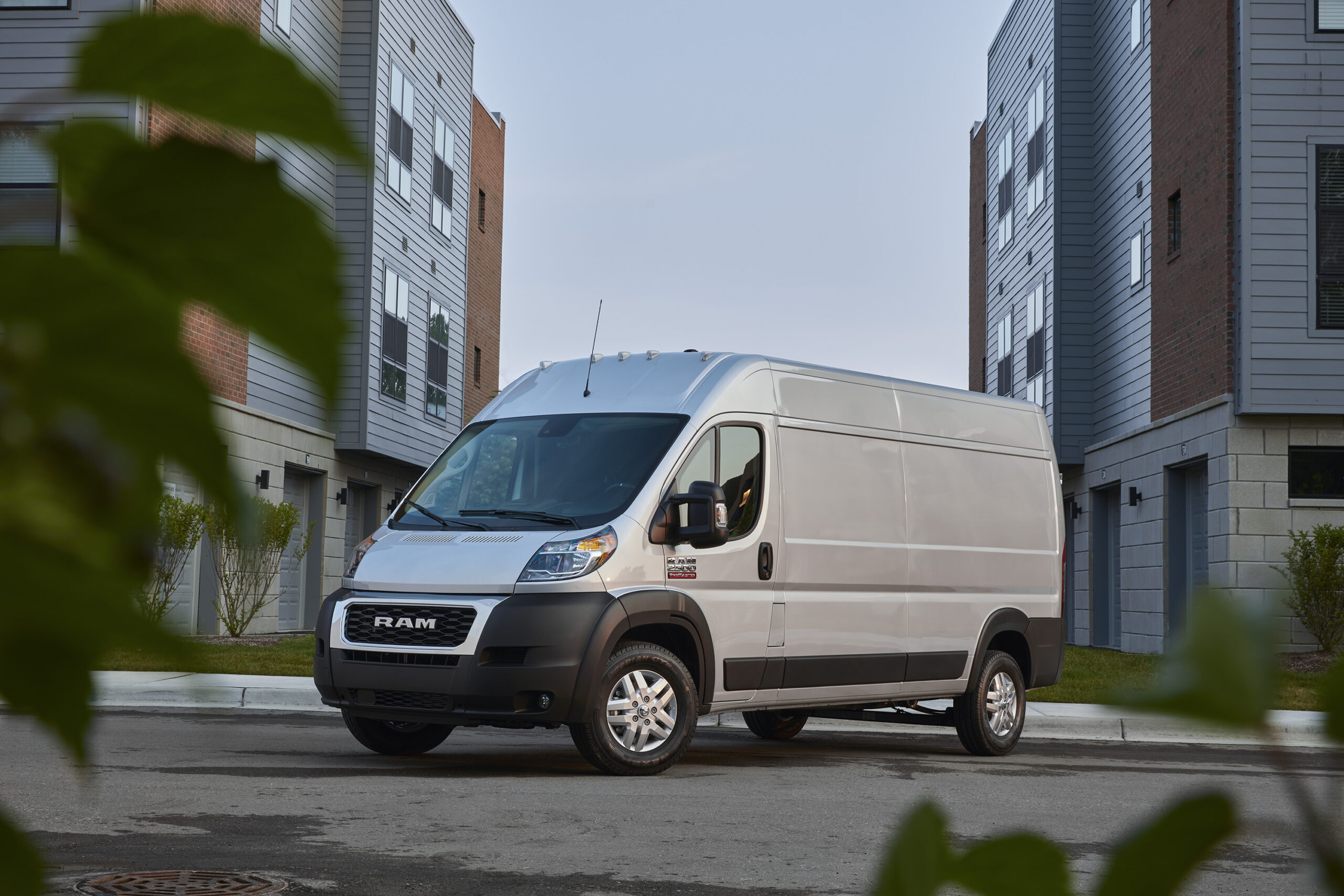 Ram ProMaster City
The compact, front-wheel-drive ProMaster City gets some new standard features for 2022, including cruise control, driver's seat manual height and lumbar adjustment, backup sensors, and body-colour front fascia.
Solid panels on the side and rear doors are standard, but options are available for rear glass, and for fixed or sliding side glass. Other options include a cargo partition, towing package, roof racks, and navigation.
Ram ProMaster City Specs:
2.4-litre I4: 178 horsepower/174 lb-ft torque
Maximum cargo capacity range: 3,729 litres
Maximum payload range: 1,890 lbs