Here's what you need to know when selecting a heavy-duty pickup for your fleet.
Heavy-duty trucks are the true workhorses on any fleet, but while everyone makes a good truck overall, they're all a little different. We've rounded up the specifications on them to help you make the best decision when choosing your heavy haulers.
Chevrolet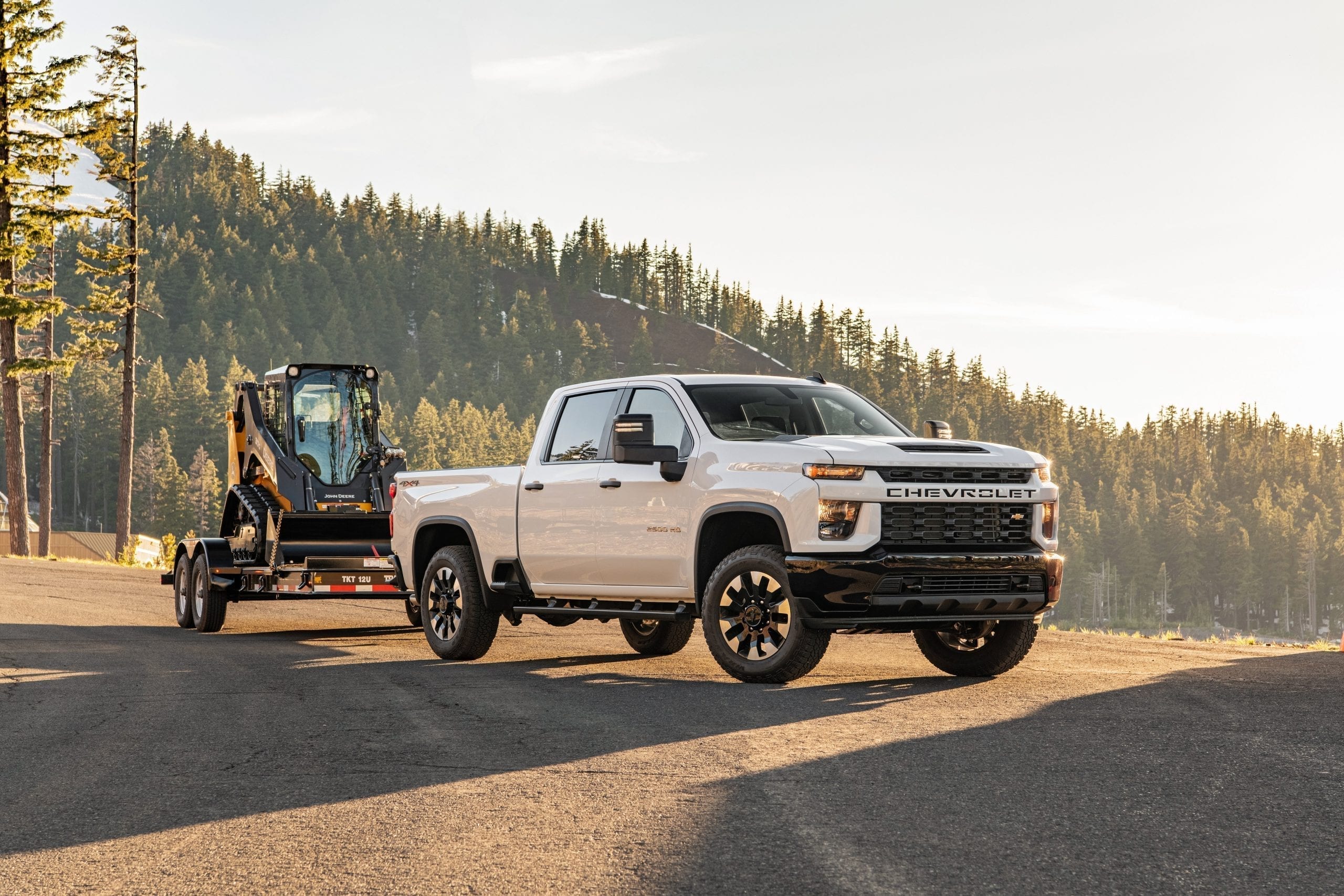 The Chevrolet Silverado HD was all-new for the 2020 model year, along with its mechanical-twin GMC Sierra. And there are extra improvements for the 2021 model.
The current Silverado is longer, wider, and taller than the last-generation truck, and comes in 2500 and 3500 form. The base engine is an all-new 6.6-litre gasoline V8, making 401 horsepower and 464 lb-ft of torque, replacing the previous 6.0-litre V8. Optional, is a Duramax 6.6-litre V8 turbodiesel, making 445 horsepower and 910 lb-ft of torque. The gas engine uses a six-speed automatic, while the diesel is teamed with an Allison 10-speed automatic.
The Silverado comes in 4×2 or 4×4, in Regular Cab, Double Cab, or Crew Cab, with two bed lengths on Double and Crew. The 3500 offers dual rear wheels. Maximum payload is 3,991 lbs on the 2500, and 7,466 lbs on the 3500.
The 2500's maximum conventional towing tops out at 18,500 lbs, while fifth-wheel towing is rated up to 18,600 lbs. The 3500 can conventionally tow up to 20,000 lbs—add a fifth-wheel or gooseneck that gets bumped to 35,500 lbs. The 2021 model will raise maximum towing capacity to 36,000 lbs.
Available trailering assist systems include up to eight cameras and 15 camera views, trailer length indicator when changing lanes, jackknife alert, and trailer side view when reversing. Silverado trim levels are the Work Truck, Custom, LT, LTZ, and High Country.
Ford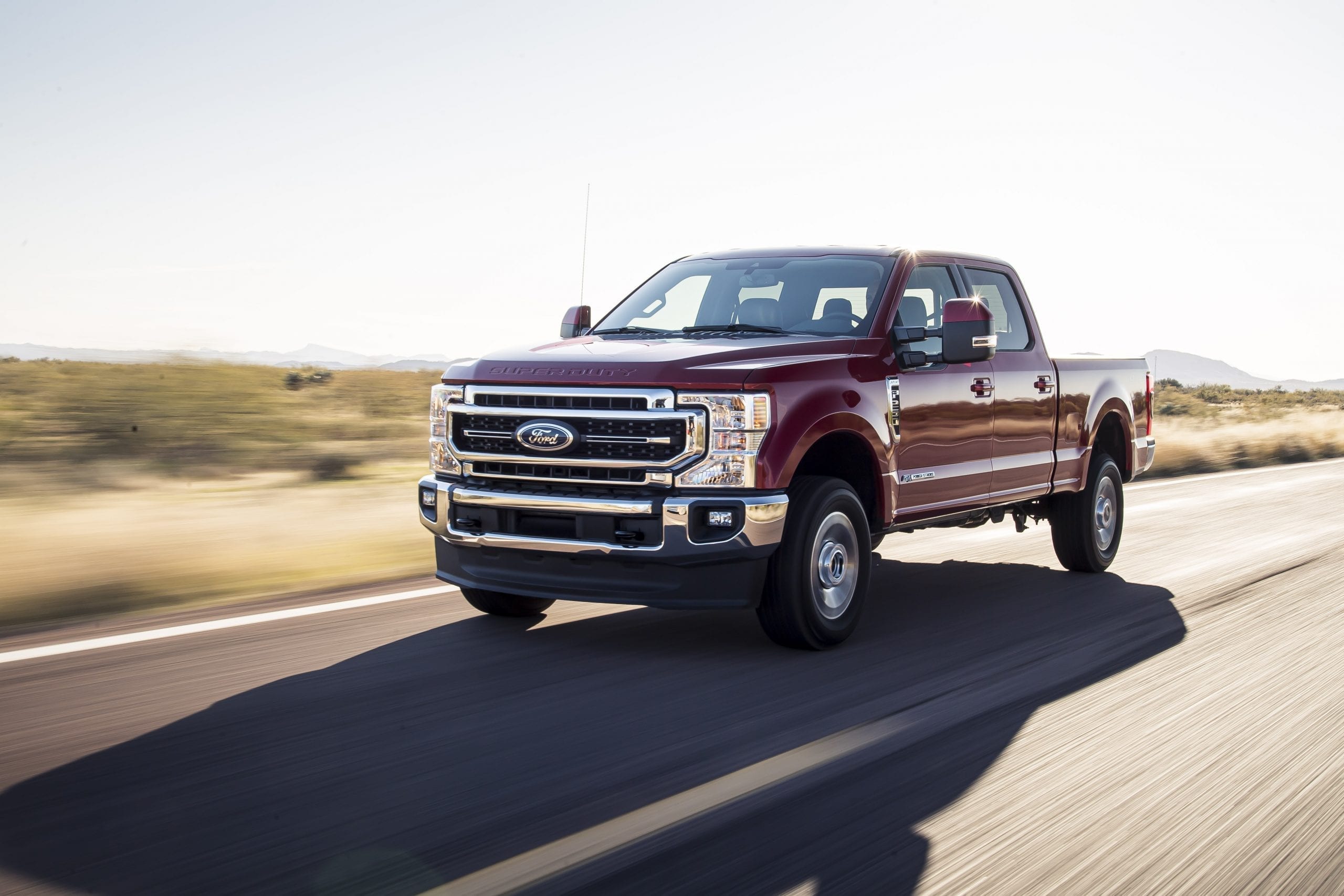 The Super Duty received a major makeover for 2020. Styling changes are minimal, and most of the changes are under the skin for more power and towing capacity. It comes as the F-250 and F-350 in Regular Cab, SuperCab and Crew Cab, and as the F-450 in Regular or Crew Cab. All come with either 4×2 or 4×4 configuration .
The SuperCab and Crew Cab models offer two bed lengths. The F-350 comes with single or dual rear wheels, while all F-450 models are dually only.
Engine availability depends on the configuration and trim level. The base motor is a 6.2-litre gasoline V8, making 385 horsepower and 430 lb-ft of torque. The next step up is an all-new, Canadian-built 7.3-litre gasoline V8 making 430 horsepower and 475 lb-ft of torque.
As before, the diesel choice is a 6.7-litre Power Stroke V8, but it's upgraded into a third-generation engine with a variable-geometry turbocharger, stronger block and pistons, and improved fuel injection system.
It produces 475 horsepower and 1,050 lb-ft of torque. The 6.2-litre V8 is mated to a six-speed automatic on the F-250; otherwise, all engines are teamed with a 10-speed automatic.
Maximum payload is 4,260 lbs on the F-250; 7,850 lbs on the F-350; and 6,210 lbs on the F-450. For conventional towing, the F-250 tops out at 20,000 lbs; the F-350 at 21,200 lbs; and the F-450 can tow 24,200 lbs. With a fifth-wheel or gooseneck, maximum towing is 22,800 lbs for the F-250; 35,750 lbs for the F-350; and 37,000 lbs for the F-450.
All Super Duty models come in XL, XLT, Lariat, King Ranch, Platinum, and Limited trims. Standard or available features include selectable drive modes as well as Pro Trailer Backup Assist. The latter was first seen on the F-150 and works by turning a dial in the direction the trailer should go. There's also 4G LTE WiFi for up to 10 devices; as well as adaptive cruise control; the FordPass mobile app and fleet telematics.
GMC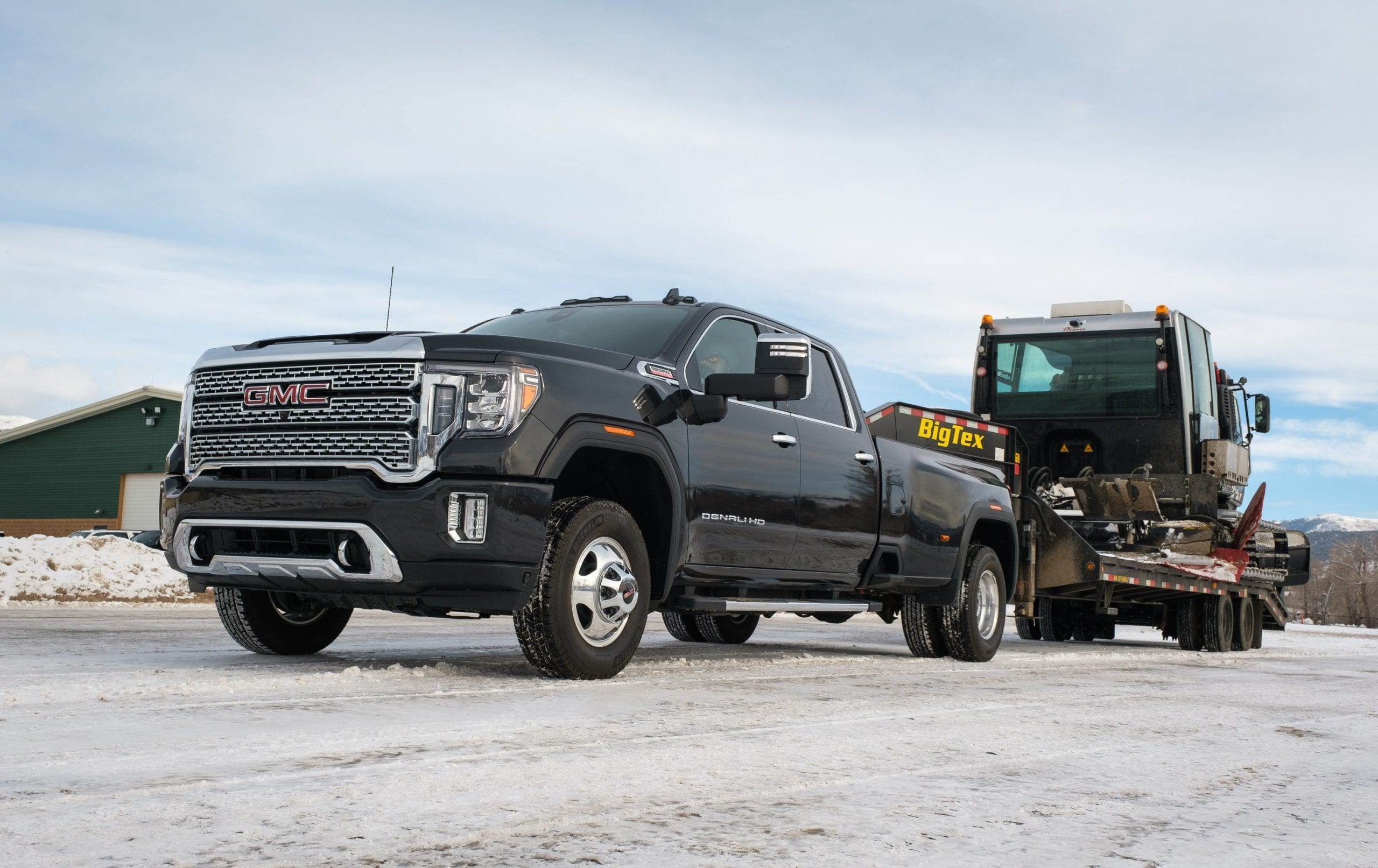 The GMC Sierra HD is the mechanical twin to the Chevrolet Silverado, and as a result, was redesigned extensively for 2020, and with similar improvements coming for 2021. These include the availability of the MultiPro tailgate option on more models. This is a conventional tailgate with a smaller inner gate, and which can be configured for such functions as a stand-up workbench, load stop, full-width step, and two-tier loading.
As with the Silverado's specifications above, the Sierra comes in 2500 and 3500, in three cab configurations, in 4×2 or 4×4, with gas or diesel engine, and with available dual rear wheels on the 3500. Trim levels are the SLE, SLT, AT4, and Denali.
Ram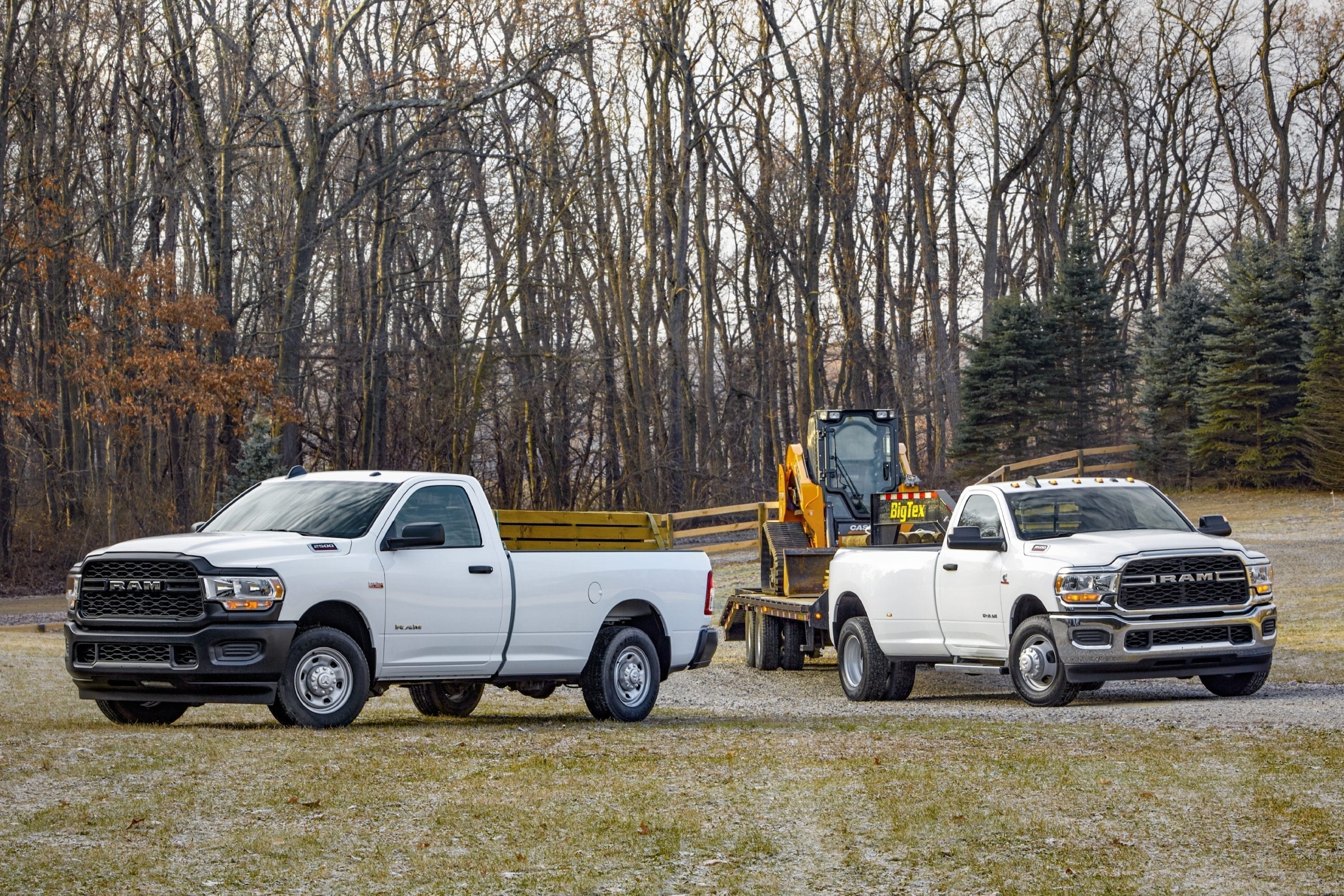 The Ram Heavy-Duty got a significant refresh for 2019 and continues into the 2021 model year with few changes, other than a new Limited Night Edition appearance package.
The Ram comes as the 2500 and 3500, in Regular Cab and in Crew Cab, the latter with a choice of two bed lengths and a choice of 4×2 or 4×4 drive configurations. The Mega Cab comes in 4×4 only. The 3500 is available with dual rear wheels.
The base engine is a 6.4-litre Hemi V8 gasoline, making 410 horsepower and 429 lb-ft of torque, mated to an eight-speed automatic transmission. Also available is a 6.7-litre inline-six Cummins turbodiesel, in two versions. One makes 370 horsepower and 850 lb-ft of torque, while the high-output model, offered only in the 3500, makes 400 horsepower and 1,000 lb-ft of torque. Both of them come with a six-speed automatic transmission.
The 2500 has a maximum payload of 4,050 lbs, and maximum towing capacity of 19,680 lbs, while the 3500's top payload is 7,680, and towing tops out at 35,100 lbs with a gooseneck trailer.
Trim levels are the Tradesman, Big Horn, Laramie, Laramie Longhorn, and Limited. The 2500 also has the Power Wagon option package, which is specially-equipped for off-road use.
Nissan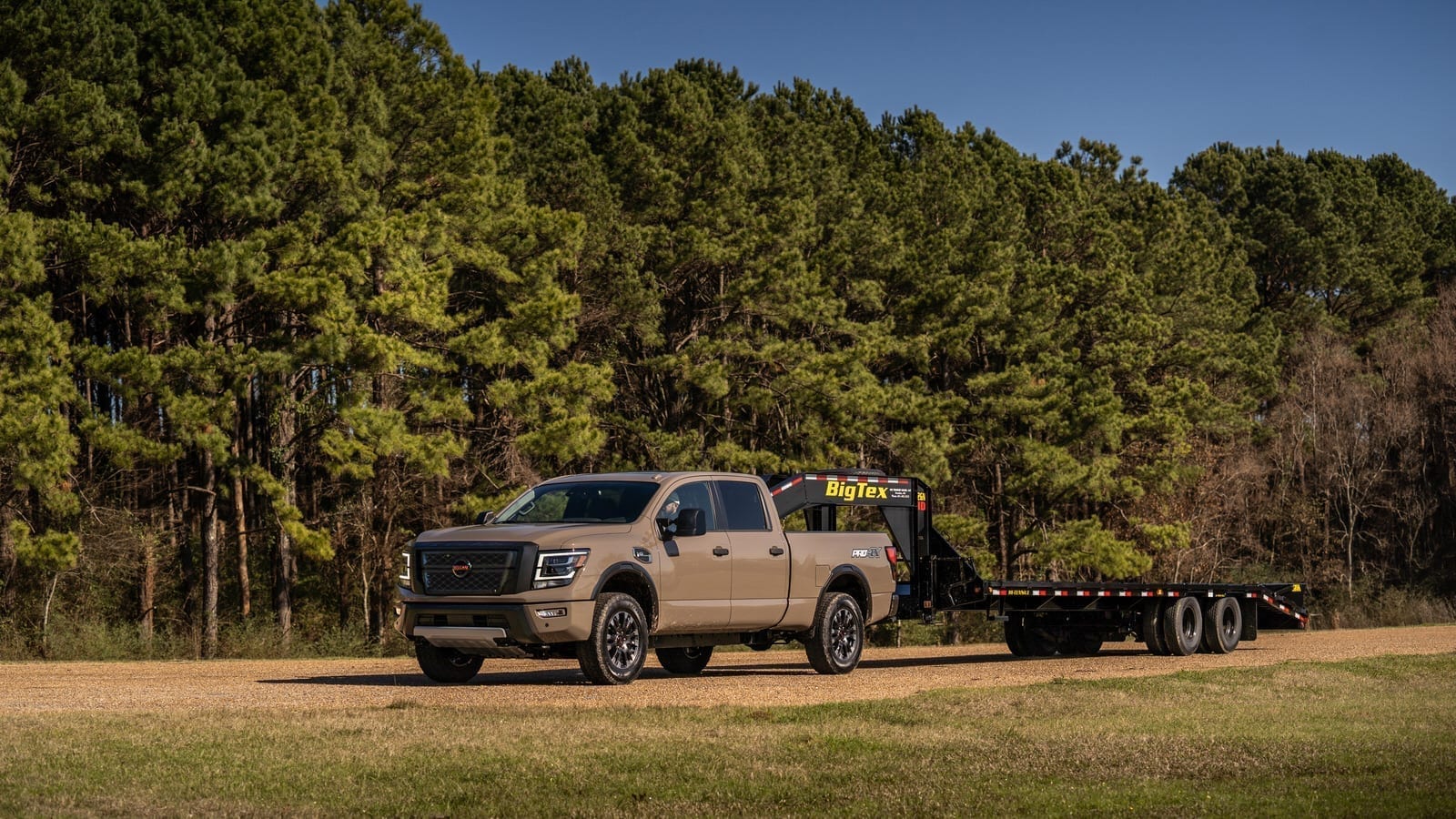 While not technically heavy-duty, the Nissan Titan XD is intended to bridge the gap between light- and heavy-duty trucks. It has a longer wheelbase and overall length than the Titan, and features a heavier-duty frame, brakes, and differential.
It comes only in a Crew Cab 4×4. It uses a 5.6-litre V8 gasoline engine and a nine-speed automatic transmission, which Nissan rates at 400 horsepower and 413 lb-ft of torque, but only on premium fuel; on regular-grade, it makes 390 horsepower and 394 lb-ft of torque. Maximum payload is 2,240 lbs; conventional towing tops out at 10,790 lbs, and gooseneck at 11,050 lbs. Warranty is 5-year/160,000-km bumper-to-bumper. However, Nissan is discontinuing the Titan in Canada after the 2021 model year.