Since 1998, Adam Hill has steered his financial services firm to become a leader and innovator in automotive F&I products and solutions.
In 2023, LGM Financial Services celebrated its 25th anniversary. To mark this special occasion, Autosphere sat down with co-founder and Executive Chair Adam Hill. We asked him about how he first got involved in automotive retail and F&I, how LGM has grown to become a prominent and innovative F&I services provider, as well as some of his own personal views on entrepreneurship and business success. Here's what he had to say:
Autosphere: Can you tell us a little about your background and how you first got involved in the automotive industry?
Adam Hill: It really began when I was still living in Australia. My father was always tinkering with cars and knew how to fix them, but for me personally, it was when I got a job in the accounting department at a Honda dealership. At that time, Honda was just introducing the NSX (sold as the Acura NSX in the U.S. and Canada). Being able to represent the brand and that car, was very exciting. When I moved to Canada, I felt it would be good to leverage that experience, so I started working in that field. I worked at two dealerships and at the second, a fortuitous moment happened. The owner said he was looking to sell the dealership and embark on a new venture—in the world of F&I. So that's how I really got started on this path.
AS: In your career as an entrepreneur, what are some of the most significant milestones that stand out and why?
AH: Entrepreneurs are very interesting people and I applaud and have tremendous respect for those who take the plunge and try to make a go of it, in whatever industry they choose. For me, the influence really goes back to my father, who was an entrepreneur from the very beginning. Even at the age of 10, I was starting little businesses in my local community, so I guess you could say I really had a passion for entrepreneurialism from a young age.
In terms of what sticks out for me, I would say it's important to celebrate the wins you have because those are the fuel that keeps you going. I've learned to be grateful for, as opposed tofearing adversity. It's inevitable as an entrepreneur that you'll go through headwinds. You'll get setbacks that really push your limits, but it is often during times like these that you're able to not only recognize your own resilience but galvanize your team.
In 25 years, LGM Financial Services has seen its fair share of ups and downs, and during that time, I've learned just as much about what it takes to persevere and push through when you've had losses, as much as I have about how to win and grow the business successfully. It's really essential to apply what you learn so you can avoid repeating mistakes and not venture down any dead-end paths.
AS: What do you think have been some of the most significant changes, for better or worse, when it comes to automotive retail over the last 25 years?
AH: There's no question that a lot has changed in the last 25 years. We're no longer using tools like dot-matrix printers or fax machines like we were back then, though technology aside, probably the biggest change I've seen is diversity in the workforce. Back when I first started, this industry was heavily populated by men and if you were a female at that time, you needed a very tough skin to succeed. Today, we have a lot more women in the industry and in leadership roles, including at OEMs, dealers and vendors/suppliers, including here at LGM. Additionally, we have people from all different cultures and backgrounds and that diversity is truly enriching, from both a cultural and business standpoint. It's been a huge benefit. Another significant change we've seen is consolidation, particularly among dealers.
Today there are a lot more large dealer groups, they've tended to bring a different level of sophistication and professionalism to the industry, as well as more choice and transparency for consumers. If we look specifically at F&I, I also think that today, the market and the operators within it is more robust than in the past. We've seen a lot of regulations introduced and while it has required a rethink and, in some cases, a reshaping of our businesses in order to comply, the net effect has been fewer business failures. When I first started 25 years ago, it wasn't uncommon for F&I providers to go out of business—today, you rarely see that happen. Regulations have also been good in terms of providing protection for consumers, as well as dealers and OEMs.
It's also important to mention the impact that technology has had on our industry. Reiterating what I mentioned earlier about fax machines and dot-matrix printers, today we have a whole slew of tools that were unfathomable even a decade ago. I think as an industry, we're still working on how to integrate all these tools and solutions into an efficient ecosystem but we're already seeing how it has changed and improved the purchase experience for the consumer as well as streamlining the sales process.
AS: What are some of the most significant insights you've had during your time working in the industry?
AH: I would say one of the most significant for me is seeing firsthand the resilience our industry has. Since LGM was founded, we've been through three major economic upheavals, the dot.com bubble in 2000, the Great Recession in 2008-09 and more recently the COVID-19 pandemic. Through each of these, the automotive industry has proved not only how vital it is, but how adaptable and resilient it is too. We sometimes forget, but transportation is one of the most important needs for humans, besides food and shelter.
When we look at these major global events that have conspired, they didn't really impact the active dealer base in Canada and didn't take anyone of materiality down. While consumer demand for vehicles and related services may alter, it never goes away, and we've seen how it can rebound can come back stronger. It's very impressive to see how, despite major global disruptions, the auto sector is still relevant and intact.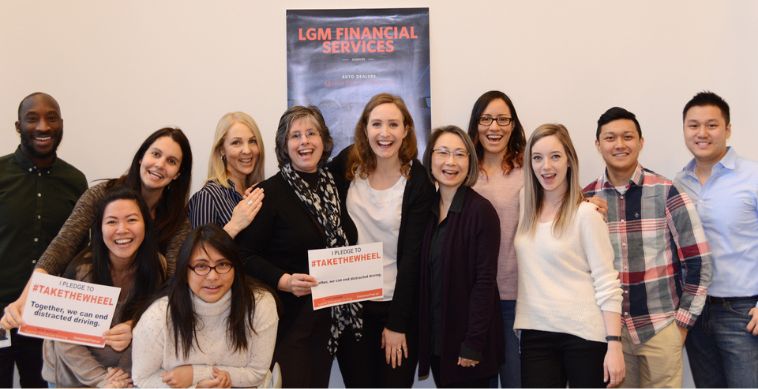 AS: Can you tell us how LGM Financial Services was created and what were some of the guiding principles during those early days?
AH: When we originally started the business, there were five founders. We partnered with a big U.S. insurer that was also a financial sponsor, which was much welcomed in those early days, especially, when as an upstart you have support from an organization with a great reputation. Our main objective was to bring stability to the marketplace—to be a proponent of greater transparency and an advocate for the consumer, which 25 years ago, was almost revolutionary. To this day, it's a very important component of how we operate our businesses. We want to create a win for every stakeholder within the F&I process, which includes the consumer, the dealer and our OEM partners.
Another important aspect is the level of service we're able to provide, such as ensuring the consumer is happy, as well as supporting our dealers and our OEM partners. For our dealers, it is very critical to offer solutions, training and communication in the field and we're big advocates of regular visitations and providing workshops for them, as well as gauging feedback and providing solutions to best fit their needs. We've also focused on being responsive, such as when a consumer had a claim, or when it comes to ensuring transparent and fair-trading practices. When LGM entered the marketplace, it was already well established, with key players that had been around for a long time. That's why for us, it was important to differentiate ourselves and it's something we've strived for ever since.
AS: How has the business grown and evolved and what do you think have been some of the key drivers behind its success?
AH: As mentioned previously, when we got into the market it was important for us to establish our own niche, so we could differentiate ourselves. Back then, much of the F&I industry was offering products that were strictly labelled and not backed by OEMs. We saw an opportunity in the Canadian market where OEMs could benefit from having their own brand of F&I products. So, we would engage with OEMs and talk to them about how they could participate in the F&I marketplace, providing products that dealers wanted, with their own OEM branding. As a partner we would provide support from the beginning, meaning they didn't have to do the heavy lifting.
We also went through a vetting process to make sure the product the consumer purchased was right for them and was fully backed by the OEM. It proved to be very effective, and dealers got to sell more because they had OEM brand support and there was greater consumer confidence in the product. From there we've also introduced new products beyond the traditional F&I offerings of extended warranties, loan protection and life and disability insurance. We were the first to introduce vehicle appearance protection, as well as scheduled maintenance plans and some innovative GAP-style products.
If I were to say what has been a key driver in being able to grow our business and market share, it has been having an innovative spirit and being willing to try new and different things within such an established marketplace. Figuring out new supply channels with OEMs and introducing new products to the marketplace is really how we managed to chart our course to where we are today.
AS: If you could give your younger self some advice regarding business, entrepreneurship, and the automotive sector, what would it be?
AH: I love this question because it really gives you a chance—in hindsight—to think about what decisions you'd make and why. For me, it would really be about what business I'd want to start and which problem I'd like to solve. My advice is always to try and figure out a problem that's substantial enough that you have a chance to make a big difference. And often, the bigger the problem, the greater the reward. Therefore, if you're trying to measure your success by building a successful enterprise, it often starts by finding an issue or gap in the market that could really benefit from improvement via innovation.
Digital retailing is a good example of that. While there were few that saw an immediate demand for it, gradually over time, we've seen digital retailing steadily grow at the dealer level and today there are consumers that value transacting online. Customer expectations have and continue to shift, so it's important to be aware of that. Additionally, customers will want to engage with you, whether it's in-person or online so that needs to be of paramount importance. Being successful also requires having a good team, so you need to find the right people and be willing to pay for and invest in them. When you do that, as our own experience at LGM shows, it tends to accelerate the performance and reputation of the organization.
At the end of the day, we need to remind ourselves that automotive retailing is a people business, and you cannot dispense with the value of relationships and connections, whether it's with your staff, your partners, or your customers.
AS: Looking to the future how do you see the automotive retail and F&I business evolving?
AH: There's so much disruption in the automotive space happening right now and a lot of it is inspiring. At LGM, we use the acronym CASED—connected cars, autonomous, shared, electrified and digital. We see all these trends converging in the marketplace at the same time. The net effect from that, I think, is more choice for the consumer, more transparency, and a lot of omnichannel support, whether it's online or in the store. From what we see, the retail model is going to be very healthy for dealers over the long term, while still giving consumer choice in terms of how they want to engage in their vehicle ownership journey.
With that said, we're all going to need to adapt over the next 25 years. Vehicle electrification is here to stay, which means dealers are going to have to retool to some degree to adapt to the growth in EVs. Additionally, in the F&I space, the types of products that are offered for electric vehicles are nuanced and need to be built in a way that creates consumer demand. At LGM we've been keeping track of those trends—creating attractive packages for EV buyers. Still, the business has and will continue to evolve, yet as it does, it's also important to remember the fundamentals.
People will always need transport and they will still need places to go to acquire, service and support that transport. And I think that bodes well for F&I. Whether it's today, or in the future, consumers still want to have the confidence that they're properly protected over the long haul, particularly it comes to a large purchase like a vehicle.