Sabrina Luciani, Luciani Cadillac's Director of Marketing and Events, warmly welcomed us at 4 000 Jean-Talon Street West.
The bright showroom unveils the vehicles, including the performance models, known as V-Blackwing, a collector car on display alongside the new 100% electric Lyriq.
The atmosphere is cosy, with beautiful classical music. Ancient and modern paintings adorn the walls of each room. Art furniture fills the spaces.
An assertive shift to Cadillac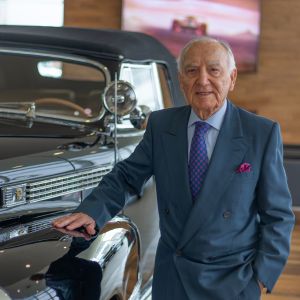 Camillo Luciani is the president of the dealership, the largest Cadillac dealership in Canada. The kindly man, with an impeccable suit, is originally from central Italy. A business graduate, he arrived in Montreal at the age of 24. Evolving in the banking field, he turned to the automotive world, wishing to become his own boss. He ran his first business in 1965. After holding several franchises, he chose to make the jump to Cadillac.
"I like to sell an image, with elegance and passion," says Luciani. Cadillac is for me a reference in luxury interior and exterior design. It's an organized, structured company with high ambitions and vehicles tailored to North America."
A family story… and a demanding one
If his daughter Sabrina is part of the management, his son Sandro is the vice-president. However, they were not given a free pass. "My son [Sandro] studied at John Molson in Canada, Boston and two years at the National Automobile Dealers Association (Nada) in Washington," says the patriarch.
Taking care of customers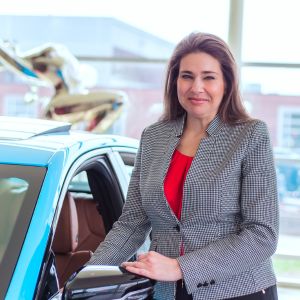 "We don't just give away the keys to a vehicle," he says. "We pay attention to detail, just like a work of art. We have to take care of all our services, so that our demanding customers are satisfied over the long term."
At Luciani, it is a dedicated person who intervenes during the deliveries of new vehicles. "It's going to take as long as it takes," explains Shirley Goncalves, the Chief Operating Officer. "Our client needs to feel at that moment that we are 100% theirs."
The new owner has everything explained to him. "Our specialist knows the vehicles from bumper to bumper," adds José Fernandes, General Manager. "He can answer all the customer's questions and perform setups with them."
The staff at the heart of its activities
Luciani Cadillac has 44 employees. To facilitate their daily work, Luciani Cadillac has invested heavily in a single software to manage the entire dealership, SERTI.
When hiring, the personality of the candidates is a major criterion. "We look at the human side," says Ms. Goncalves. "We look for warm, smiling people, because that can't be taught. That's part of our charm and appeal."
For his salespeople, Mr. Luciani banishes the all-too-common and impersonal Can I help you? In fact, he prefers to recruit salespeople with no automotive experience, to train them in his work philosophy. "Our salespeople need to have a strong general education," he says. "They need to be able to interact with customers properly. In luxury, it's the culture that makes the difference, even in clothing."
Challenges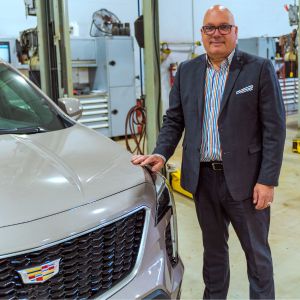 "We offer five-star customer services," says Fernandes. "We sell, service and fully wash all vehicles. Our biggest challenge in the coming years will be to maintain the same high standards. Mr. Luciani's priority is the customer. All the processes in place are complex to get from sale to delivery."
While all models can be delivered quickly, you have to be patient to get the luxurious all-electric Lyriq. For the full-size luxury SUV, the Escalade, you have to wait an average of 6 months. "The Escalade is driven by Hollywood stars. When we get them, all the units are already sold out," Goncalves notes.
An adaptation to the electric … and additional services
In one room there are two elevators for electric vehicles. "For the Lyriq each battery already weighs 2,500 pounds each [1,150 kg]. A traditional bridge can carry 8,000 pounds [3,600 kg], while specialized ones have a capacity of 12,000 pounds [5,500 kg]. The footprint should also be wider," says Fernandes.
High-end vehicles such as Ferraris, Rolls-Royces and Lamborghinis are offered for rent to well-known customers.
In the basement, four stations are used by the car detailing department.