Larry Hutchinson stressed the importance for the auto industry and government to work together in achieving lasting and impactful reductions in harmful emissions instead of unworkable ZEV mandates.
At a Canadian auto industry stakeholders' event on February 15 (just prior to the opening of the Canadian International AutoShow in Toronto); Toyota Canada President & CEO Larry Hutchinson, spoke to attendees about Toyota's global commitment in reducing carbon emissions. While acknowledging the need to continue on this path, Hutchinson also took aim at the Government of Canada's proposed ZEV mandate revealed earlier this year.
Hutchinson reiterated that the need to address a complex issue like climate change requires "using all the tools in our tool box," and that the government's ZEV proposal "attempts to address the climate challenge with just one tool"—namely the sale of battery electric vehicles.
Significant issues
"There are significant problems with this one-tool approach," Hutchinson remarked, "it fails to acknowledge that carbon emissions come not just from new vehicles, but every vehicle on the road."
Additionally, he noted that the impact of rising demand on raw materials required for battery manufacturing could be a huge problem to widespread EV adoption. "Between 2020 and 2022, the price of lithium rose from $5,000 U.S. per ton to over $71,000 per ton and I think we can expect prices for all the critical minerals to continue to climb, driven by our exponentially increasing demand for them," Hutchinson said.
In other words, these skyrocketing prices for raw materials will drive the cost of battery electric vehicles up so much it will severely impact the ability for Canadians to afford them, and yet the government is still proposing that by 2026, 20% of all new vehicle sales in Canada will have to be ZEVs.
Hutchinson also added what while 20% represents a very significant increase from the current 8% of sales which are ZEVs, "the number is meaningless" if the new vehicle market recovers to the 2 million annual sales it witnessed pre-pandemic.
"That one third increase in overall vehicle sales would mean carbon emissions from the vehicles sold would actually rise-not-fall-even as record numbers of EVs are sold."
More practical options
For this reason, Hutchinson said, the type of electrified vehicles we choose to sell can make a big difference. And to instigate a practical and sustainable approach to vehicle emissions reductions, the industry and regulators need to look at more practical alternatives than just BEVs, such as hybrid, plug-in hybrid, hydrogen internal combustion and e-fuel technologies.
"The e-fuel technology is particularly exciting to me," Hutchinson stated. "Imagine a future where we have plug-in hybrids, so people do most of their driving on electric mode, already cutting their emissions by 80-90% and then, to get to 100%, use a zero emissions e-fuel for the few times they need to drive a longer distance.
"Carbon-neutral emissions, less environmental impact from all the mines BEVs would require—virtually no infrastructure challenges and affordable transportation for everyone. That future is both practical and possible," he declared.
Hutchinson also noted that even without government mandates, 40% of Toyota's vehicles sold in Canada during 2023 will be electrified in some shape or form and that the company's achievements and progress toward significantly reducing carbon emissions are well documented.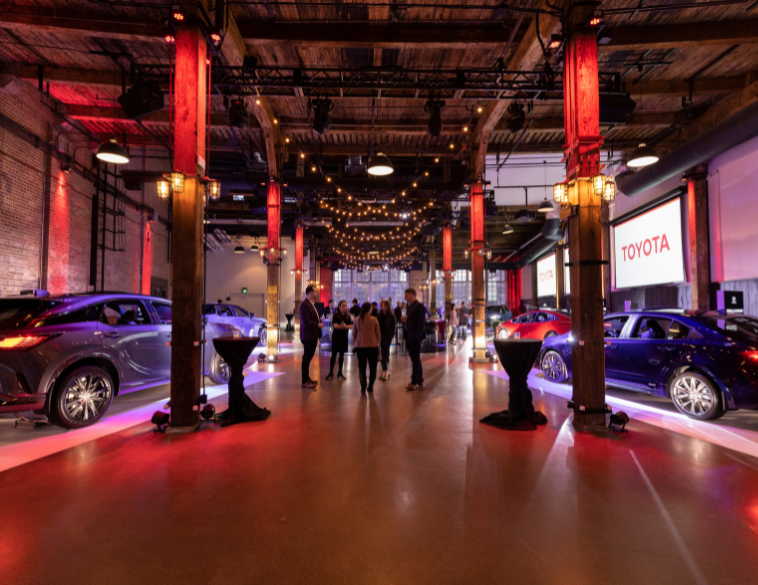 Too impactful to get wrong
Ultimately, he said the mission toward achieving significant emissions reductions is both too important and too impactful to get wrong.
"The cost of making a mistake is too high and the road to 2050 is getting shorter all the time," declared Hutchinson.
By the same token, he noted that "having affordable transportation choices is essential," for a sustainable, prosperous society and future.
During the event, attendees got a chance to sample a range of Toyota's current product offerings, including the fuel-efficient and made in Canada Corolla and RAV4, as well as the Toyota Prius Prime, Lexus RZ450e, and a special Canadian premiere of the new 2024 Grand Highlander SUV.