High-end space offers digital amenities for everyone.
When an opening came up at the Richmond Auto Mall in British Columbia, it was a golden opportunity for a Porsche Centre flagship store. 
The Richmond Auto Mall is the largest in British Columbia and is already a well-known car shopping destination. "Our building at the entrance of this Mall made perfect sense," says Vincent Zhang, general manager at Porsche Centre Richmond. Previously, there had only been two Porsche Centre locations in Vancouver and Langley, and demand for new and used premium cars in B.C. was on the rise. "There's a high concentration of Porsche owners in the Richmond area."
But before they could break ground on the new store, COVID hit. Resources were impacted at all levels and delayed progress on the construction of the new building. To serve customer needs, a temporary Porsche Now Richmond opened at Aberdeen Centre, a popular shopping centre in the heart of Richmond. The world's first Porsche pop-up design concept, the high-end space displayed three Porsche models, and a Porsche Design boutique with a selection of signature lifestyle products. Floor-to-ceiling reflective walls at the back of the store offered guests a unique infinity effect and fun photo opportunity.
Digital solutions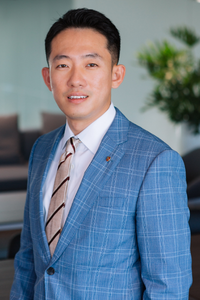 And finally, on November 9, 2022, the new 75,000-square-foot flagship location opened its doors to the public. Modelled on Destination Porsche, the new brand corporate architecture, Porsche Centre Richmond offers three levels of airy showrooms, custom guest amenities, a special delivery area and 15 leading-edge service bays. 
"The aim is to redefine the customer in-store experience," explains Zhang. Virtual reality applications allow customers to virtually experience their own car configurations, with touch screens that make the brand products easily accessible. This digital Porsche world also includes a tablet-based vehicle acceptance process, E-signature and online payment. "There is a lot of flexibility with how we interact with our customers," continues Zhang. "Our digital solutions build up the individualized connection between our customers and Porsche products."
Sales executives are equipped with mobile computers, allowing for a more flexible hands-on purchasing process. "It takes away from the traditional office environment," describes Zhang. There's also an exclusive VR configurator where customers can sit virtually in their dream Porsche, and see it from a first-person point of view. 
Kids Design Studio
Each of the three levels serves a different purpose. The ground floor is dedicated to new Porsche vehicle displays, a new vehicle delivery area, and the service shop. Offices and boardrooms are housed on the second floor, while the top floor features a pre-owned showroom and pre-owned delivery area.
A Kids Design Studio is a warm and inviting space for children to express their creativity and stay entertained while their parents are occupied with vehicle business. "The concept for Destination Porsche is based on the client's needs, whether that be having a quiet space to do work, a highlight spot to enjoy the vehicles or having a space for your child to be entertained," says Zhang. "We have had many young designers come through our studio and create masterpieces colouring their favourite Porsche or exploring the endless opportunities with Lego."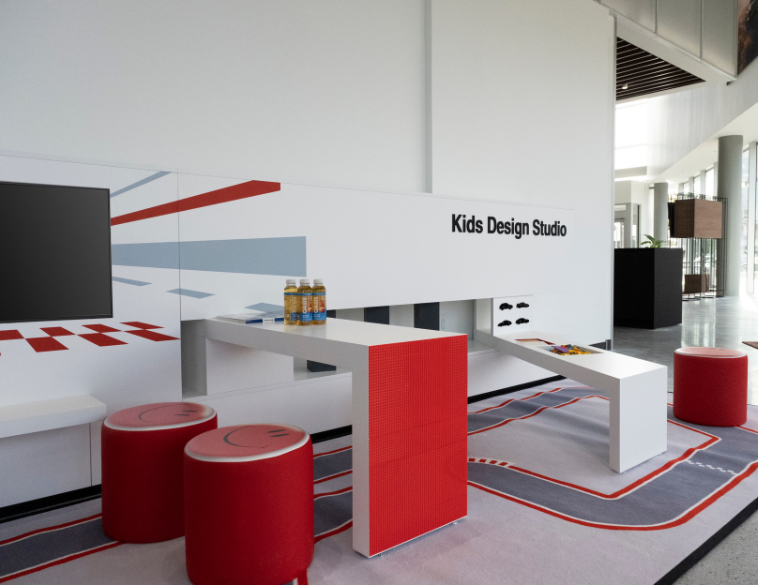 Porsche Centre Richmond was made possible by a partnership between OpenRoad Auto Group and Dilawri Group of Companies. "This has been an exciting partnership," enthuses Zhang. "It's been a pleasure to work with both OpenRoad and Dilawri.
Porsche Centre Richmond is well equipped for an electric present and future, with several EV chargers in place for Porsche Taycan models. "Electric vehicles are the future, so our buildings were specially designed to accommodate Porsche's full E-Performance range of vehicles, including electric drive and plug-in hybrid models," notes Zhang.  Currently, the store's hottest vehicles are the Porsche Macan and Cayenne.   
Positive response
Although labour shortages are challenging a number of industries, Porsche Centre Richmond continues to bolster its hiring package to attract top talent. "We're thrilled to already have an amazing, existing team at Porsche Centre Richmond," attests Zhang.
As for inventory and supply chain issues, Zhang says it's all about expectations. "We give our customers clear and realistic timelines so they will know when they will receive their vehicles," he explains. "We also provide them with timeline updates and keep in constant contact during the waiting period."
Both customers and staff alike are enjoying the new store. "The reception has been very positive since we opened in November," remarks Zhang. "Customers have commented on the great layout and how the new Destination Porsche is an innovative way for them to shop for a new vehicle with us."