Lotus is bringing to market a new line of vehicles designed to appeal to a new breed of drivers.
The Lotus Eletre is being touted by the company as the first of a new breed of pure electric SUVs. It promises Lotus DNA, repackaged in a modern translation of what a performance vehicle should be in the modern EV age.
"The launch of the Eletre is the natural next step for Lotus," says Matt Windle, Group Vice-President and Managing Director, Lotus Cars. "Two-seater sports cars are not for everyone, and we want to offer a Lotus for every stage of your life. The Eletre is the start of that."
Three different versions of the Eletre will be available when the car arrives on Canadian shores sometime in 2024. The base Eletre and Eletre S models will produce 603 hp, 523 ft.-lbs. of torque, a 0-100 km/h time of 4.5 seconds, and promise a maximum range of 600 km. The top-of-the-line Eletre R model will pump out a mind-numbing 905 hp, 726 ft.-lbs. of torque, a 0-100 km/h time of 2.95 seconds, and a maximum range of 490 km.
According to Lotus, the 112 kWh battery for all three models has a charging time (10%-80%) of just 20 minutes using a rapid charger.
"Historically, Lotus has been a company which focused on two-seater sports cars, and of course, we recognize that they are not for everyone," explains Richard Yarrow, Head of News & Technology Communications, Group Lotus. "Part of our transformation from a UK sports car company to a global performance car business and brand is that we want to offer a Lotus car for every stage of the customer's life. So the Eletre is our first 'lifestyle' product, and we're already announced three more are on the way."
Next-gen innovations
Lotus is raising the bar on innovation with the Eletre by introducing a number of interesting technologies, some of which might make it to market, while others may be deemed illegal in some jurisdictions.
For instance, both door mirrors are replaced by an Electric Reverse Mirror Display (ERMD), which houses three different cameras: one for the rear-view mirror, a second for a 360-degree view from above, and a third that works in tandem with the Eletre's LIDAR system to deliver autonomous driving capability. However, the Eletre is fitted with standard mirrors in markets where local regulations do not allow ERMD.
Performance junkies will be excited by the notion that in the near future, they will be able to drive their Eletre on the Nürburgring circuit. Or perhaps, more to the point, the Eletre will be able to drive them around the track, autonomously.
Yarrow explains how this might work: "The hardware that is integrated into the Eletre makes it one of the most advanced cars in the world, and we have confirmed that it's ready to support the higher levels of autonomous driving as local market regulations allow – AD4. During the testing of advanced prototype cars fitted with AD software at the Nürburgring, our engineers have been working on technology that will support customer use of that functionality on this and other high-profile racetracks. For the customer, it would allow them to experience the car's ultimate thrilling driving performance and dynamic capability aided by AD. It is something for the future, and we will share more details when the time is right."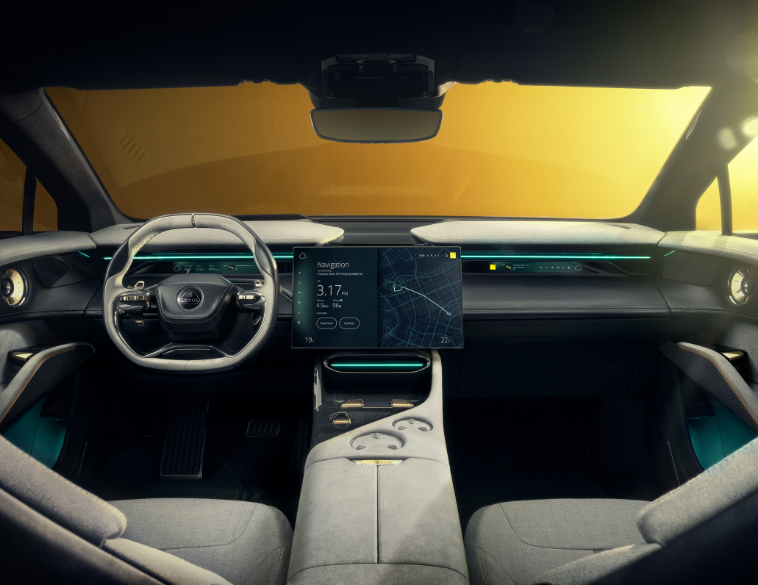 Pricing and features
Although Canadian pricing won't be announced until later in 2023, we can get a ballpark idea of what consumers on this side of the pond will pay for an Eletre by looking at the European numbers.
In the UK the Eletre will be available with a base MSRP of £89,500 (€95,990 in Europe). Standard equipment includes five drive modes (Range, Tour, Sport, Off-Road and Individual), which adjust the steering, damper settings, powertrain and accelerator pedal response.
Standard features include wireless smartphone charging, 12-way electrically adjustable front seats, an 'intelligent cockpit' infotainment system that comes with a 1,380-watt, 15-speaker audio system, and a centrally-mounted 15.1-inch full high-definition OLED centre screen.
Also standard is a LIDAR system, which according to Lotus, will be a world-first in a production car, offering end-to-end autonomous driving technology. Over-the-air software updates will continue to update the autonomous driving system as local laws allow for the use of more advanced levels of autonomous technologies.
The mid-range Eletre S will start at £104,500 (€120,990 in Europe) and will come with additional features including privacy glass, an air quality system, and an upgrade to a 2,160-watt, 23-speaker audio system.
The flagship Eletre R will be priced at £120,000 (€150,990 in Europe) and will be the only model to include Track mode. It will sit closer to the ground than its siblings, and it will come with additional performance-oriented settings for the dampers and anti-roll control.
In Canada, the Eletre will be sold through Lotus-branded dealerships in Vancouver, Calgary, Toronto, Oakville, Montreal and Quebec City (coming soon). More details will be available closer to the launch in 2024.