With a base MSRP of $75,200 CAD, and an Italian pedigree, the latest addition to the Maserati family, the Grecale SUV, is being marketed as "the everyday exceptional." 
In other words (and in the words of Maserati) the Grecale offers "the thrill of luxury and pure innovation, in perfect balance," while at the same time being "an everyday car, an SUV in which to take your children to school or to commute to work and face up to the everyday without compromise."
Maserati has a tradition of naming its vehicles after famous winds. Grecale is in fact a north-easterly Mediterranean wind.
"The Grecale is the all-new Maserati SUV to make everyday life exceptional," explains Alvin Bond, Grecale Brand Manager, Maserati. "This is the Maserati style, the perfect, bold synthesis of avant-garde and passion, innovation and timeless design. An SUV to be driven anytime, anywhere, by anyone, to turn journeys into something extraordinary."
This all-new SUV was introduced to the world online in what might be called a theatrical production. Maserati enlisted two stars of Italian and international cinema, Alessandro Borghi and Matilda De Angelis, along with Klaus Busse, Maserati head of design, to act out a storyline, while at the same time showing off the features of the Grecale.
The video of the launch event is available to view here.
Typical buyer
Bond says that the brand's new SUV has been designed and engineered to attract a whole new audience to the Maserati name. "The mid-size SUV segment is super competitive," he says, "but Grecale is ready to take on the competition as the new entry point for our brand, bringing in new customers. It diversifies our base, with customers that are younger, more tech-savvy and with growing families that have many more years of car buying in their future."
He adds that the Grecale "is an opportunity to attract more female customers, a predominant percentage of the buying power… today and in the future."
Trim levels
The Grecale is available in three trim levels. The GT is powered by a four-cylinder mild-hybrid engine capable of delivering 296 hp. The Modena comes with a four-cylinder mild-hybrid 325-hp engine. The Trofeo gets a big bump up in power thanks to its high-performance 523-hp V6.
This new SUV is packed with technology and creature comforts, including the availability of an outstanding sound system. Designed and engineered by Italian sound specialists, Sonus faber, the audio system offers two levels of customization, the highest of which boasts 21 speakers and 3D sound with an output of up to 1,000 W. 
Maserati has also announced plans to offer the Grecale as a full EV in the future. The upcoming 100% electric version of the Grecale will be named Folgore, and is due on the market one year after the hybrid and gas models make their debuts later this year. 
The EV will be 100% "Made in Italy" and will be equipped with a 105-kW/h battery using 400V technology. Maserati has announced that their new electric SUV will be capable of delivering as much as 800 Nm (590 lbs. ft.) of torque.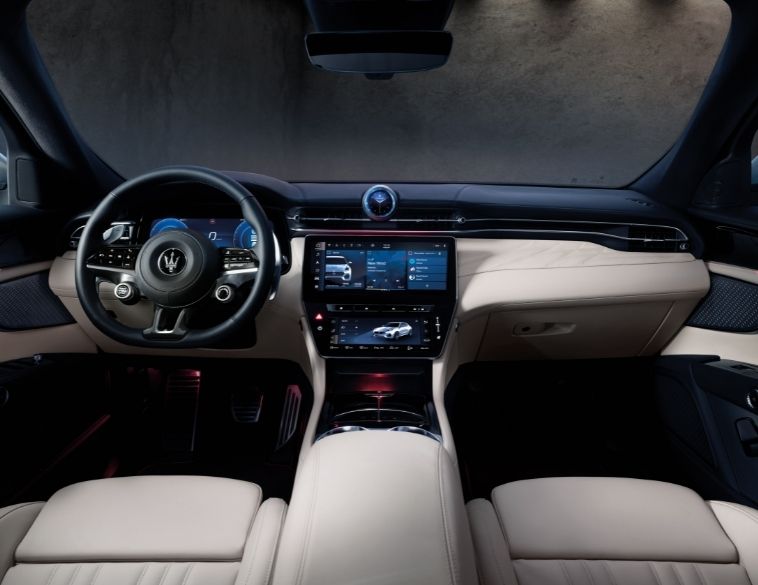 Limited edition
In the meantime, and to make a splash at launch, Maserati if offering a Grecale Modena Limited Edition model, available only via online reservation, for delivery starting this fall 2022 in the U.S. and Canada. The online portal is accessible here.
The Limited Edition model sells for $90,850 CAD and comes with extras including 21-inch aluminum wheels, an adaptive air suspension, a premium 14-speaker sound system and a power dual-pane panoramic sunroof.
"To kick off our pre-sales," Bond explains, "we revealed the Grecale Modena Limited Edition. Our first customers have the opportunity to reserve this Limited Edition model for $500 via our reservation website. It is only available via the reservation website and for a limited time."
Marketing
As was clear from the debut of the Grecale online, as well as their "online only" offering of the Limited Edition model, Maserati is taking full advantage of the Internet and social media in order to make some noise about their latest SUV offering.
This online approach extends to their planned marketing plan for the all-new Grecale. "Social media advertising by Maserati and dealers has been deployed in both the U.S. and Canada," Bond adds. "We are also planning a Grecale dealer tour in select cities so customers can see the car over the summer during the ordering period prior to vehicles starting to arrive this fall 2022."