Land Rover has engineered a vehicle that offers maximum luxury, but with a minimalist twist.
The all-new 2022 Range Rover is a truly impressive vehicle. Packed with advanced technologies, and capable of more off-roading than most owners would ever dare to embark on, Land Rover's all-new flagship SUV is wrapped in a minimalist envelope that belies the luxury and sophistication within.
According to Walter Zanel, Manager, Land Rover Marketing, Jaguar Land Rover Canada, the futuristic exterior, complete with its smooth skin and hidden lights, represents the new design language for the brand. In fact, the family resemblance is undeniable when you compare the new Range Rover Velar and Evoque with their larger sibling. It's a new look for a new generation of Land Rover vehicles.
The fifth-generation Range Rover was introduced to the world in October, 2021 at the Royal Opera House in London, UK. Available in standard and long wheelbase versions, it can be ordered with either four, five or seven seats.
Canadian consumers can order their Range Rover with either a turbocharged inline 6-cylinder MHEV (48-volt mild hybrid) gas engine rated at 395 hp and 406 lb-ft of torque, or a twin-turbocharged V8 gas engine with 523 hp and 553 lb-ft of torque.
In 2022, the Range Rover will also be offered as a plug-in hybrid with 434 hp and 405 lb-ft of torque. The inline 6-cylinder gas engine will be combined with a 105 kW electric motor. The predicted electric-only range is about 100 km, and the PHEV will be capable of speeds up to 140km/hr in all-electric mode.
A pure-electric Range Rover is set to join the lineup in 2024. Although Land Rover isn't offering any insight into what it might cost, or what the range will be, they have said that the pure-electric Range Rover will be the first in a series of all-electric Land Rover vehicles to come.
Modern, agile and capable
The Range Rover's striking new appearance is clean and modern. Land Rover puts it nicely when they explain that they've taken their "modernist design philosophy to the next level with a contemporary interpretation of [the Range Rover's] trademark profile."
Inside, as well, it's very clean and minimalist with large screens replacing the traditional array of buttons and knobs. The new Range Rover promises to be one of the quietest and most refined vehicles on the road, thanks in part to new third-generation Active Noise Cancellation technology, which employs microphones on the outside of the vehicle and headrest speakers on the inside to create quiet zones for each occupants. Land Rover says the technology works like active noise cancelling headphones in order to create a truly serene environment.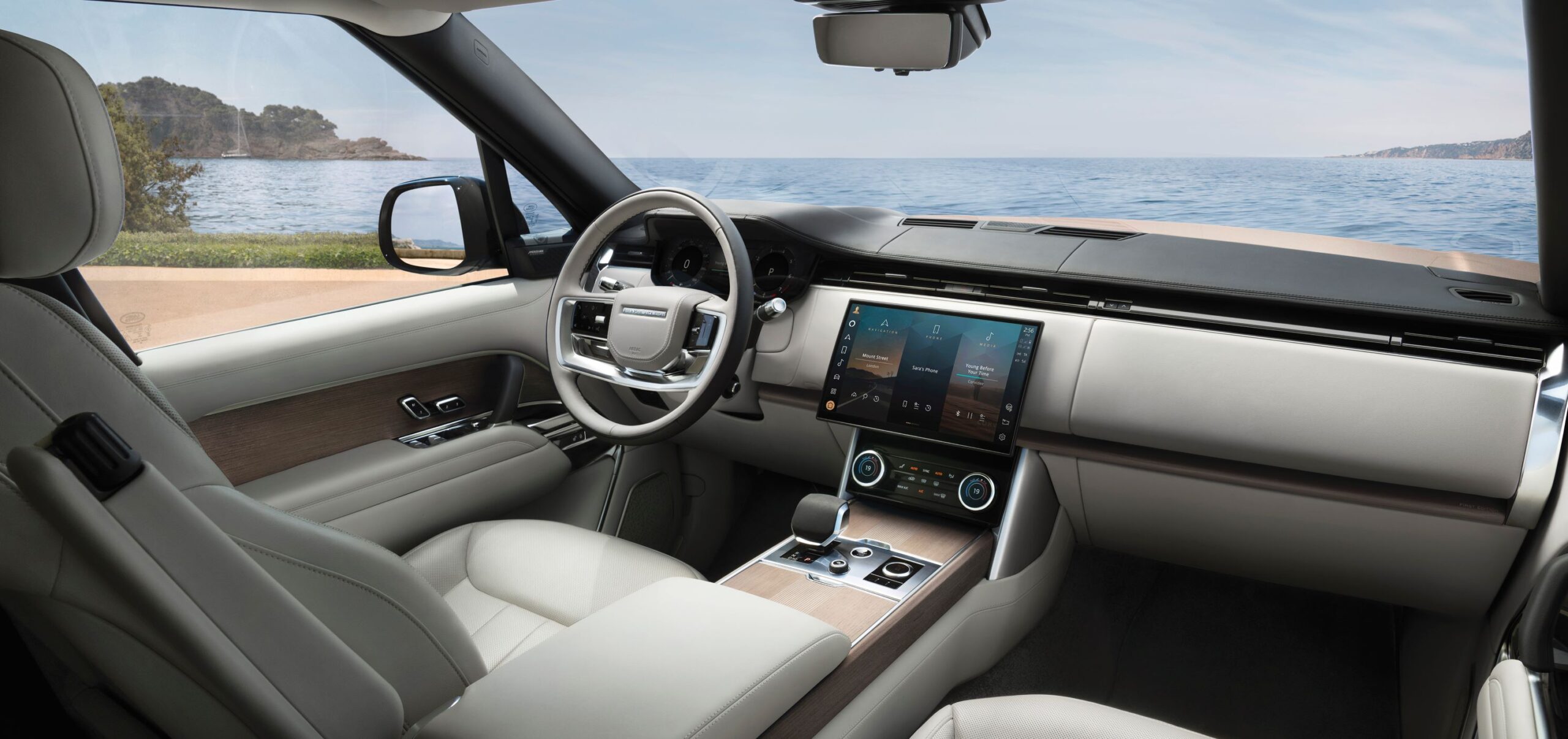 Equipped with all-wheel steering, the new Range Rover boasts the tightest (10.95 metres) turning circle "of any Land Rover vehicle," while an advanced electronic air suspension pre-emptively reacts to the road ahead, leaning into turns for improved handling and control. The Range Rover can also ford through almost a metre of water… for those who would dare to take such an expensive vehicle into such extreme conditions.
Canadian sales
It looks like the new Range Rover is a big hit with the segment of the market that can afford the $126,000 price of entry. "We've got a winner on our hands," says Zanel. "The pre-orders are very healthy. They're exceeding out expectations. We've never seen this level of pre-orders before on any of our vehicles. It's very exciting."
All pre-orders have come in long before Jaguar Land Rover has even started to market the vehicle here in Canada, which according to Zanel will likely be in the spring of 2022.
When they do start advertising the new Range Rover, they won't do so with the mass market in mind. "We're appealing to a high luxury demographic group," Zanel explains. "It's one of the highest household incomes in the industry."
Zanel says marketing will be very targeted, with a one-on-one approach along with exclusive experiential events for a select group of potential customers. "It won't be broad-based when we go to market," he added.
The Range Rover was due for a major change, and Land Rover has certainly delivered a product that maintains its heritage and trademark design, while at the same time offering a fresh and modern look that places this classic SUV firmly in the future.
Zanel says Land Rover reached out to their current owners to see what they like about their Range Rovers, and what they'd like to see changed. "Most of them said, 'Don't change too much. Just try to improve in certain areas.' We listened and that's what we did."