A striking silhouette, surefooted handling and generous equipment make this crossover a worthy consideration in a crowded market.
In days of yore, the concept of a coupe and a sport utility was entirely different. If you thought about combining these two types of vehicles, the result would have product planners completely vexed.
Today, it seems just about anything is possible. We've got battery-electric vehicles that claim 600 plus kilometres in range, massive trucks that can tow more than 9000 kg (19,000 lbs) while getting fuel economy compared to a 1990s compact sedan and we have SUVs that think they're coupes and in some cases sports cars.
Different definition
The Infiniti QX55, which started showing up in dealer inventories this April, as a 2022 model, is one of these vehicles that isn't defined by a single category. It's a luxury vehicle, it is a crossover, but with its fast roofline, large footprint and willing VC-Turbo engine, it doesn't feel like many of the milquetoast haulers that increasingly dot the roadways.
The exterior has a very organic, almost fluid element. The hood boasts contours you're more likely to find on a Porsche or vintage Corvette and the whole thing feels like it has been stretched tautly over those massive 20-inch wheels.
Bold grilles are all the rage these days and in that department; the QX55 doesn't disappoint. Neither does the cabin. Finely stitched leather beckons and the front seats are wide, yet also supportive. The back seat is a supportive 60/40 split-bench and with it folded, there's a surprising 54.1 cubic feet of luggage space—more than you'd expect for a vehicle with such a sloping roofline.
Saddling up, the steering wheel is small but has a satisfying feel and grip. Electronic shifters are the rage these days, and although this author is still not a fan of them, this one isn't as finicky to engage as some.
On the road, the QX55 goes with decent aplomb, but there are times when you feel the variable compression turbocharged engine is working a bit hard (it's a 2.0-litre four-cylinder after all, albeit a cleverly engineered one).
This isn't a small vehicle (4732 mm /186.3 in) long and 1902 mm/74.9 in wide) and while 280 lb-ft of torque is adequate, you do feel the QX55 deserves more. The CVT transmission employs a manual shift mode, with steering wheel-mounted paddles designed to make the driving experience more interactive, but the overall feel in the QX55 is still more luxury than sporting.
Supple ride
Despite the big 20-inch wheels and tires, the ride was surprisingly supple and longer drives didn't prove tiring as they often can be when automakers install massive wheels and tires that serve little more function than rim protectors.
Intelligent, all-wheel drive is fitted to all QX55s for the Canadian market and the system offers surefooted traction, certainly in spring driving conditions which in this country can change from dry to wet in a flash. Most of the time the system operates with 100 percent torque to the front wheels but can shift to a maximum 50/50 split front/rear when things start to get slippery.
And while the QX55 doesn't corner like a slot car, its four-wheel multilink suspension and Body Motion Control results in better agility than a lot of vehicles in this class and you can still feel a decent amount of communication through the steering and chassis when you engage in more spirited driving on twisty roads.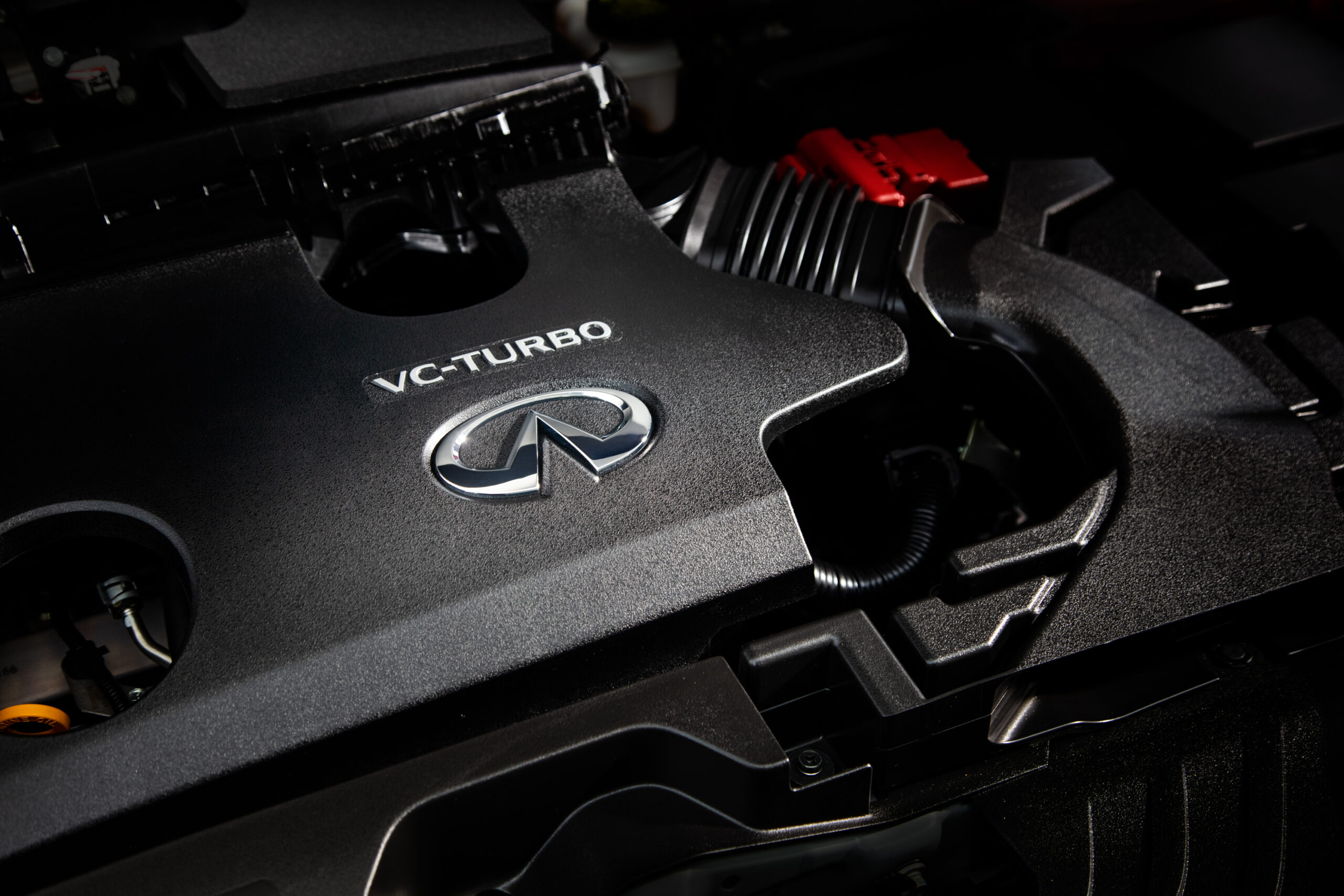 Modern technology
Like most modern luxury-oriented vehicles, the QX55's party piece really lies in the technology it features onboard.
While luxury buyers often crave tech, how it functions can often leave a lasting impact on the ownership experience, an important consideration for dealers who sell and service these vehicles.
In Canada, dealers can order the QX55 in three trim levels, all of which are generously equipped, LUXE, ESSENTIAL proASSIST and SENSORY.
Standard in all of them is the INFINITI InTouch System, which in this application is fast, easy to use and provides very useful over-the-air updates, particularly handy when it comes to navigation, ensuring drivers can have accurate maps and coordinates consistently available.
A wireless Apple CarPlay connectivity (the first in an Infiniti), is also a welcome edition—adding convenience and ensuring you can stay linked to your beloved apps. (Android Auto users don't quite get the same experience, but a built-in USB port can ensure they remain hooked up in fact, there are a total of four USB ports spread throughout the vehicle).
Audio experience
The Bose Performance Series Audio system is also worthy of mention. With up to 16-speakers and subwoofers cleverly located throughout the cabin, the sound is phenomenal. In fact, it is recommended to pull into a deserted parking lot, shut off the engine and just sit there and take it all in.
Being a modern Infiniti, there's also goodies available such as Intelligent Cruise Control, and PRO-PILOT ASSIST, designed to make piloting your vehicle less stressful and useful Head-Up Display, which allows the driver to keep focused on the road ahead.
INFINITI QX55 LUXE
The LUXE starts at an MSRP of $51,995 and standard Intelligent All-Wheel Drive, 20-inch wheels, wireless Apple CarPlay compatibility, and class-leading cargo capacity among similarly styled competitors.
In addition to those features, the 2022 INFINITI QX55 LUXE models have:
Design
a power-sliding tinted glass moonroof,
leatherette ergonomically designed seats,
heated front seats,
dark aluminum interior trim accents,
Active Noise Cancellation,
Active Safety Features 
Forward Emergency Braking with pedestrian detection,
Rear Automatic Braking,
Predictive Forward Collision Warnings,
High Beam Assist,
Lane Departure Warning,
Blind Spot Warning,
Rear Cross-Traffic Alert
A fast 4G LTE connection offers Wi-Fi connectivity on the go for up to seven devices.
INFINITI QX55 ESSENTIAL ProASSIST
The ESSENTIAL ProASSIST adds INFINITI InTouch Navigation, leather-appointed seats, Around ViewMonitor with Moving Object Detection, and Bose Performance Series premium audio with 16 speakers for $56,998 MSRP.
The QX55 ESSENTIAL ProASSIST also adds cube design LED headlights, an adaptive front lighting system, and more driver-support features including Intelligent Cruise Control, Distance Control Assist, Blind Spot Intervention, and Lane Departure Prevention.
INFINITI QX55 SENSORY
At the top, the INFINITI QX55 SENSORY starts at $60,998 MSRP and besides everything featured on the ESSENTIAL ProASSIST also adds:
Design
semi-aniline leather-appointed seating,
natural maple open-pore wood trim accents,
tri-zone automatic climate control,
a motion-activated liftgate
Safety
Traffic Sign Recognition,
Direct Adaptive Steering,
Head-up Display,
ProPILOT Assist system that supports the driver with Steering Assist, and Intelligent Cruise Control with Full-Speed Range and Hold.
In today's increasingly crowded luxury crossover market, it can be hard for dealers to gain an edge, but with its combination of swoopy styling, competent road manners, generous levels of equipment and competitive pricing, the 2022 Infiniti QX55 is certainly a tool that can help them.
Vehicle Specs
Vehicle: 2022 Infiniti QX55
Base MSRP: $51,995
Price as Tested: $60,998
Engine / Transmission (as tested): 2.0L four-cylinder /Xtronic CVT
Power/Torque: 268 hp @ 5,600 rpm / 280 lb. ft. of torque @ 4,400-4,800 rpm
Noteworthy Features / Important Selling Features:
Strong grip and handling,
Nicely finished and well-appointed cabin,
Crisp styling,
Competitive pricing
Chief Competition (top 3):
Acura RDX,
Audi Q5 Sportback,
Mercedes-Benz GLC Coupe