Pfaff's new Porsche Centre Markham isn't just a treat for the eyes, but all the senses. Inside and out, it's bright, airy, and comfortable.
One of the first dealerships in the world to feature Porsche's new global retail architecture, the expansive 53,000 square foot store features graceful skylights that run the length of the building.
And it's integrated with CF Markville Mall–just a moment's walk across the parking lot. Located in the heart of Markham, this Destination Porsche is also in the heart of Canada's best luxury car market.
"It almost feels like an atrium inside," says David Sambrook, General Manager, Porsche Centre Markham. "We're attracting a lot of new business, and customers who already own cars now have a local Porsche service department for service."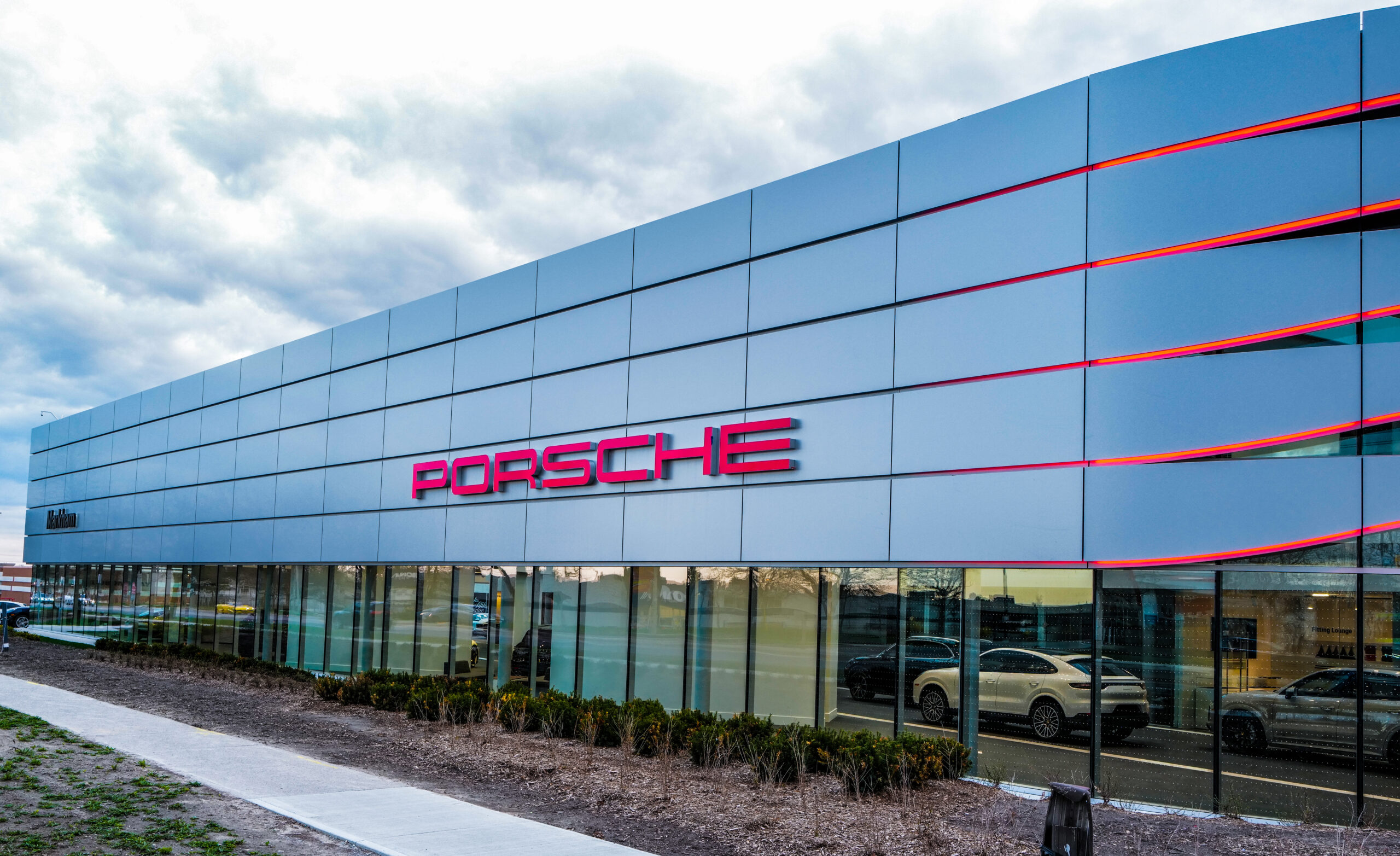 Unique and refreshing
Inside, natural light combines with a spacious, open-plan design for a non-pressure environment. Round sales desks are scattered throughout, with soft leather chairs for customers and salespeople. "We don't have traditional sales desks or assigned workstations," states Sambrook. "Our guests find it unique and refreshing."
Some of the certified pre-owned Porsche vehicles may be sitting casually near one of the desks. All employees have laptop computers for portability and can move around the showroom freely.
Four sales consultation offices can be configured for customers who want a more private situation. "They can hook up their laptop to a screen on the wall, and experience their car coming to life virtually," continues Sambrook. "We can change the colour, wheels or interior."
While Porsche Centre Markham offers the same products and services that would be offered anywhere in the country, there are some differences. "We have themed modules in the showroom," notes Sambrook.
"One features electric vehicles, our Porsche Taycan." There's also a Porsche pre-approved module, which features a pre-owned Porsche vehicle. And a highlight area displays an iconic Porsche 911.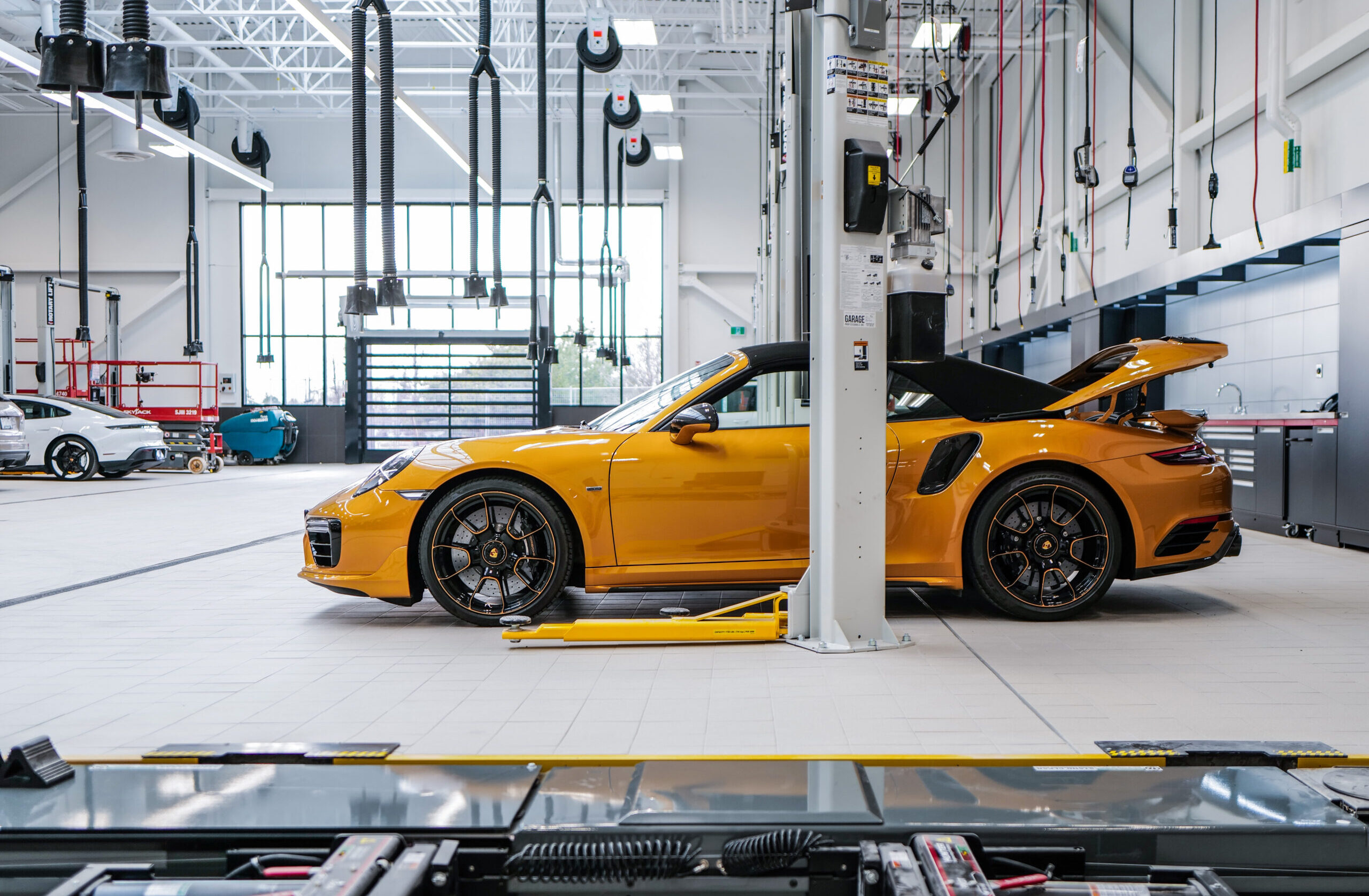 Throughout the store, the skylights flood the main showroom and service department with natural light. "Even on a dull day, it's bright inside," emphasized Sambrook. "With all that natural light, the Porsche vehicle paint colours and interior finish colours are really complimented."
Pop-up store
Before opening the standalone location, a Porsche pop-up store was directly located in the CF Markville mall. "We took over a store in the mall, and had a small display with two cars," says Sambrook. "It was good for awareness. During those six months in the mall, we were letting our customers and prospects know that we were opening a new permanent, full-service Porsche dealership." It also allowed them to pre-sell some vehicles.
The new Centre also offers two lounges. The main floor lounge is casual, but the second-floor lounge is more private, offering a view of the showroom area. "You get the sights and sounds of the showroom, with a glass railing, and you can feel the buzz of what's going on in the dealership," states Sambrook.
There's been a great deal of interest in vehicle electrification, and Sambrook has a team of experienced sales executives who are knowledgeable in this area. "Right now, we only have the Taycan, which is an electric vehicle, but there will be more."
There are dedicated electric vehicle charging stations on-site, as well as an electric vehicle battery repair room. Sambrook even has electrical contractors on hand who can help with the installation of a home charging kit.
Good luxury market
Porsche Centre Markham gives the Pfaff brand presence on the east side of the city, giving them exposure to more of a market. "It was probably under-serviced for the brand because there wasn't representation here," recalls Sambrook. "Now even customers who have been driving to our Vaughan location have a location that's more convenient."
The Markham area is a good luxury market, largely due to being a large tech centre, with hundreds of corporate head offices. "We're getting lots of leads, with people booking appointments in both sales and service," says Sambrook.
With its proximity to the mall, customers can visit their favourite shops and have a bite to eat while waiting for their vehicles. Sambrook is also hoping to become more involved in the community as COVID restrictions lift. "We have a hospital located here, a board of trade, and we're open to hosting events. It's a great environment and would make a cool meeting space."