GM's keynote session provided an insight to the company's long-term plans.
While shifting to a virtual format this year, CES still included a whole host of seminars and sessions designed to showcase the latest in consumer technology. This year's keynote address came from General Motors.
Recently GM unveiled more details about its plan for an all-electric future and Chairman & CEO Mary Barra took to the 'virtual' stage to provide some insights into what that might just look like.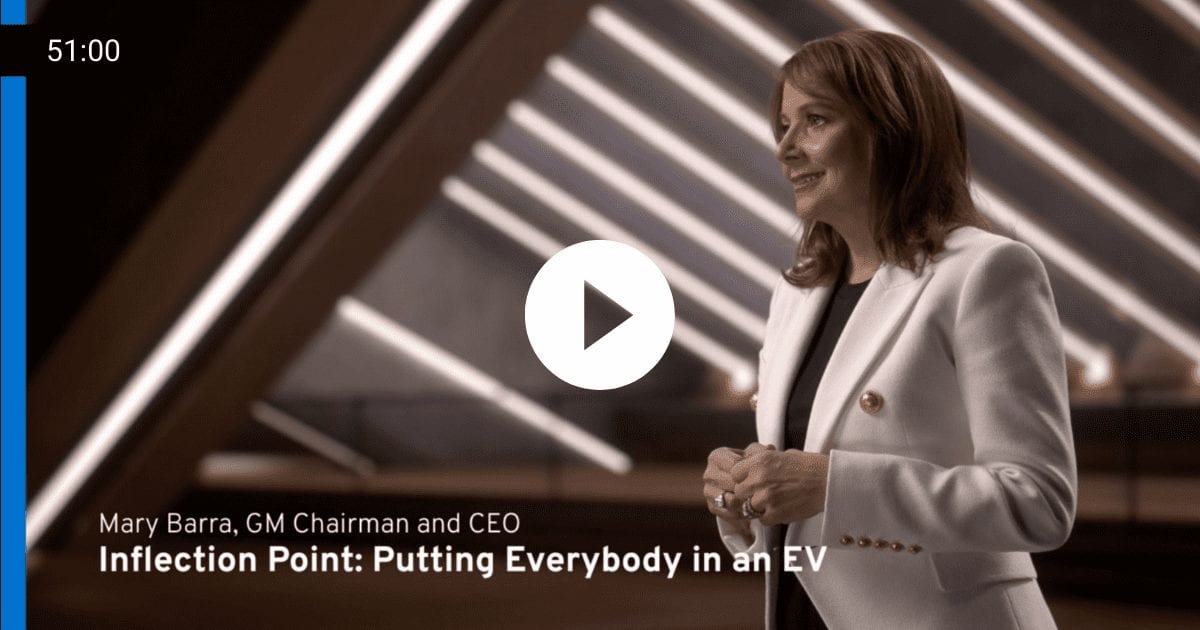 Despite the challenges faced by the global pandemic over the last year, Barra said that "we want to use this moment as an opportunity to look forward with optimism and hope."
She took a moment to reflect back on some of the key issues of the last 12 months and how GM adapted to this challenging environment. As the novel coronavirus spread across the globe, Barra said that GM watched its progress closely and took action accordingly.
"Our priority was the safety of our employees and customers," she said. "And just as North America was shutting down, we saw the opportunity to do more."
Leveraging its manufacturing expertise, GM was able to team up with Ventec Life Systems to produce 30,000 badly needed ventilators at its Kokomo facility in Indiana.
Barra also referred to the two million and counting face masks and other PPE equipment GM has also been able to distribute since the onset of the pandemic.
She also touched upon the issues of climate change and racial injustice, which in addition to the challenges caused by the pandemic provide added momentum and motivation for GM's strategy moving forward.
Electrification is the key
"At GM, our vision for the future is a world with zero crashes, zero emissions and zero congestion," said Barra. "And the key to unlocking that is electrification."
Barra noted that while current global demand for electric vehicles is around 3 percent of total sales, she believes that will soon start to change.
She said that we have reached a specific moment in time which she described as an "Inflection Point—the moment when our world's reliance on gas and diesel vehicles will be transitioning to an all-electric future."
But a big question is, how exactly will we get there?
To shed some light on the subject, Barra introduced the audience to some members of GM's team that provided an overview on the company's engineering progress related to technology, the benefits that an electrified and connected future will bring for consumers as well as some new and highly anticipated products that will soon be arriving including the GMC Hummer EV and Cadillac Lyriq, as well as the upcoming Chevrolet Bolt EUV.
In terms of engineering, Mei Cai, Lab Group Manager, General Motors, provided an overview of GM's new Ultium battery technology which will underpin the next generation of vehicles, starting with the Hummer EV and Lyriq.
Cai said that by focusing on a single, common cell design that can be introduced across different vehicles, economies of scale and be realized, enabling multiple offerings utilizing the same basic technology.
Cai said that battery chemistry is a key part of successful energy capacity yet the dangers and difficulties in mining some of the raw materials required in current EV battery manufacturing need to be addressed, one reason she said why GM, is working on significantly reducing the amount of Cobalt and Nickel required in battery manufacturer.
She also noted that large format cells used as part of Ultium, provide 60 percent more energy storage capacity than current batteries and use a flat, pouch design for better packaging, meaning the cells can be stacked vertically or horizontally, making them easily adaptable to different types of vehicles, from high-riding SUVs to low-slung sports cars and everywhere in-between.
Other advances include a wireless battery management system and placing the cells within a structural enclosure that both protects them and doubles as part of the vehicle chassis, ensuring the battery cells are shielded during a collision.
Cai described Ultium "as a breakthrough in EV technology," and its adoption will not only facilitate more practical battery electric vehicles but also a solid platform to support the ever- growing list of safety and convenience features found in vehicles and connected to the outside world.
Cai said this new architecture is capable of analyzing 4.5 Terrabytes of data processing per hour, while at the same time delivering up to 724 km (450 miles) of driving range on a single charge (depending on conditions).
As a foundation for GM's future propulsion and vehicle architecture, Ultium will also facilitate new and enhanced customer experiences.
More personal experiences
According to Travis Hester, Chief EV Officer at General Motors, these will, through what GM calls its Ultifi Digital CX platform, provide a more personal ownership experience, allowing consumers greater ease with which to explore EV options and integrate the vehicle and its functions into their daily lives.
Some of these features include the ability to make reservations, find transparent vehicle pricing and either pay for a vehicle online or schedule a purchase at their local retailer.
New Mobile app experiences, coming in Spring 2021 will also enhance the customer experience and allow users the ability to remote control functions of their vehicle.
Additionally, enhancements to OnStar telematics will allow drivers the ability to influence their own insurance premiums by having the vehicle's telematics data monitor driver behaviour so risk can be determined and premiums set accordingly.
Further down the road, integrated crash response technology aims to streamline the entire insurance claims process following a collision.
Also, GM's Super Cruise driverless control feature, pioneered on the Cadillac CT6 will also be finding its way into the EV fleet, with the upcoming Bolt EUV being the first to receive it. By 2023, GM says it will have Super Cruise in no fewer than 22 different vehicles.
Additional updates
Considering this was CES and despite updates on upcoming models such as the Hummer EV and Lyriq, Barra also provided insight into GM's other activities including its new BrightDrop delivery business which aims to streamline and improve deliveries via automation and EV delivery vehicles.
There were also updates regarding Cruise, the autonomous vehicle start-up funded by GM which is looking to mass produce its driverless shuttles, as well as some other design concepts including autonomous vehicle services both on the ground and in the air.
In summing up, Barra said "that I hope that what we have shared with you today gives you the same confidence and excitement about the future of autonomous and electric vehicles that we have at GM."
She also noted that it was important to understand that all this technological information can only prove successful if everybody is able to take part in it.
Barra referred to ongoing issues of social injustice and marginalization and how, through initiatives such as the Business Round Table on Social Equity and Justice. Helping those who are disadvantaged, including children that have suffered through this crisis due to schools being shuttered, is paramount to ensuring we do have a better and brighter world tomorrow.
"It is a very proud moment," said Barra, "for me to stand here today, representing 164,000 GM employees at an inflection point in our company's history and society. I hope you have heard enough to join us."