COVID-19 case counts are spiking again. What does this mean for new and used cars?
This year marked a peculiar and uncomfortable Thanksgiving holiday for many Canadian families. I expect most will not forget it.  In much of the country we were asked to scale back our holiday activities to the bare minimum, all in the name of the fight to get COVID-19 in check.
The rationale is obvious, considering the rising numbers of COVID-19 in Canada.  In the week before Thanksgiving, nationally we were averaging over 2,200 cases per day. This compares poorly to early August where we averaged just over 400 cases. We have caught the second wave, or to be more correct, it has caught us.
Collective warning
Collectively, health experts have been warning a second wave would be coming our way. I recall watching a particularly insightful CBC News interview back in June, with Dr. Gabriel Leung who is the Dean of Medicine at Hong Kong University. Dr. Leung grew up in Canada and is one of the world's foremost experts on infectious diseases.
In that interview, Dr. Leung said that a second wave was "probably a statistical certainty" for the future. He was correct. After the number of cases trended low in the summer (there were a few days below 200 cases) it seems many of us became mutually less careful, a lot more social, and the virus seized the opportunity.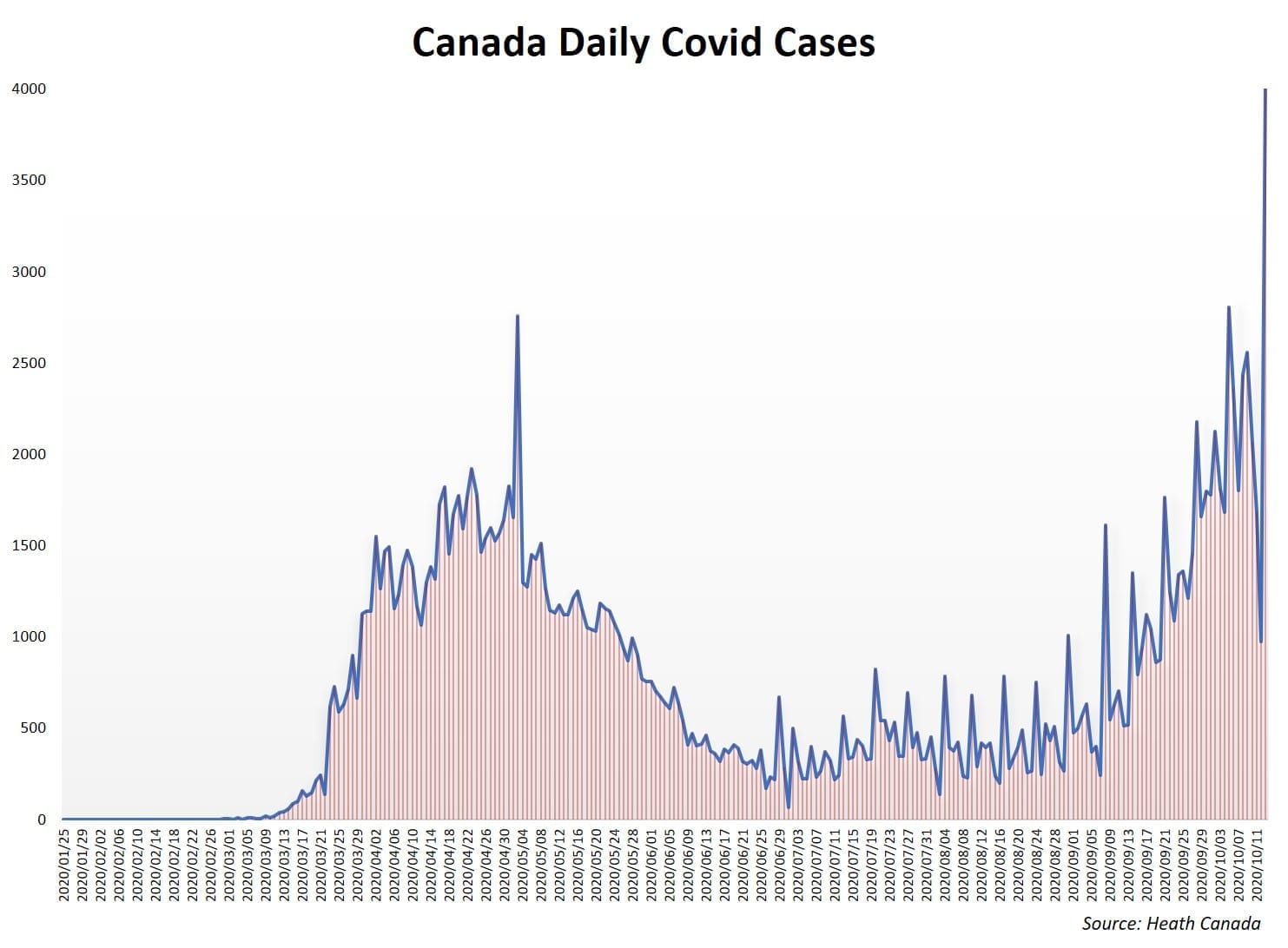 This situation is not exclusive to Canada. Spain, which was one of the early hotspots, seemingly had COVID-19 well under control in June, with many days under 300 new cases. The middle of September saw a day with new Spanish cases over 14,000.  What happens to their auto market during this time?  As you might expect, sales responded accordingly based on reports by ANFAC the Spanish industry association.  After having a good month in July with a 1.1% increase, sales dropped by 10% in August and 14% in September. So, what can we expect for the Canadian auto sector?
Looking at the situation purely from an economic standpoint, the second wave (or other subsequent waves), depending on our success at fighting, will cause the economy to shrink, taking auto sales along for the ride. The output of the economy has been struggling to get back on track, and the recent boom in cases will be a setback.
More unemployment
Business closures in Ontario and Quebec, due to new restrictions in October, will create more unemployment at least for the next month, until (hopefully) measures are relaxed. The impact of all of this is not only on the wallets of Canadians but on their mindsets as well. Reading the news makes us all feel like the sky is falling.
Not surprisingly, this week saw the Bloomberg Nanos Canadian Consumer Confidence Index drop by the largest amount since April, bringing us back to where we were in mid-August when case counts were a lot lower. Typically, consumer confidence is one of the main drivers of consumer expenditure. If you feel your household is in financial peril then you are more than likely going to postpone that vehicle purchase, unless it is absolutely critical.
Soaring virus numbers pushes the demand curve for vehicles, both new and used downwards.  Consumer desire to buy will fall the more out of control the pandemic appears to be. A bit of a herd mentality, however, is the thinking for a lot of economic theory and reality. High virus numbers equal lower sales numbers for many products, not just cars.
The second wave will have other impacts.  As fewer people trade in their cars for new ones this reduces the supply of used vehicles in the market. The lack of used vehicle supply is currently helping to keep prices up in the marketplace.  We also continue to see interruptions to new vehicle production.
This week we heard in the news that the very popular C8 Chevrolet Corvette will pause production for a week due to parts shortages.  The issue is affecting many other manufacturers.  Consumers thinking about taking delivery of a car in Q1 2021 should order now.  Shortages of new cars may also help used sales as some consumers make the switch to a gently driven option.
U.S. market trends
Canadian Black Book has some concern about the trends and news south of the border. Exports of vehicles to the U.S. are critical for stable price trends here in Canada. If exports fall drastically, so do wholesale prices. For the past six weeks, prices for cars in the U.S. have declined, along with five weeks of declines for truck segments.  As prices fall in the U.S., it makes bringing in products from Canada less desirable. If it continues, export demand could drop off and prices will cool.
The U.S. has reported over 351,000 new cases, in a one-week period (according to the CDC COVID Data Tracker), in the most recent data I have access to. This is cause for great consternation as far as the impact on the U.S. economy and their market's demand for vehicles. Slowing demand and falling prices in the U.S. market could easily spill over to Canada. What is bad for the U.S. economy is often bad for Canada.
The second wave may not be the only wave, Hong Kong for example, which was initially very proficient at keeping the virus under control, is now seeing the third wave. If the virus is declared to be under control, people may become relaxed again in their safety protocols, driving up numbers once again.
Wearing a mask, washing your hands, and saying 2 metres back from others is the best you can do. Your health and that of the economy need your support. Let's hope that New Year's celebrations can be enjoyed safely with a lot more people and that the economy, including the auto sector, is on a more secure footing. Until that time, the waves will make for some rough sailing.
---
Brian Murphy is Managing Director, Kelley Blue Book & Data Solutions, Cox Automotive Canada & Brazil. You can reach him at [email protected]