In the automotive world, originality and passion combined with artistic know-how give rise to craftsmen like Luc Nicholas, Founder of Bossolution, which specializes in paintless dent removal.
At his Granby workshop, he offers an unconventional technique for repairing dents on a vehicle without the need for paint. This process requires special tools, including around thirty rods with different tips, which are inserted into the collision at certain points, applying precise pressure to remove small, medium and large dents. With this technique, whatever the cause of the impact, all traces will be erased.
An innovative method combined with pre-established lighting and careful handling of a precision hammer, all carried out with dexterity. Paintless dent removal is much more than a simple repair.
"I could leave you my entire toolbox and you wouldn't get the same results without a little training that I customize. The technician's professionalism and dexterity make all the difference in restoring the collision to its original appearance," says Nicholas, proud of his "own recipe".
Assess before you work
However, for the right ingredients to produce the desired mix, the sheet must not be stretched or crumpled and there must still be enough paint. What's more, when in doubt, he offers a free assessment to find out whether customers' accident vehicles meet the criteria for paintless dent removal.
What's more, this fast, environmentally-friendly method maintains colour harmony, as the original paint is preserved, unaltered. It also avoids the need for a traditional collision shop owner, who is often more expensive.
Bossolution's range of light repairs includes damaged car doors, dents caused by grocery carts, hail damage, baseballs, golf balls and impacts to motorbike fuel tanks.
"When a customer comes to us, we take the time to explain the work to be done and we adapt to their needs and preferences. In fact, we work on their car as if it were our own," says the man who is renowned among his customers for his love of a job well done and his great honesty.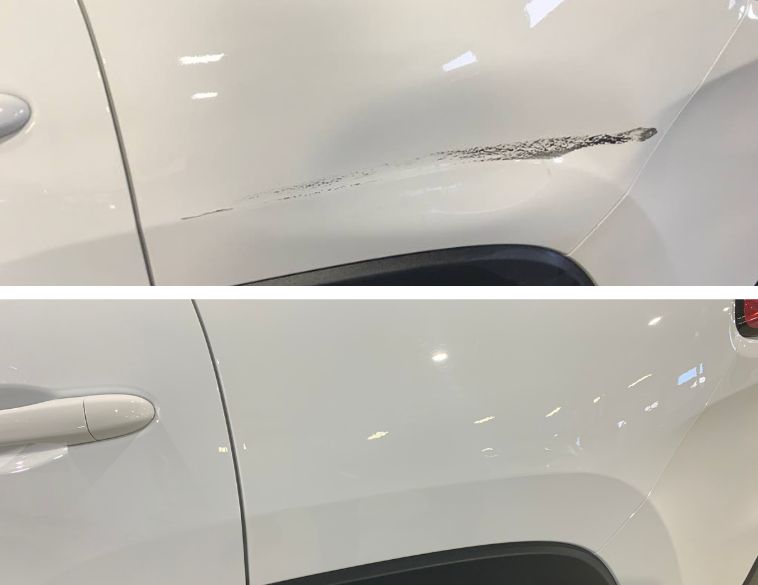 Before returning a rental
It's not surprising that many drivers stop off at Bossolution before returning their leased car, thus avoiding costs on the return journey.
The Granby-based company, which offers a mobile service for neighbouring towns, has a mixed clientele, with 50% of its customers being car dealers and the other half being private individuals, vintage car enthusiasts and luxury car owners.
Whether it's preserving the lustre of a gleaming Bentley or restoring a modest Honda Civic, the commitment to customer satisfaction remains unwavering. "Our meticulous approach is the same for every car, whatever its value. Customer satisfaction is our absolute priority," he says, adding that he has had to hire a second paintless dent removal technician to keep up with growing demand.
Nicholas turned his passion into a profession at the age of 17, when he was having fun assembling audio systems and installing remote starters. In 2007, he decided to forge his own path by creating Bossolution. "I didn't want a banner, because I wanted my originality to be at the heart of my success," says the 40-year-old with a head full of projects.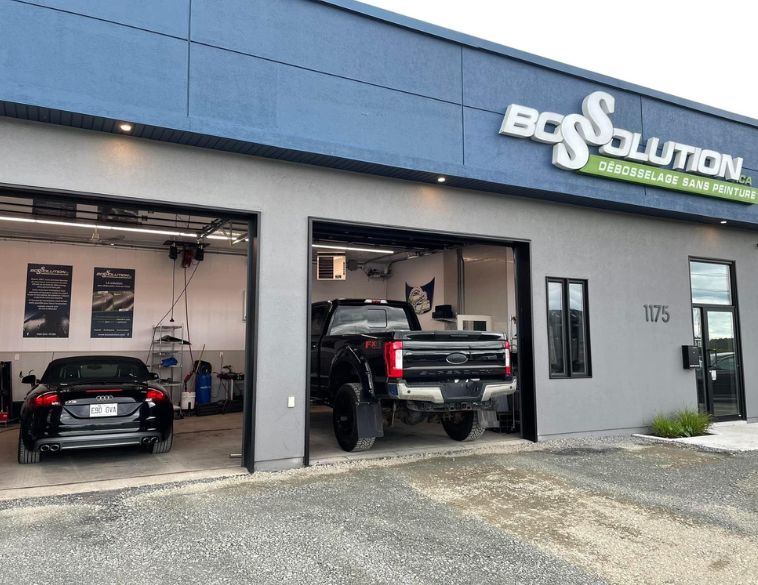 Aesthetics: another strength
In addition to paintless dent removal, Bossolution also offers car detailing services, giving prestige and non-prestige vehicles a facelift.
Every job reflects their attention to detail and the quest for perfection. Nicholas, is himself the owner of two jewels on wheels, a Jeep and a Subaru, which he cherishes day after day. He knows how important the look of a car can be to some car fanatics, hence the importance of his personal artistic touch.
Bossolution's imprint can be seen outside the workshop. Every summer, the company sponsors Canada's largest classic car show in Granby, reinforcing its commitment to the automotive community and enthusiasts.
Roll on to the next one
Bossolution is also a long-time partner of the TV show Roulez au suivant for its expertise to restore bodies that have deteriorated over the years. Thanks to his involvement, some oldies have been given a second life, to the delight of their new owners.