Automotive paint products offer a selection of activators when it comes to mixing them with the main component to be applied to the surface. Don't underestimate the importance of selecting according to conditions.
Someone once introduced the concept to me using golf as a metaphor. The reason there are several sticks in the bag is that every shot is different. Would it be possible to play an entire course with just one stick?
Possibly, but the level of difficulty would be greatly increased. The concept is the same when selecting the activator. Is it possible to use the same one all year round? Possibly, but the application will be easy in some cases and challenging in others.
Adapting to the climate
Our climate is unique in that it offers us every possible variation. Summer is normally very hot, with generally high humidity. Winter is cold, and heating can raise the temperature considerably. Spring and autumn offer a mix of conditions. It's not unusual to have cool temperatures in the morning and warm ones in the afternoon, and relatively high humidity throughout the day.
If you have four paint-drying speeds in a series of activators, the portion that causes the applied product to harden is the same for all of them. However, for each, solvents were added to control the speed of the chemical reaction.
It's very common in workshops to use the fastest possible activator in primers, and in some cases this may be the right choice. On the other hand, if the temperature is high, the solvents leave the finish very quickly and cross-linking is much faster. Spreading and levelling of the primer will be greatly affected.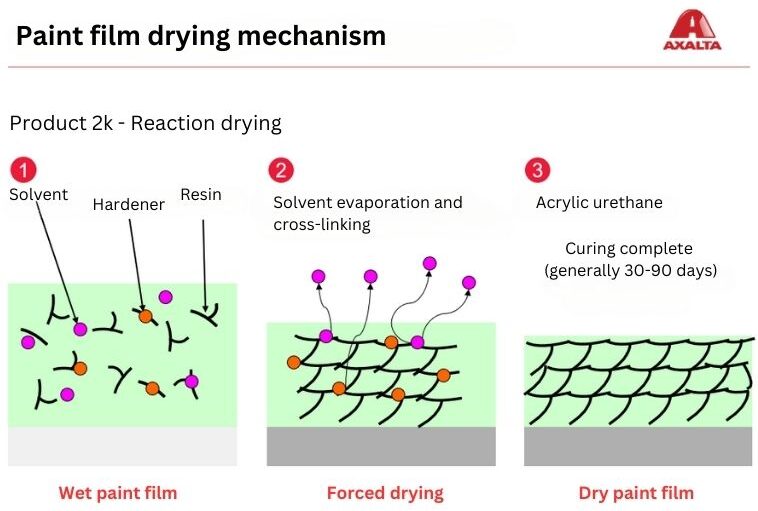 More is not the solution
To compensate, the technician will instinctively apply more product to achieve a smooth finish. Product thickness is now higher and drying time will be longer. It's also possible for the surface to reseal before all the solvents have completely evaporated, which can cause paint defects on the bodywork such as the appearance of sandblast marks several days after the surface has been repainted.
If the right activator has been selected for the conditions, product spread will be much smoother and more uniform, and drying will be faster, as film thickness will be lower.
Another point to consider is that urethane activators are greatly affected by humidity in the air. It is extremely important to always reseal the container after pouring the activator into another product. If a primer is applied in very hot and humid conditions, drying will be even faster, accentuating the spreading problem in the example of the primer used above. The principle is the same when mixing varnish.
So just like in golf, making the right selection from the outset can help you make a hole-in-one!