Efficiency and versatility are essential in today's refinish environment.
Time is money in a collision centre, and one aspect of the repair that can make or break efficient cycle time is refinishing. Given the rise in paint costs and the pressure to paint as fast and consistently as possible, a quality spray gun is absolutely essential. According to Brady Haislet, Application Engineer at 3M, one aspect that often gets overlooked, is transfer efficiency. Since this directly impacts the liquid material spend and shop profitability, it is important to use spray equipment that can minimize paint usage while still delivering the finish quality necessary for the job.
Haislet notes that spray guns can be optimized with the right settings and pressure to maximize transfer efficiency, that being said, not all guns are equal. The key objective is to utilize a gun that can be operated using the lowest operating pressure while "still delivering the atomization needed for your coating to match the OEM finish on the vehicle."
In addition to the gun itself, ensuring the painter can get the most from it is key. April Chadwick, Marketing Specialist for SATA in Canada, notes that proper training is essential, not only in developing the right technique but also in terms of spray gun maintenance and safety, including the right protective equipment and filtration. "Safety really is the bedrock," says Chadwick. "We want people coming into this trade to have long and fruitful careers—it's in the best interest of both them and our industry to follow correct safety practices."
3M Performance Spray Gun
3M's Performance Spray Gun was designed from the outset as a lightweight, durable, and easy-to-use gun. Ease of maintenance was also another key factor. The 3M Performance Spray Gun has an innovative quick nozzle change feature, allowing painters to quickly change nozzles It also comes with the 3M PPS Series 2.0 Spray Cup system to ensure maximum versatility and can be used to spray sealers and pearl finishes as well as solid colours, metallics, and clearcoats. Quick clean-up and changeovers are designed to help collision centres maximize cycle times, while its unique composite material results in a spray gun that's 50% lighter than typical metal spray guns. The 3M Performance Spray Gun has also been optimized for maximum comfort and balance, without sacrificing performance or durability.     
DeVilbiss DV1s Smart and Spot Repair Spray Gun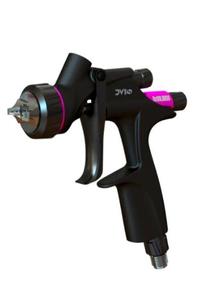 The DV1s from DeVilbiss, are designed to provide consistency and optimization in spraying the latest refinish materials available on the market. The DV1s, were designed to deliver the ultimate in Smart/Spot repairs, by spraying consistent and homogenous patterns. It is available with a section of finely tuned air cap and fluid nozzle options and was created to provide maximum comfort and ease of use—right from setup, through the entire spraying process. With efficiency in paint usage a priority for collision centres today, the DV1s, have also been designed to improve transfer efficiency enabling the shop to save time, money and repair costs. Each DV1s comes with a new DV1-M1, DV1-S1 or DV1-S2 Air Cap; two fluid nozzle sizes, a 4-oz (125 ml) White Acetyl Gravity Cup; Maintenance Took Kit; Fluid Nozzle Wrench; Valve Tool and Torx Driver.
SATAjet X 5500 FUTURE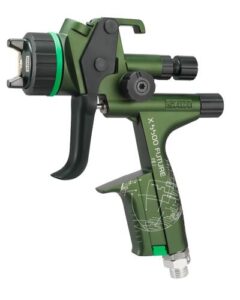 The unique design and colour of SATAjet's X 5500 FUTURE are designed to represent environmental sustainability and connectivity in a digital age. The globe-shaped circuits on the outside of the spray gun signify technology that's connecting people around the world. The colour combination of green/black is not only designed to look harmonious but also represents SATA's own approach to environmental sustainability. This includes the consistent conservation of resources and avoidance of waste. SATA produces generates a portion of electricity with its own PV-systems and has reduced waste volume by around 20% in the last 5 years. The special edition SATAjet X 5500 FUTURE is offered with both I-Nozzle and O-Nozzle options in 1.1, 1.2, 1.3, and 1.4 sizes, each with a standard RPS multi-purpose 0.6/0.9L cup with a swivel joint.