Growth and investment will continue to strengthen both the network and its franchise partners.
On September 26, 2022, Sylvain Seguin was named President of the Fix Network in Canada. In his new role, Seguin says a key priority is to "continue building value for all our key stakeholders and ensure our that our franchise partners are insulated from economic uncertainty."
In today's world, where volatility can be found in everything – from the stock market, to the economy, to geopolitical and social tensions, such thinking represents a positive and pivotal shift, not only to Fix Network, but the entire aftermarket service sector.
Taking the reins of an organization that has emerged from being a robust regional player in the collision repair space, to becoming a major force not just nationally, but globally in the automotive aftermarket—Seguin understands the nuances facing collision repairers, auto glass installers and independent service centres across Canada.
Sound franchise model
"We continue to grow nationally and globally," he says, "due to a solid foundation based
on entrepreneurship and innovation." He notes that a key factor contributing to the company's success [it is now operating in 15 countries, with more than 2,000 service points across the globe], is its sound franchise model.
"We truly believe in empowering our franchise partners to be successful owners of their shops, in their own communities," Seguin explains. And that means equipping them with the right training, tools and support to not only meet but exceed expectations when it comes to customers and stakeholders.
Given the current market environment, however, that's not always easy to achieve. Seguin acknowledges that the collision repair space has arguably never been more competitive than it is today. "Shops are always looking to maximize their operations as efficiently as possible, with minimum cost and maximum returns," he says. Additionally, current supply chain pressures, advancing technology and rising material, and financing employment costs are adding further complexities to a business where the margins are thin to begin with. Coupled with ongoing consolidation across the sector, and the result can seem bewildering for independently operated shops.
Which is where a partner like Fix Network can really make the difference. Being able to leverage the power and strength of a global entity, with proven systems, processes and strategies, can arm those shops that join the family with a formidable range of tools and solutions to tackle just about any situation they might face.
Tackling the labour shortage
A key example at present is the ongoing labour shortage in the industry. Seguin explains that over the past several years, Fix Network has, through working with its industry partners as well as legislators at both provincial and federal levels, been working to expedite immigration of talented technicians to fill much needed vacancies in the collision repair, glass repair and replacement, and mechanical service sectors.
Another key factor is ensuring a fast, effective strategy for implementing training, so technicians are ready and able to handle the latest in technological advancements and repair procedures. "We are also keen to ensure that our franchise partners have technicians that are fully certified to repair all makes and models of vehicles to pre-collision or original condition." Seguin explains.
To help ensure that, Fix Network has partnered with Certified Collision Care (CCC) to expedite training, certification and accreditation of technicians working with their franchise partners. Plus, with access to vehicle data becoming an increasingly important issue for the aftermarket, Fix Network has also joined forces with the Automotive Industries Association of Canada (AIA Canada), in lobbying the Government of Canada to introduce Right to Repair legislation that will ensure technicians they have the right information to repair vehicles to Original Equipment specifications.
"We have approached lawmakers across Canada to seek their support in getting the bill passed," says Seguin. "This showcases our willingness to take an active leadership role in issues that are vital for the success of the automotive aftermarket."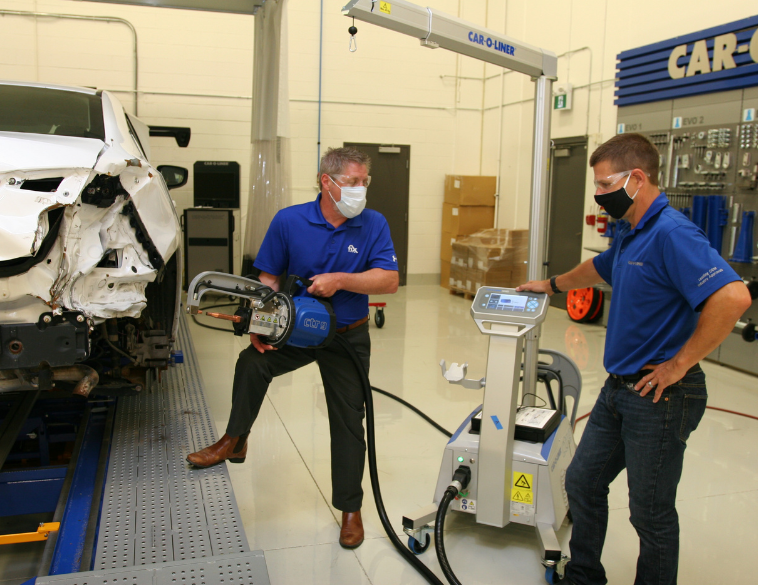 Supporting shops, supporting consumers
Another issue many collision centres are facing currently relates to shop capacity, in many cases, struggling to ensure they have enough staff to handle the volume of work that's available. "More than ever, our Strategic Franchise Partners need to have a good understanding of their own capacity, while we, as a network, need to have a good grasp on our overall capacity so that we can help and support our partners as well as those consumers that are choosing our brands for their vehicle needs," he points out.
Looking to the future, Seguin says a key factor in the success and viability of the aftermarket industry is ongoing investment to ensure long-term sustainability, which is why Fix Network continues to expand, invest and grow its footprint across Canada, working with its existing partners as well as onboarding new shops that want to improve their game and remain at the forefront of the industry for years to come.
"If shops owners are not capable of investing today," explains Seguin, "they will not be able to fix the vehicles of tomorrow."