Spanesi Americas turned a lot of heads with its new Flash tow column at the SEMA Show.
Karl Kirschenman, Director of Corporate Communications and Technology at Spanesi Americas, explained how this powerful, mobile and technologically advanced equipment can provide a multitude of services in the body shop.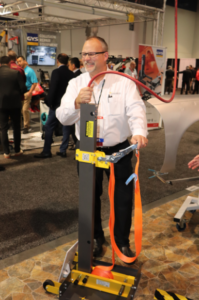 By simply using the shop's compressed air system to create a vacuum under the unit, the technician gains access to a 550-pound pulling column. Adjustable in height to meet the needs, this column completely transforms the approach since it is no longer necessary to position the car on a straightening bench to perform the work. In addition, the device allows work to be done in restricted areas, as is often the case in body shops, and at the required angle.
For Kirschenman, this traction column, already available on our market, is a perfect match for Spanesi's Pull Up! dent removal system. Pull Up! systems are based on a specific straightening technique using suction cups, glue and weight hammers and are available in three configurations. They allow the removal of dents from parts such as roofs, door profiles and pillars, but also the straightening of chassis.