For decades one of the biggest issues many collision centres faced was efficiency in the drying and curing process.
Today, with the widespread availability of Catalytic and Infrared robotic drying technology, a vehicle's paint finish can be cured in as little as 10 minutes. Based on feedback from customers, Les Palowoski, General Manager, North America, for Symach (a recognized leader in this space), notes that "time and productivity savings with catalytic infrared drying improve as [today] it's used in more repair phases." For example, he says, shops can recognize significant time savings when it's used to dry body-filler, primer, basecoat, and clearcoat instead of just drying only the primer. "If the repair planning and process take advantage of this, the overall key to key times can be significantly reduced, often by 50% or more." He also explains that given current technician shortages facing the industry, labour productivity within the shop can improve by 40% or more when using this technology.
Lower cycle times
Given that many collision centres have adopted paint booths equipped with bake cycle capability, Andrew Northrup, Zone Director at CARSTAR, explains that the combined advancements in both equipment and paint technology have reduced overall cycle time in the paint booth. "These are important considerations when looking at the drying process," says Northrup. "You can also work with your paint partner and your paint booth supplier to ensure you're using the latest and greatest."
Although rapid drying technology can be highly effective, Domenic Prochilo, Vice President at Simplicity Car Care, notes that on its own, it won't increase throughput. Stu Klein, Technical Trainer for Fix Network concurs. "The challenge," he says, "is that organization and choreography are required in every department leading up to paint." In other words, there always needs to be another vehicle ready to fill the booth as soon as the last one comes out. "If we can meet that challenge, the production gains can be huge." 
IFRARR IR Dryer
Available in Canada through Filco, the IFRARR range of IR Dryers, which include the arch 30K, the semi-arch 15K as well as mobile IR units that can be suspended on rails, are designed for maximum utility and flexibility. Easy to use, these IR dryers provide both energy and time savings, as well as temperature and cost control, making them ideal for shops looking to capitalize on operational efficiency. The various configurations also mean they can be customized depending on the specific shop layout and operational requirements.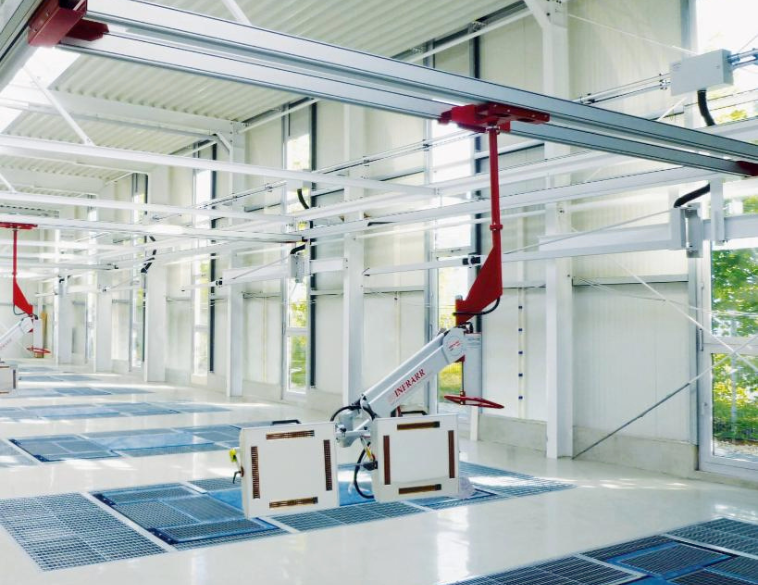 Symach EasyDry
The EasyDry robot is designed to not only dry the required area of a vehicle while in the spray booth but also individual parts on stands. It features three sets of lamps to enable fast, efficient drying of the specific section of the vehicle, plus lasers accurately measure the exact size of the area that requires drying. Additionally, the top and side lamps can be moved and adjusted to accommodate different sizes and types of vehicles (ranging from cars to SUVs and large pickups) while ensuring a consistent, accurate drying process. Utilizing EasyDry, a refinish department can produce up to eight vehicle cycles per day, adding significantly to a shop's overall productivity. EasyDry is also ideally suited for electric vehicles as it can monitor the temperature of the battery pack housing, ensuring a safe, fast, and efficient drying process.