Carrying the torch means making a choice: sticking to the original mission, or building on it.
Almost the same age as his 50-years old shop, Éric Bilodeau has had an exemplary career. Like his grandfather and his father, who wanted to be on the cutting edge, he made training a priority.
Barely had he finished a DEP enriched with all the family knowledge, when we see him at the dawn of the year 2000 at an I-CAR course held in Saint-Jérôme by Claude Fortier, Patrice Marcil and Caroline Lacasse!
It was at the time when these three promoters of the perpetual updating of training required by the continuous evolution of manufacturers were training the elite of body shop teachers at the CFP of this region.
It is not surprising that in Dorval, during a CCIF session, he strengthened his ties with Mario Tremblay, at the time of DuPont, and Réal Beaupré, whom he had met in 1995 during training at BASF.
Encouraged by his grandfather Fernand, an auto body repairer by trade, and his father Jacques, also a master body repairer, Éric was immersed in the magic potion of training at a very early age, and he is still there.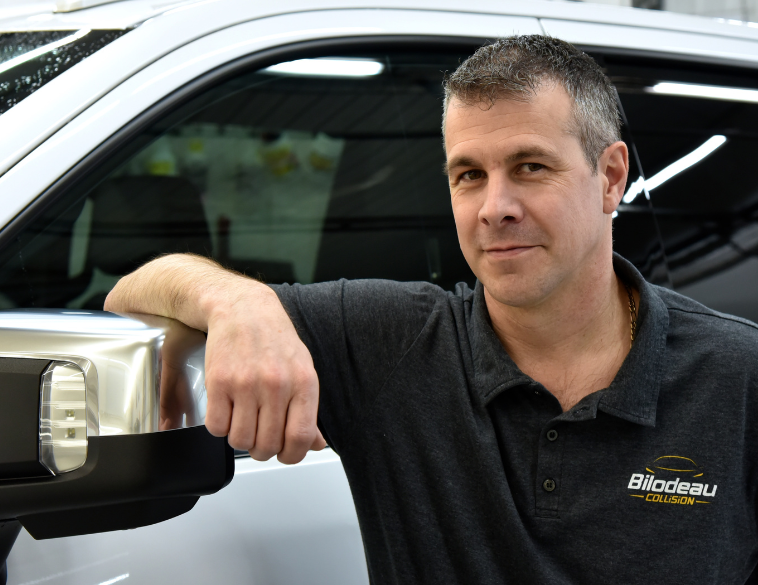 200 courses between 2020 and 2022
Even though his shop was among the 47 Quebec body shops certified I-CAR GOLD – Aluminum this spring, Éric is far from sitting on his laurels, the pandemic having enriched him more in GOLD and PLATINUM.
He and his large team have taken no less than 200 courses since 2020, including all 8 components of I-CAR. Some of them have up to 3 Platinum bringing the total to 12; 7 in production and 5 in estimation.
In addition to this busy schedule, he added 12 training sessions on various related aspects ranging from IT to finance, or from different departments including customer service, to new processes.
These trainings even included online sessions from Mike Anderson of Collision Advice, offered by Axalta, about obtaining manufacturer certifications, and quality control.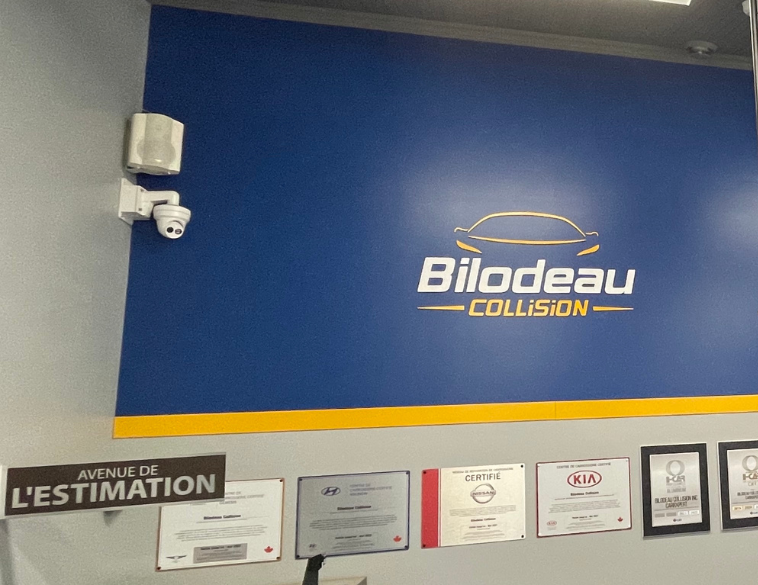 Supervising with 16 cameras
Éric Bilodeau believes that at the almost breakneck pace at which the industry is being refined from all angles, it is never too early to be ready to use the next generation of equipment and products.
Since 2018, he has besides been managing by using a good deal of a set of 16 strategically located cameras, which save him an enormous amount of steps and provide him with a complete picture of operations.
This approach is the only one that makes optimal supervision adapted to the modular configuration of the workshop, allows to act quickly and to improve the cycle according to observations otherwise difficult to make.
Curious since childhood, and always on the lookout for innovations that he discovers by visiting workshops as a member of a performance group, Eric is never short of solutions.
Being of the technology and computer generation, he invested in it without hesitation, even though his accountant sometimes asked him, in vain and for good reason, if it was a necessary purchase.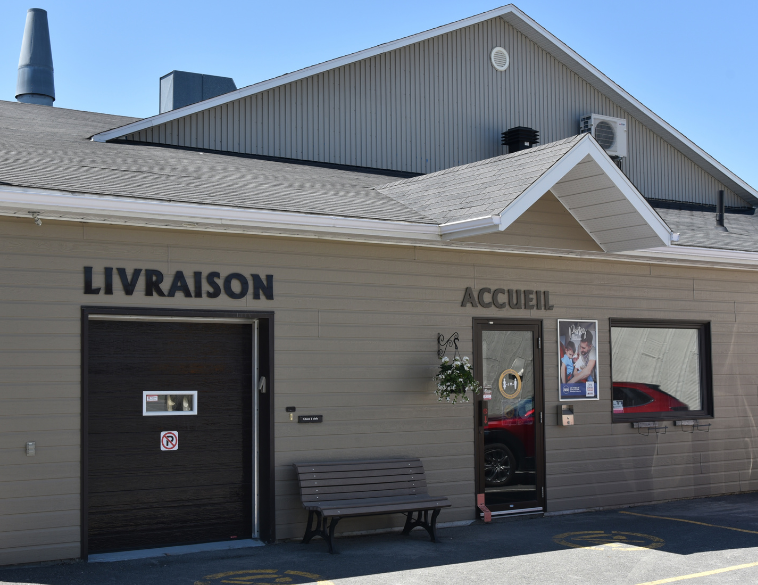 New expansion in the works
Completing the purchase of the company's scale, where older cars, trucks and even boats were repaired, he turned it into a shop focused solely on damaged cars as soon as he took over in 2006; hence the name Bilodeau Collision.
After expanding and rearranging his facilities more than once due to new equipment, including that for aluminum, and increased productivity, Eric is still considering expansion.
The obligation to be certified, as required by several manufacturers, leads him to move in this direction, having already the certifications Chrysler, Dodge, Fiat, Ford, Genesis, Hyundai, Jeep, Kia, Nissan and Ram.
Founded in 1972 by dent remover Fernand Bilodeau, Bilodeau Collision is a model of adaptation to increasingly complex techniques, products and management methods that Éric strives to maintain.
The industry is at a turning point where an adjustment is necessary, but confidence still reigns, says Éric Bilodeau, especially since better years are coming for well-trained innovators.
Handpicked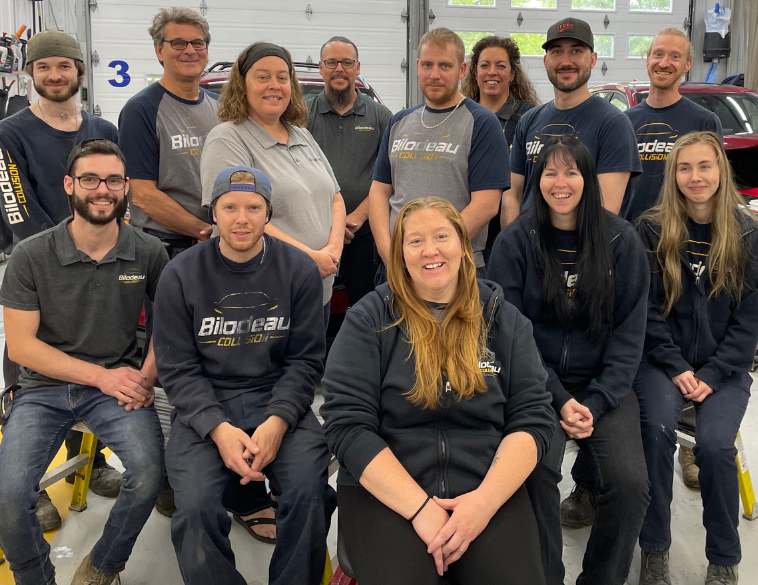 Estimator Maxime Lachance won GOLD in Bodywork at the 2004 Olympiades québécoises des Métiers; as for preparatory painter Élye Gilbert-Nadeau, she has just completed the new DEP in Bodywork at this workshop, which is now offered only in dual format.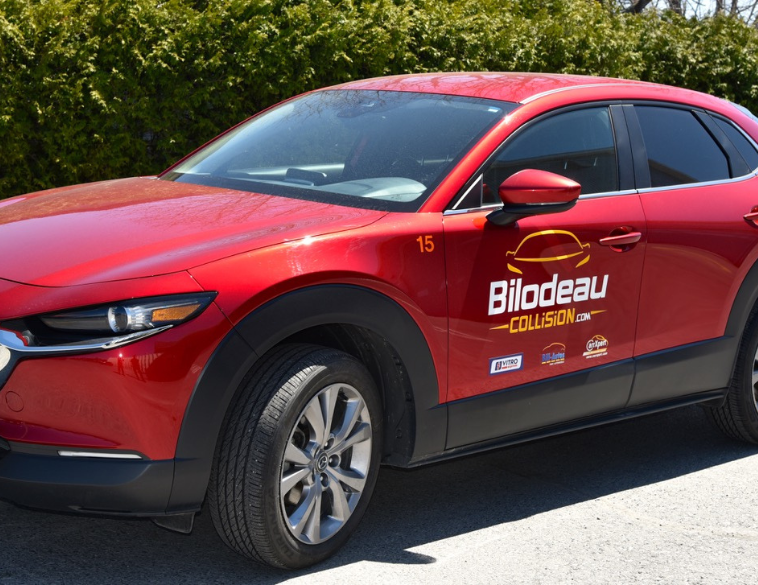 Training completed between 2020 and 2022
I-CAR
Estimator
Property damage estimator
Production management
Electrical/Mechanical Technician
Finishing technician
Steel structure technician
Aluminum structures technician
Non-specialized technician in structures
Others
Diagnostics – Scanning and data management
Air conditioning – News and management
Paint – New Axalta products
ADAS – Calibration
Electric vehicles – Prerequisites
Accessories – Protective films
Customer Service
New accounting software
Accident investigation and analysis – AUTO PREVENTION
Novo-studio – Prevention Mutual
Financial engineering
Leveraging Your OEM Certifications
Quality Control Best Practices