Collision staffing strategies for a new era.
Historically, Budds' Collision Services has placed a strong belief in growing and promoting our staff from within. Every month, we've allocated a budget towards salaries as well as training and apprenticeships. Our view is whenever we feel that an apprentice is able to go it alone as a trained technician, the cost in development and training them is significantly less than bringing in a qualified technician from outside the organization.
Another benefit is minimal disruption regarding productivity within the shop, because as that employee is growing and developing, they are continuing to work alongside more experienced staff members, contributing to the success and profitability of the shop.
Assembly line
By adopting this strategy, you essentially create an assembly line for training staff, where you bring in young apprentices or junior technicians, pair them up with a senior technician for a certain period of time and then switch them to work with another. This allows the junior staff member to learn the strengths and expertise from each senior technician they work with and then apply that to their own expanding skill sets as they become experienced techs in their own right.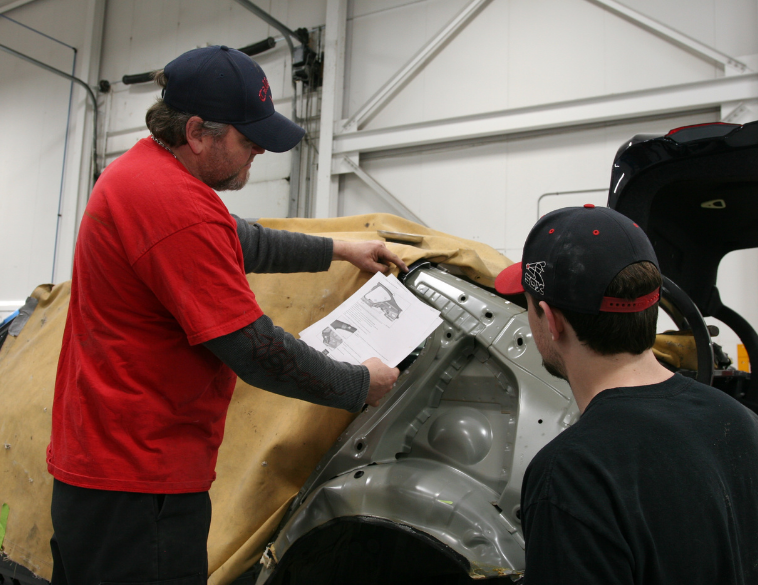 Although the benefits of this strategy have been clearly demonstrated over the years, the COVID-19 pandemic and the ensuing "Great Resignation" have required many collision shops and businesses to adapt to a changing labour market. In our industry, one trend we've seen is the acceleration of retirements among senior technicians. As claims counts and work volume have declined, and some shops also choosing to reduce the number of active staff they have, many senior staff have seen this as an opportunity to hang up their overalls now.
Additionally, at the other end of the spectrum we have younger technicians who have a few years' experience but are lower on the seniority level. They see declining work volumes and staff cutbacks as an ideal opportunity to look for a different career, perhaps in a lucrative trade such as plumbing or electrical contracting.
Multiple curveballs
Many collision centres are seeing a lot of curveballs being thrown at them presently, not only staffing shortages and supply chain disruptions, but also rising production costs (driven by inflation) and see-sawing claims and repair order volumes, which makes for a challenging operational, training and recruitment environment.
Nevertheless, there are signs that things are starting to stabilize and those shops that are planning long-term, are taking steps now to ensure they have the right people in place for when claims and work volumes rise to pre-pandemic levels.
While we have seen a lot of people leave the industry voluntarily, there are also many good employees out there that found themselves laid-off and are actively looking for work. Now is the time to really take steps to find and recruit these people and like your existing employees bring them into the heart of the operation and keep the lines of communication open.
If you know your business has a long-term plan for growth and clear steps have been identified within that plan, it is critically important to communicate that with your staff, so they know how and where they fit in to the shop's overall strategy. By doing so, you not only establish a level of trust between employees and management, you can also carve out a career development path the ultimately benefits both your staff and your business.
---
J.R. Martino is Vice President and Managing Partner of Budds' Collision Services, one of the most progressive facilities of its kind in North America. He can be reached at [email protected]