More electric vehicles on the roads will require repairers to make new investments in not only tools and repair training but also processes.
It seems no matter where we go in the automotive industry today, we can't escape the topic of electric vehicles. Governments around the world have committed to them and automakers are rushing to expand the number of EV offerings with the goal in some cases, of creating a portfolio entirely composed of electric vehicles within the next decade.
So, what does this mean for the collision repair industry?
To help answer that question and others related to EV proliferation in our sector, Ryan Mandell, Director, Claims Performance for Mitchell International, delivered a special presentation as part of the 2021 CCIF Toronto Virtual Experience in February.
OEM strategies
To provide some clarity regarding EVs and collision repairs, Mandell kicked things off by looking at the moves that OEMs are making regarding EV segment growth. While Tesla continues to grab much of the limelight, Mandell noted that arguably more impactful are the decisions legacy automakers are implementing as it relates to EVs.
General Motors, for example, announced at the start of this year that it is deeply focused on EV adoption. According to Adam Jones, a Morgan Stanley analyst, GM has committed $27 billion toward the development of 30 new EV models by 2025 alone.
Daimler AG, the parent of Mercedes-Benz has also been focusing heavily on electrification. Company CEO Ola Källenius recently remarked that sales of Mercedes-Benz EVs tripled in 2020 when compared with the previous year and is forecasting that they will make 13 % of total global sales volume during 2021 (up from 7.4 % last year).
Nissan, which has long been a purveyor of battery electrics with its LEAF has been investing heavily in the technology, and according to data from the National Energy Agency, the total number of electric vehicles on the road zoomed from just 17,000 in 2009 to 7.2 million in 2019.
"We have clearly seen this tremendous growth worldwide over the past decade," said Mandell, "and it appears that the foundation is really set for electric vehicles to occupy a much larger portion of the car park—and subsequently a larger portion of claims and collision repairs," adds Mandell.
Different repairs
So, there's no question collision repairers are going to see more EVs entering their shops this decade, but it is important to note that repairing an EV is very different from a traditional internal combustion engine vehicle (ICEV).
For starters, more scanning is required—at least 10% more according to data from Mitchell International. As Mandell noted, because an EV is much more reliant on computers and processors for actual operation than an ICEV when it is damaged during a collision, there is far more likely to be a disruption to its actual function as a vehicle. Meaning very careful attention is needed when it comes to pre-scanning, vehicle calibration and post-scanning following repairs.
This means the number of fault codes that could be triggered by an EV following a collision is likely significantly greater than for a comparable ICEV.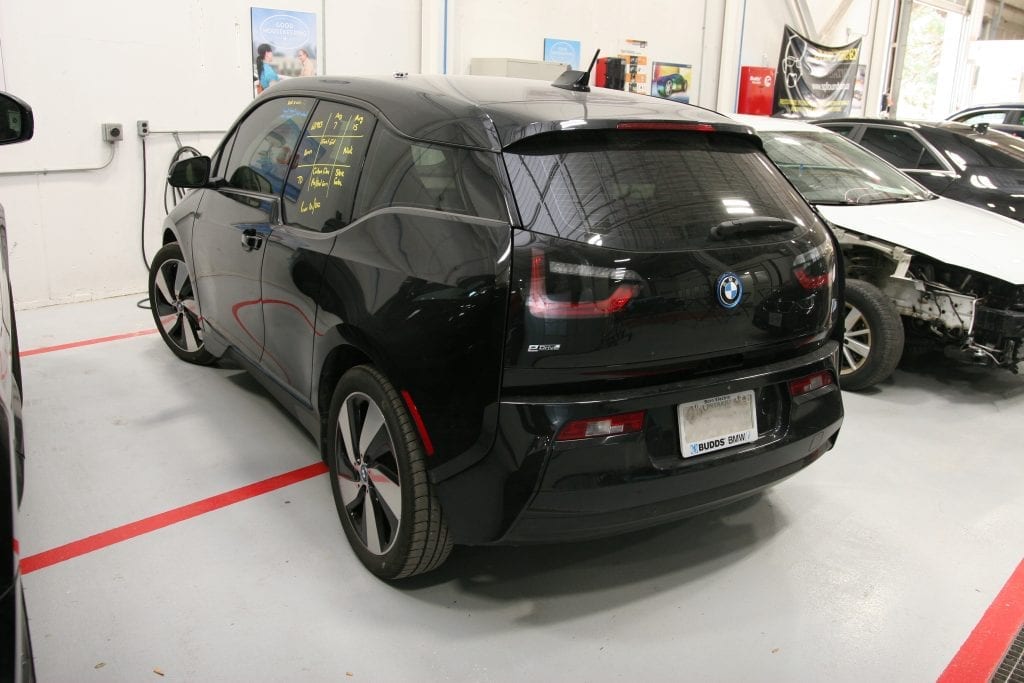 As EVs rely on electric motors for operation and require massive batteries to store enough energy to power them over any significant amount of distance, the mass these battery packs add to the vehicle is still significant.
Mandell compared the 2018 Audi e-Tron with its conventional gasoline A3 counterpart and noted that the curb weight of the former was 419 lbs (190 kg) greater, with total vehicle weight being (3,616 lbs/1640 kg versus 3,197 lbs/1450 kg for the regular A3).
To maintain any semblance of performance, OEMs have been looking at ways to reduce the weight of EVs. One way of doing this is by using different substrates for manufacturing them.
There is an overall trend toward vehicle light-weighting to meet tighter fuel economy and emissions standards, a trend especially emphasized when constructing EVs.
When technicians take EVs apart, they will find a larger usage of aluminum, ultra-high-strength and carbon fibre. Many of these materials, while significantly reducing weight, do not react in the same way as traditional mild steel during an impact or collision repair. In some cases, you can't repair these materials at all.
Greater costs, higher cycle times
Mandell emphasized that while aluminum does display twice the energy absorption of mild steel, on impact, it tends to crumple and crack, meaning it cannot be reformed like mild steel can.
This means that in many cases, to return an EV to the pre-collision condition requires a much greater degree of replacement parts which adds to higher cycle times and ultimately, greater repair costs.
As the percentage of non-repairable parts in EVs tends to be significantly higher than for internal combustion engine vehicles, both repairers and insurers need to understand the composition of EV parts as well as the OEM procedures required to properly fix these vehicles.
"This awareness is also key to helping plan work in progress and be able to set realistic expectations for vehicle owners in terms of what is going to take place on their vehicle and how long it is going to take to do the work," said Mandell. He also noted a key factor is also explaining what needs to be done as early in the process as possible.
Besides materials, how EVs are designed, for example having a front trunk (or frunk) cargo area in place of an engine means that in many cases, frontal crash energy is managed very differently than a traditional vehicle.
There's also a need to understand the high voltage electrical and battery systems of EVs, the safety requirements that must be adhered to, when working on them and how to remove and replace high-voltage components.
This becomes particularly important regarding the battery packs since in many cases they use lithium-ion chemistry which is extremely volatile and combustible if not handled properly. "The electrolyte can also become corrosive if internal damage to the battery occurs—meaning corrosion could be taking place and we would not be able to see it," said Mandell.
Temperature concerns
There are also temperature considerations.
Mandell noted that in many cases, lithium-ion batteries can be damaged at higher temperatures (beyond 50 °C), so this is something collision repairers must bear in mind, especially during baking and curing in the paint booth.
For instance, if baking the vehicle following the refinishing process will take longer than 60 minutes, it is recommended that the battery pack be removed before the paint stage of the repair.
Performing this task properly and isolating the battery pack for safety requires a minimum of two additional hours in labour time.
Overall, Mandell stated that EVs on average require 3.5 to 5 more hours of labour per repair than conventional ICEVs do.
There's also a consideration for parts, especially in the current COVID-19 climate where component shortages are becoming an increasing problem not just for OEMs but aftermarket businesses and collision repairers as well.
Ultimately, when it comes down to it, repairing EVs not only means longer cycle times but longer keys-to-keys, a longer period of the claim being open and a longer length of the rental as well.
In summing up, Mandell said that the differences between EVs and ICEVs go way beyond the method of propulsion. "EVs are truly a different breed," he remarked.
"The intricacy of the electrical systems and methods of construction means that only is a repair on an EV more involved and more costly, but it also takes significantly greater time to complete.
"As such, Mandell emphasized, "it is imperative to appreciate such differences to prepare the most accurate repair plan—to set appropriate expectations for vehicle owners and fully comprehend the growing size of the EV car park and the impact that will have on an insurer's financial future."