This 1964 Pontiac Parisienne is a rolling piece of Canada's rich motoring history.
It might be hard to fathom now, but back in the 1960s, the high cost of importing vehicles to Canada, even from the U.S., meant that many models were built and sold specifically in Canada, featuring unique features and options specifically geared toward Canadian consumers.
A prime example was Pontiac. Founded in 1926 as one of General Motors' "companion" makes—designed to fulfill perceived gaps in the GM price hierarchy, along with others such as La Salle (Cadillac) and Viking (Oldsmobile), Pontiac outlived its parent brand Oakland and ultimately all the other companion brands.
Popular sellers
By the early 1960s, Pontiacs were among the best-selling vehicles in Canada, outsold only by Chevrolet and Ford. A big part of that was due to the popularity of full-size models such as the Parisienne.
Debuting for 1958 as a sub-series on the Laurentian, the Parisienne became a separate model for 1959, following the trend of its U.S. counterpart, the Bonneville.
While the two cars looked outwardly similar, for economic reasons, the Parisienne, like all full-size Canadian Pontiacs, featured a shorter body and rode on a Chevrolet chassis and featured Chevrolet drivelines including engines, transmissions and rear-ends.
This 1964 Parisienne two-door coupe, owned by Betty and Todd Bourgon is powered by a 250-cu-in inline-six, an option that was not available on U.S. market Pontiacs.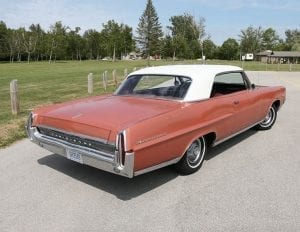 Exceptional condition
Originally purchased by a nurse in Windsor, Ont., for the princely sum of $3900 ($32,684 in today's money), Betty acquired the car in 1999 from the original owner. The car was in exceptional original condition, but 15 years ago was repainted and a new vinyl top installed.
In 2020, son Todd was asked to take over stewardship of the car. "Because it hadn't been regularly driven for a number of years, it needed some mechanical refurbishment," says Todd.
The car has since been recommissioned and in order to get it ready, the inline-six was detailed and received fresh seals—the original radiator rebuilt and re-cored—while the two-speed Powerglide transmission was serviced and the brakes overhauled.
In an effort to keep the car as original as possible, this 1964 Parisienne retains its factory four-wheel drum brakes and single master cylinder.
Todd says it's a very different experience compared with driving a modern car and the light steering, soft suspension, and drum brakes take a little getting used to.
But as was the case on its first outing this year with his mom Betty—driving down the road is a unique and unforgettable experience.