Still going strong after 67 years.
In 1956, Elvis Presley was at the top of the music charts, Rebel Without A Cause was packing movie houses, and in Toronto, Factory Tire & Rubber, Inc. opened its doors to the public.
Now, 67 years later, Factory Tire & Rubber Inc. is still going strong, servicing 100 to 120 cars a day. The 30,000-square-foot location in Etobicoke, Ontario, was once an old furniture store until late founder Allen Mills transformed it into a top-notch tire sales and service centre. 
Their biggest seller is Michelin, according to operations manager Troy Thompson. "It's brand recognition," he observes. "People have been seeing the Michelin Man since they were 10 years old." In general, consumers are requesting mid-level tires that offer great mileage and a good warranty, but are not too hard on the wallet.
Prices climbing
Tier 2 brands like Kumho, Nexun or Hankook are also popular. The aftershocks of COVID are still being felt, with tire prices climbing by as much as 40 percent. "That's pushed people into a mid-level tire since higher-end tires are so unaffordable," says Thompson. "Even our rim sales are down 70 percent."
People are buying the tires they need and not the things they don't need. The late founder Allen Mills was known for quipping, "Tires are a grudge purchase; if you buy new clothing, a new TV or home you show your new acquisition off to your friends and family. When did you last have friends or family visit and you said to them 'Come see my new tires?" It's still true, reports Thompson. "When people come in here, nobody's happy to see us!"
But Factory Tire & Rubber, Inc. has established a well-earned reputation for being the place to get a deal on tires, with customer service as a number one priority. "It doesn't feel like a corporation," explains Thompson. "You can always get what you want at a big box store, but you don't always get the service."
And some of the employees have been there for many years. Thompson himself started as a tire tech 10 years ago and worked his way up to operations manager. One of the office staff has marked her 20-year anniversary with the company, and most of the sales staff have been there for five to seven years.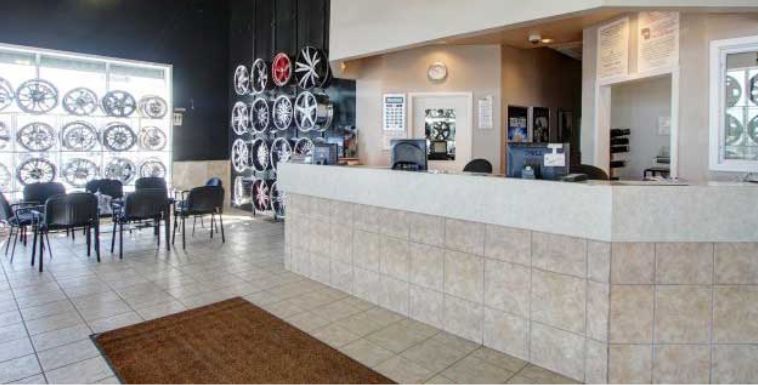 Better warranties
These days, tires not only come with better technology, but high mileage tire guarantees and better warranties. Many are offering road hazard protection because roads in North America are in poor repair. "When you have that kind of guarantee, it gives you peace of mind, if something happens, you know you won't be out $500 for a tire," notes Thompson. Damage from roads makes up a large portion of his shop's work. "30 services a day are people who pick up nails, or hit potholes."
As it is, his techs try and repair tires as best they can, to save consumers money. "We offer used tires if someone has a budget issue, and we also have in-house financing," Thompson offers. But the reality is, he notes wryly, if you own a vehicle, you have to be able to repair it.
During the busy season, there are up to 15 techs working at the shop's four bays, and even in the slow season, there are about 10. There's never a shortage of work, even in January and February. "That's when we'll be switching our inventory from winter to summer, purchasing our rims," describes Thompson. "Downtime is when we get organized and get ready for the next season."
For the busy winter tire changeover rush, Thompson "takes the bull by the horns" and dives into the roller coaster. Regular customers who store tires at the shop will get a phone call and receive promotions to get them in early. "But the reality is, until the snow falls, nobody thinks about winter tires."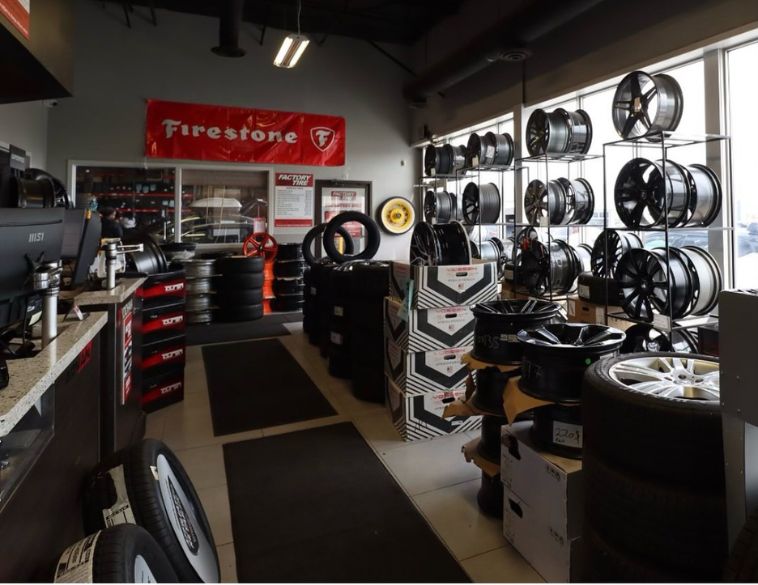 Inventory
He's never been caught short-handed with inventory, since half the shop is dedicated to storing inventory. "When a deal is there, you have to grab it," says Thompson. Generally, he has a minimum of 15,000 tires in stock at one time, with more in the winter season. 
One of the trends he's seen is an uptick in price matching. "You have to keep competitive," Thompson notes. "Everybody's price is online so you keep your prices very competitive." He also sees many customers relying on credit cards and Visa for their day-to-day purchases, and not as much debit or cash coming across the counter.
Customers are treated well, with a full waiting room that has complimentary coffee, wifi and even an arcade machine. If necessary, a shuttle service is available, as well as pick up and drop off. "We try to stay on top of every callback and lead."