Brand new facility offers many benefits.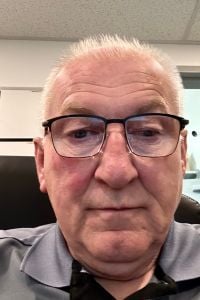 When Tony Doyle learned he had three months to relocate his Active Green + Ross shop, he knew he was in for a challenge.
At the time, his shop was in Hamilton's Limeridge Mall, with over 20,000 square feet of space. The mall's landlord, Cadillac Fairview, had targeted the location for re-development a few years before. But when the actual request came, it was on very short notice.
Doyle, the owner-operator of the shop, also owns three other locations with a partner and has over 20 years of experience in the industry. He'd already been scouting locations as he knew how difficult it could be to find space in the automotive industry. On a whim, Doyle had checked out an auto mall in one of Hamilton's up-and-coming neighbourhoods. He passed on the information to the Active Green + Ross head office, and a deal was negotiated.
Cross-marketing
But it wasn't easy. "We moved out of a 20,000 square foot facility into 5,000 square feet," recalls Doyle. "We had to scramble to figure out what to do with our 500 sets of storage tires." He also owns another Active Green + Ross shop in nearby Stoney Creek, where three containers were added to house the storage tires. 
Now, the shop is in a spanking new auto mall facility. It's attached to a luxurious four-lane auto spa, which Doyle believes is one of the best detailing businesses in Canada. Inside the auto mall, there are some restaurants, a convenience store and a large gas bar. "It's beautiful," enthuses Doyle. "The elite auto spa sees a thousand cars on the weekend, so the exposure is there for us." He also plans to do a lot of cross-marketing with his new neighbours.
The new building has textured floors, extremely efficient heating and lighting, wi-fi controlled electric doors, and is generally state-of-the-art. The hoists in the old location were sold, and brand-new hoists were brought in for the new shop. 
Fortunately, the move was made at a slow time of year. "August is not a busy month in our industry," notes Doyle. All hands were on deck to help with the move into the new space. The big tell will be in October, November, and December, with the winter tire changeover. But Doyle's isn't worried, anticipating a high retention rate. He's also been hard at work following up with his customer base, sending out emails and making phone calls. It's anticipated that about 75 percent of his existing customers will make the 10-minute trek to the new location.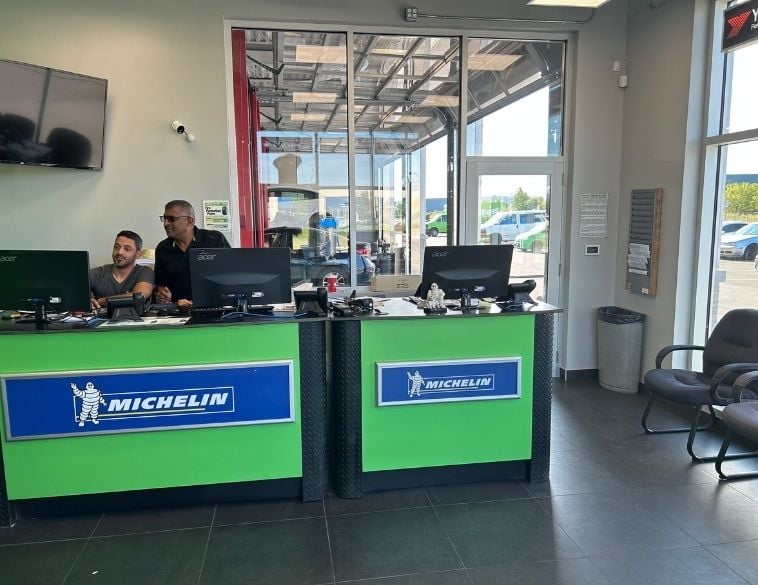 Huge transition
"It's a huge transition for us to move from having that much flexibility and square footage," he admits. "We've moved from having 10 bays to six bays."
All the staff came to the new shop – three people in front, five full-time techs and two part-time. "We've had time to prepare for the winter rush," says Doyle. "We're pretty organized, and know where everything is." He's also leased a commercial building next door, which is owned by the auto mall, to house more of his tire storage. And he's even hired a full-time employee, just to look after storage.
Employees have taken to their new space, and are getting used to working tightly with their peers. Communication has improved greatly with the smaller space. "Every day there's lots of discussion about what we should be doing to make ourselves more efficient, how we manage with the space we have compared to before," reports Doyle. "A lot of processes have been changed because of that."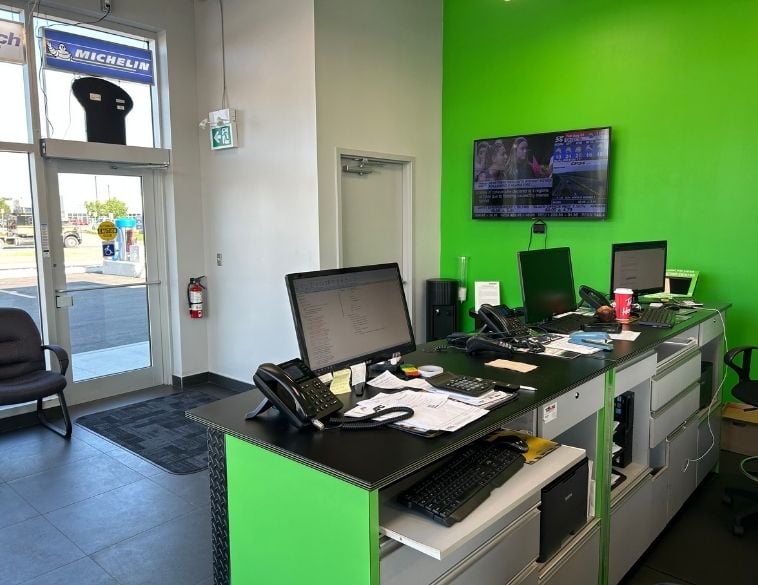 More efficient
He points out the benefits of the new space – "it's brand new, and all the utilities are modern and more efficient," Doyle declares. It's in a new part of the city that's growing by leaps and bounds. Plus, having less square footage will ensure that workflow becomes more efficient.
Doyle recalls that sometimes, the old store would take tire orders that the smaller stores couldn't accommodate. "It lent itself to a little over-indulging with purchasing," he quips. But now that he's in a smaller space, even if he wanted to overbuy, he couldn't because there's simply nowhere to put it. "Our inventory turn should change dramatically and help us," Doyle notes. As it is, the old store's inventory had to be divided up among several other locations.
"We have a nice showroom, even if it's shrunk by two-thirds," Doyle says. "But it's comfortable and cheery." There's Wi-Fi and a large-screen tv if customers want to wait, but the shop provides a shuttle service if someone wants to go home. "It gives us more time with the car, more opportunity to diagnose what may be wrong, and make the necessary repairs without inconveniencing the customer."