New value-priced UHP tire takes aim at top-tier tire manufacturers.
Next year, Canadian Tire will add a UHP tire to their MotoMaster lineup. The "Performance Edge," as it's called, is manufactured by Sailun, but sold under the MotoMaster brand. This past August, Canadian Tire invited the media to test drive the new Performance Edge tire on a closed track at the Canadian Tire Motorsport Park, located just outside of Toronto.
After a brief product presentation, we had the opportunity to push four new Ford Mustangs, equipped with Performance Edge tires, to their limits in both wet and dry conditions. The tires performed admirably, and handling was reassuringly predictable.
This is an outstanding tire that competes head-to-head with some of the major UHP tire brands on the market. That's because Canadian Tire takes their MotoMaster brand seriously, and they test all their tires extensively to ensure that they perform as promised. Canadian Tire's goal is to bring to market MotoMaster-branded tires that live up to company-set standards. More specifically, the tires have to meet or exceed benchmarks in performance on both wet and dry roads, while delivering on the promise of comfort and fuel efficiency.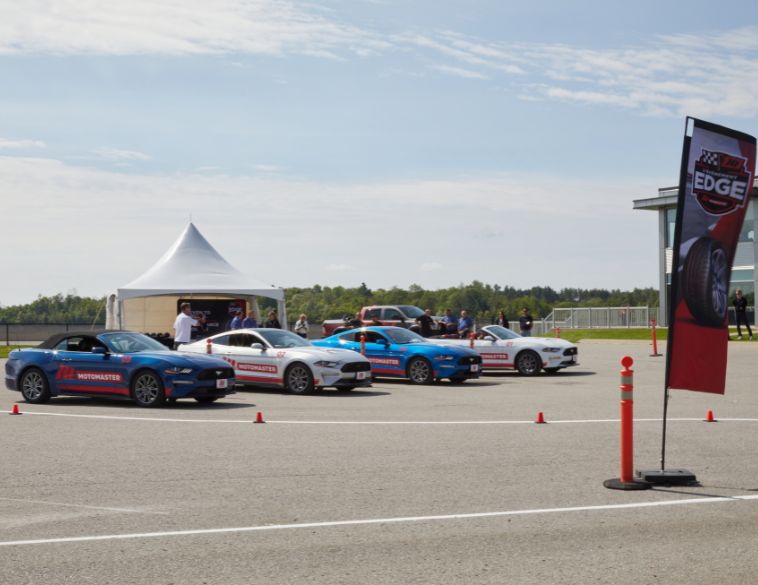 Testing program
MotoMaster expects their tires to compete head-to-head with major brands, which is why their tire testing program puts new tires through the wringer. "We want to be sure that our MotoMaster tires are comparable to the top-tier brands in terms of performance, but we want to offer them at a value price," explained Andrew Hannaford, Product Manager, Tires and Wheels, Canadian Tire, speaking at the media event. "We're testing these tires to make sure they're meeting those standards as we go toe-to-toe with the Michelins, the Bridgestones and the Pirellis of the world. We're making sure that our tire performance is right up there and comparable with the top brands."
According to Hannaford, "Canadian Tire is the only Canadian retailer with a comprehensive, objective tire-testing program of our own. The reason why we think it's important to test these tires is so that we can put the information in front of consumers. If we can help them understand the differences between tires, then they can choose the tires that are best suited for them, their driving style and the conditions they drive in."
Hannaford explained that Canadian Tire's testing program is called "Road Rated," and that a tire score is generated by assessing each tire's performance in a total of four categories: wet performance, dry performance, comfort and fuel economy. In addition, winter tires undergo testing to see how they score on both snow and ice, while all-terrain tires are tested to determine how they perform in two categories that are exclusive to this segment: off-road wet performance and off-road dry performance.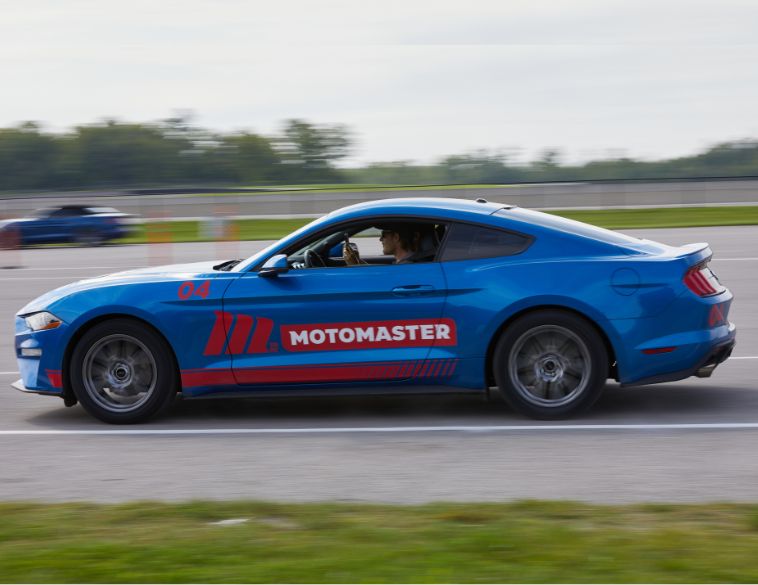 Independent third-party audits
All testing is carried out by professional drivers, at dedicated tire testing facilities, and all tests are witnessed by an independent third-party auditor to prevent any bias. "We go to these lengths," Hannaford added, "because we need to make sure that our customers can trust the scoring and that they understand that our test results are objective."
This is why the Canadian Tire Motomaster team can confidently say that the new Performance Edge can compete head-to-head with top-tier brands. In fact, they compared the new Motomaster tire with tires from Michelin and Continental, and according to Road Rated testing, the Performance Edge received the best overall wet performance score and was within 2% of the best-performing tires in dry conditions. It also scored within 2% of the best tires in terms of comfort and fuel economy.
"The Performance Edge is the newest member of our MotoMaster family," added Natasha Gustajtis, Category Business Manager at Canadian Tire, overseeing tires and wheels. "This is the first time we've entered the performance space."
Canadian Tire already offers an extensive lineup of Motomaster-branded tires, which includes all-season, all-terrain and winter tires. With the addition of the Performance Edge tire to the family, the Motomaster line is now complete, Hannaford explained.
Gustajtis added that the Performance Edge tire was designed to work well in both dry and wet conditions, and our time on the track proved that this UHP tire does well in both extremes. "It was designed to offer excellent handling, superior ride comfort and safety," she added.
The excellent handling comes from an advanced UHP rubber compound, coupled with optimized large shoulder blocks, which provide enhanced handling, braking and cornering stability.
The ride comfort is due to a design that reduces road noise, providing a quiet driving experience. An extra layer of safety has been engineered into the tire with the addition of four circumferential channels that aid with water evacuation, thereby reducing braking distances on wet roads.
High benchmarks
"Canadian Tire is an excellent partner for us," explained James McIntyre, VP of Sales for Canada, Sailun Tire Americas, speaking at the event.
McIntyre said that the Road Rated testing program is extensive. "They put our tires through the paces," he said. "They set high benchmarks, and we can either meet or exceed those benchmarks when we make a tire for them."
According to McIntyre, Canadian Tire expects all tire manufacturers that make MotoMaster tires to develop a product that contends with the major brands. "Canadian Tire will give us performance benchmarks for their MotoMaster tire. For example, they want it to do as well in wet or dry conditions as a tier-one tire that they have already tested," McIntyre explained. "We then send that information to our engineering team and ask them to start the project with these attributes in mind."
Designing a new tire from scratch takes time. McIntyre said that the MotoMaster Performance Edge tire had been in development for close to two years. "Canadian Tire is very thorough," he added.
Available in March 2024, the new Performance Edge tire will be offered in 16-18 inch sizes, and with W and Y speed ratings. Pricing will the announced closer to the launch date, but according to Gustajtis, as a reference, a 205/55R16 tire will be priced at about $149.