OTR and the mining sector are a big part of the Canadian economy.
This issue, I'd like to share something completely different! Recently, I had the pleasure of attending and speaking at the Tire Industry Association's (TIA) 68th annual Off-the-Road (OTR) Tire Conference in Tucson, Arizona. In a way, my attendance was like coming home. A couple of careers ago, I served as the Executive Director of the Ontario Stone, Sand and Gravel Association, where I went underground at Vale's Sudbury operations; watched the surface mining process for microscopic gold at the Cripple Creek & Victor gold mine in Colorado; and visited countless pits and quarries across Ontario. All-in-all, I have a deep respect and admiration for the conference attendees and their important contributions to the mining, agriculture, construction, and other industries where OTR tires are used.
Well-attended
This annual gathering of the OTR community was exceedingly well attended with over 500 delegates and guests from 13 countries and 40 states filling the event halls in scores. I'm not sure if it was due to the desert location, 10 educational sessions offered over three days, exhibits, networking opportunities, my first major post-COVID-19 conference, a quick visit to TRAC member CRM's crumb rubber facility in nearby Phoenix, or some combination of all these factors, but most definitely or some combination of all these factors, but most definitely the "joint was jumping" with energy and enthusiasm for connecting and learning face-to-face.
The educational sessions included speakers on sustainability; U.S. economic forecast; three motivational speakers; a manufacturers panel on electric and automated technologies; and two vendor presentations on tire chains and advancements in robotics.
Macro-outlook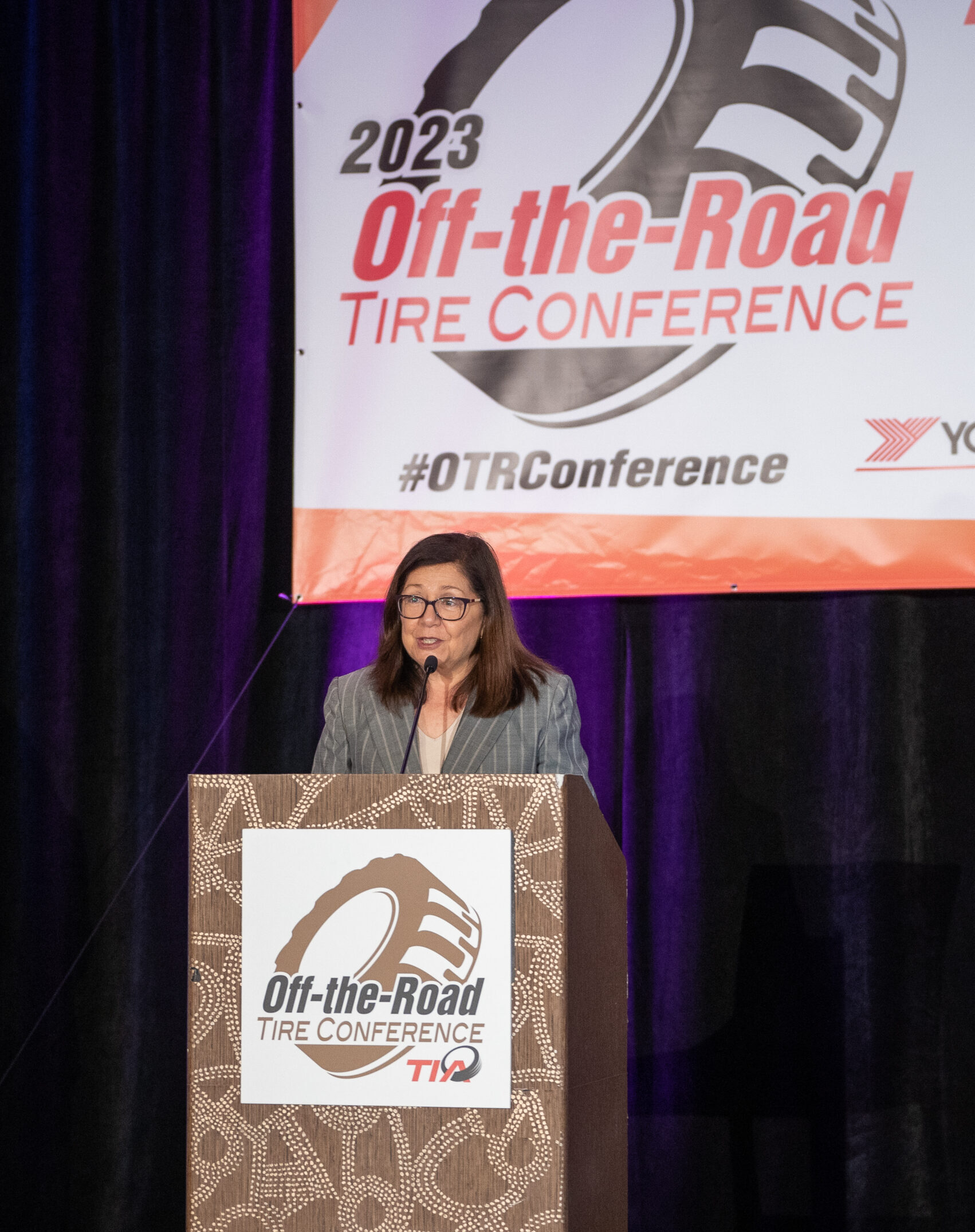 My presentation titled "Canadian Economic and OTR Tire Outlook" provided a macro-outlook of the Canadian economy, a regional economic update with a focus on the impact of the OTR tire sector, and finally, a look at selected OTR tire sales. Here are some highlights from my presentation:
The Canadian GDP from mining, oil & gas was approximately $162.4 Billion in 2022, with these sectors combined representing an annual average of 8% – 10% of Canada's GDP.
Mining is a pan-Canadian industry, with our geological terrain providing a rich and abundant variety of over 60 minerals and metals produced from coast to coast to coast.
In the category of metallic minerals, gold is Canada's most valuable mined commodity, with a production value of $13.7 billion in 2021. It's mined in all 10 Canadian provinces and territories, with the majority coming from Ontario and Quebec. Canada is ranked as the fourth largest global producer of gold.
BC, Quebec, and Ontario account for 65% of Canada's total mineral production in 2021.
Regarding large OTR tires over 39", they are tracking at a 5-year compound average growth rate of 5.3%.
Current and historical OTR tire sales in Manitoba, Saskatchewan, and Alberta were also presented.
Another highlight of the conference was the presence of a giant OTR tire, the largest size pneumatic tire in the world. It was a 63-inch rim diameter RH-4A+, size 59/80R63 OTR tire, weighing 12,500 pounds and standing about 13 feet tall. This behemoth is designed to provide cut-protection and wear in hard rock conditions on mammoth ultra-class haul trucks (photo provided by yours truly below).
This really was the premier gathering for professionals in the global earthmover tire, retreading and service industries, and I was honoured to be a part of it.