You can boast of an experience that is unmatched in its diversity or uniqueness, but you have to take advantage of the opportunities.
In early 2022, OK Pneus St-Hyacinthe, located in Sainte-Rosalie, was recognized as the Shop of the Year for the Eastern Canada Region by its British Columbia cooperative.
In principle, receiving this honor was not even remotely in Luc Poisson's original plans, although he has been in the automotive business since 1999; over two decades.
On the other hand, this was to be expected following the fast acquisition, a few years later, of a first business whose specialty—exceptional opportunity—was right up his alley.
Two convenience stores
Born in fertile soil, Luc was able to follow in the footsteps of his parents when the family had a convenience store in their village of Saint-Jean-Baptiste-de-Rouville.
He was so enthusiastic about working there that, as a boarder in a private school, he was provided with a room and allowed to fill the in-between meals of never-full teenagers with candy, sloche, chips and the like.
Perhaps there was a connection between this entrepreneurial initiative and the later purchase of a restaurant, which, however, took up too much time to start and care for a family. Hence its sale.
Zellers school
During his studies, adding an unexpected nightly "brick" to his experience, working at Zellers in all positions, was a major management contribution. A real life school.
Luc was just 19 years old when, as a night supervisor, he had the task of managing 22 employees whose role was to label and distribute the merchandise on the shelves, and even more.
During 4 years, he will have prepared the seasonal department for the beginning of the school year, Halloweens, Christmases, Saint-Valentines, Easter, Mother's and Father's Days… and repeated this cycle as many times.
Prior to his big jump on Monday, April 1st, 2013 into mechanical maintenance and tires, he had accumulated nearly 15 years in the new and used car sales business, 6 of which as an owner.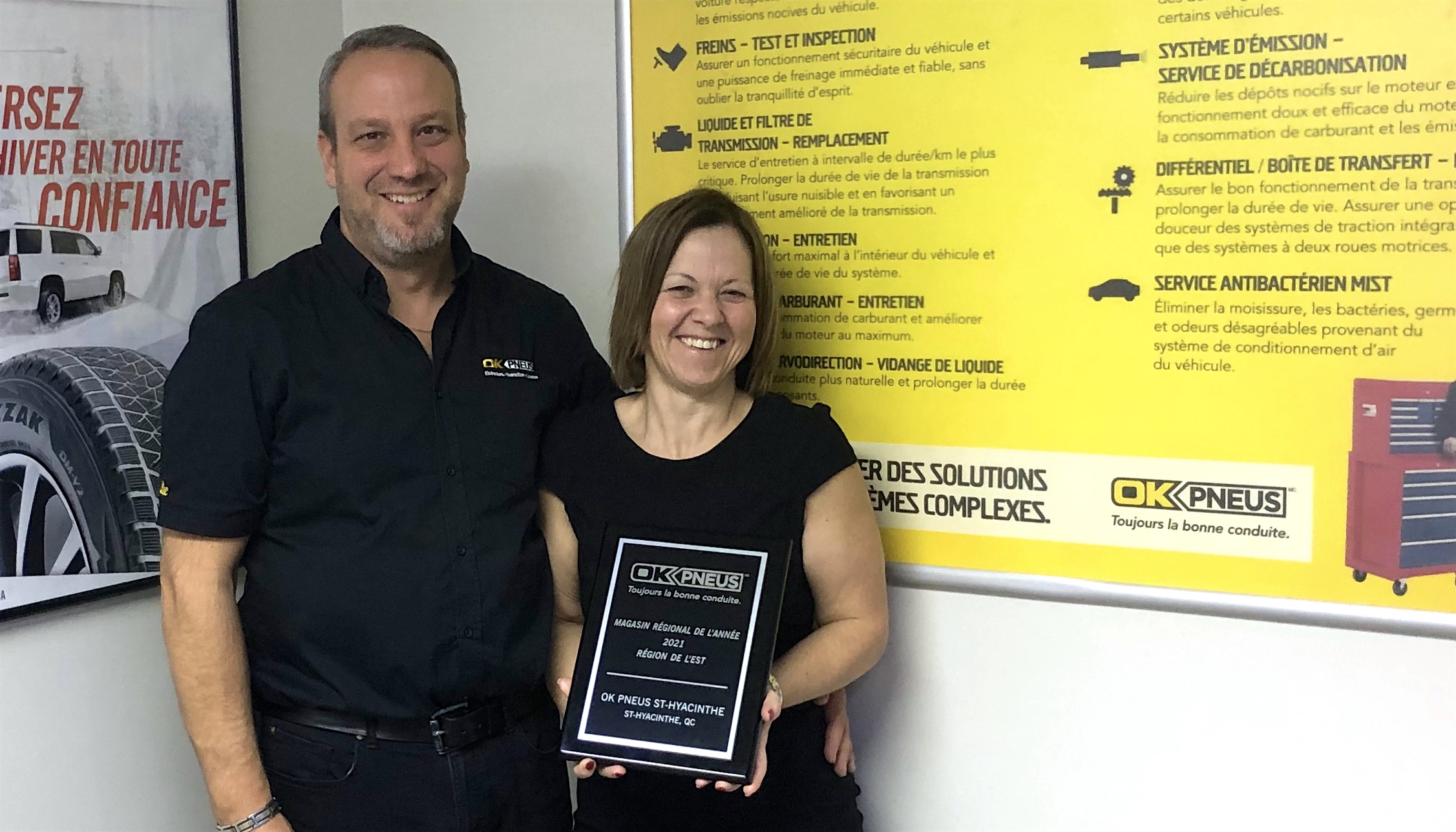 Love at first sight… twice
Inspired by two uncles in the resale market, he first went into business, deciding in 3 hours to acquire one of them, become a member of the AMVOQ, and create L Poisson Auto.
His years with various dealerships as Director of Sales and Service, as well as in Finance and Insurance, prepared him well for this.
When you make a choice, you have to assume it.
However, it was in 2013, after crossing the Highway 116 to have his neighbor across the street service his vehicle, that Luc became a garage owner and member of the OK Tire cooperative.
He says he simply walked into the garage as a customer, and walked out the owner—a habit! On Easter Monday, he was already at the helm after turning the counter in the direction he has been since.
Good listener and good advice
As a result, the constant adaptation to the ups and downs of the unstable automotive sales market is over, and customer service begins with sound advice on parts, and good-natured accommodations.
And what about the pleasure of getting to know new customers, exchanging on various subjects, almost being the confidant of those of long-standing of whom he knows some of those secrets that one only reveals to his garage owner!
So Luc knows who knits, who loves Florida, or who wants to make decisions on his own without calling a family member.
Eyes closed
He is also happy to have a stable team, believing that drivers, especially women, like to deal with people who are familiar to them.
Whether they are private individuals or representatives of private or public fleets, it is with closed eyes that his clients rely on Vallier, Sylvain and Benoit, who have been there for 1, 9 and 12 years.
Under the guidance of Luc Poisson, it is reassuring to frequent this 6-bay professional center that is OK Tire St-Hyacinthe.
Fan of surprises, this owner is always looking forward to tomorrow.