Fountain Tire was originally established in Wainwright, Alta., in 1956. That same year, Fountain Tire Argyle opened its doors for business on the outskirts of Edmonton.
Today, the business, now known as Fountain Tire Edmonton (Roper Road), continues to thrive. Current Owner/Operator Ian Kreiser, who joined in 2007, says that since then, some significant changes have taken place.
"The business was originally located near the highway and was one of the first buildings you saw when you came into Edmonton," says Kreiser. Originally a three-bay shop; by the time Kreiser joined, the facility had been expanded to include five service bays, along with a small showroom and a 3,000 square foot warehouse.
Business expansion
One of Kreiser's first initiatives was to expand the business to include commercial fleet and truck servicing. "Within a year of owning the shop, I realized we were missing out on a significant commercial service opportunity," says Kreiser. "We purchased additional service trucks, marketed directly to fleets, and almost tripled our business."
In 2015 the business upped sticks and moved to its current location—an 11,000 square foot facility located on Roper Road, a logical choice given the expansion into fleet operations. "Our facility is located in a large, light-industrial area that serves construction, oil patch service, warehousing, and general industry," explains Kreiser. "And this dictates a lot of the business we do. We serve small and large fleets, refineries, industrial partners, and farms as well retail customers from the neighbouring community. We often say, if it has tires on it, we'll work with it!"
For Kreiser and his team, a key part of being successful is the ability to meet customers' needs, no matter where they happen to be, whether it's on the side of the road, on the farm, or a commercial worksite. In order to facilitate this, Fountain Tire Roper Road utilizes five full-time service trucks.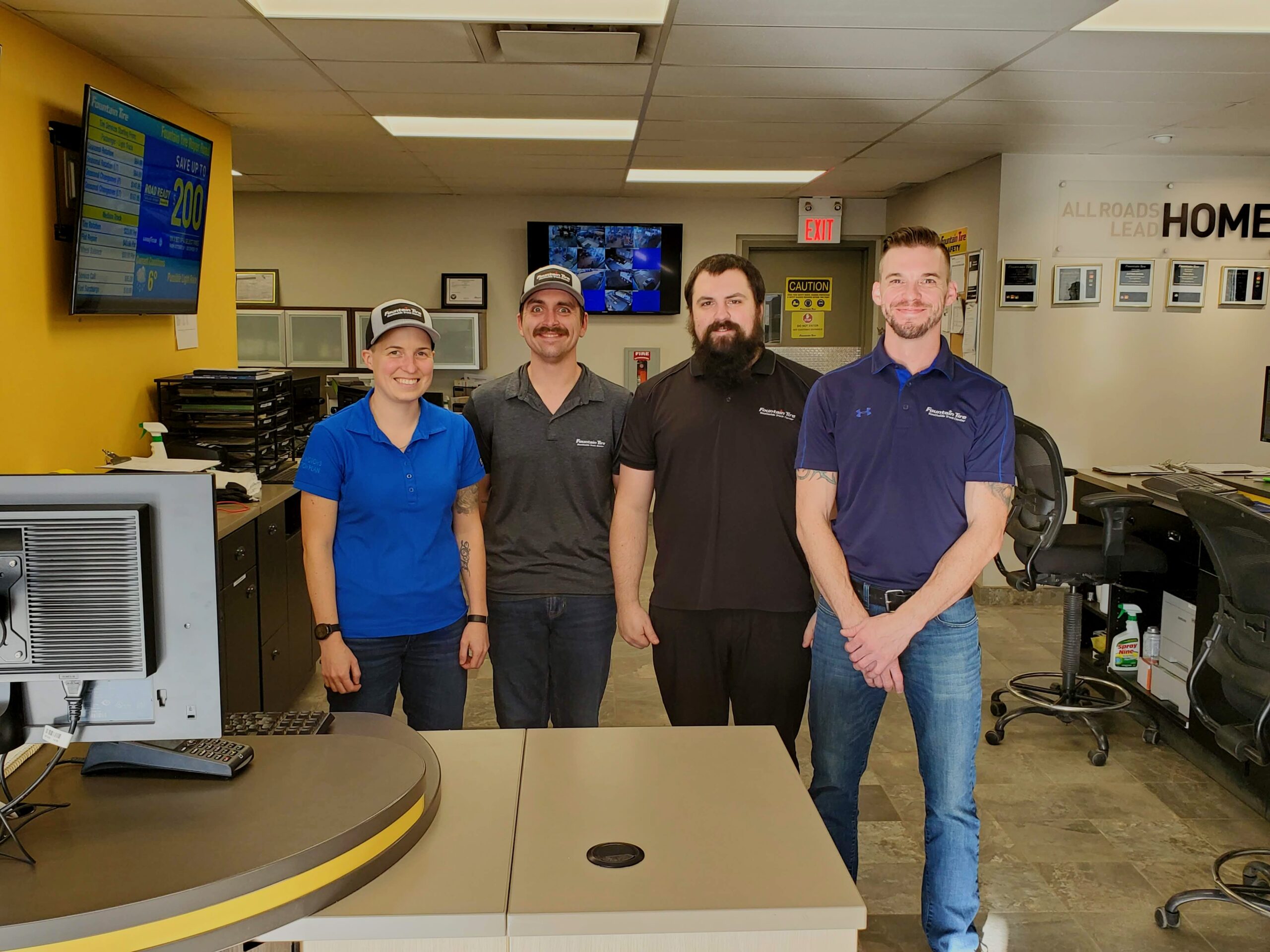 Major renovation
When Kreiser first took possession of the current premises, he says it was a truck repair shop, but boasted no hoists, nor outside service space. "When we acquired it, we embarked on a significant renovation, in partnership with Fountain Tire's corporate head office." This included adding 10 service lifts, a 6,000 square foot commercial truck pad as well as major investments in new equipment. Two years later, in 2017, a 4,000 square foot external warehouse was also added to stock on-hand inventory and provide improved support for Roper Road's commercial and industrial customers.
Additionally, the shop caters to its clientele by offering second-to-none amenities. "We have a large waiting, reception area," explains Kreiser, "with comfortable furniture, a kids' play area, and a big-screen television."
Kreiser said the object with the reception area was to create a warm, inviting location for clients, particularly important since many of the shop's customers tend to wait while their vehicles are being serviced. "You won't see any tires, wheels, or car parts in our reception area," says Kreiser. "We want it to look, smell, and feel great and for our customers to feel at home while they're here." The lounge area also includes complimentary Wi-Fi and beverages such as coffee, water, and juice.
Accuracy and efficiency
Besides comfort, the ability to perform service and repairs accurately and efficiently is key. "We made a large investment with Fountain Tire's corporate office when we built this location," Kreiser explains. "We believe equipment should facilitate the quick turnaround of a customer's vehicle and be accurate to eliminate comebacks. We want to increase our efficiency in the shop, but most of all we want to get the job done right the first time for our customers."
Equipment includes Hunter lifts in every service bay, two Hunter four-post alignment racks, a medium-duty alignment rack, three Hunter Hawkeye Elite aligners, and Hunter tire/wheel balancers. These major investments have significantly improved vehicle turnaround time, and because the shop can now perform an alignment with every tire installation, the number of alignments the shop can perform daily has jumped from around 2-4 to 20.
Further enhancements have also included being one of the first Fountain Tire locations to adopt AutoServe1 digital inspection technology. "Digital Vehicle Reports have been a great tool for us to educate customers so they can make an informed decision about repairs to their vehicle," says Kreiser. "We provide these at no charge for every vehicle we service and find they're a great way to confirm when a customer's vehicle is in good health too."
Big results
From a management perspective, Kreiser says these major equipment investments, in conjunction with clear, detailed processes implemented across the shop, have paid big dividends. "We sell in excess of 15,000 tires per year," he says, "so ensuring we're working efficiently allows us to exceed our customers' expectations." Currently, Fountain Tire Edmonton (Roper Road) boasts a 4.6/5 Google rating for service.
Looking to the future, Kreiser says that adapting to customers' needs has and will continue to be a priority. "Digital Vehicle Reporting allows us to show a customer what is going on with the vehicle without them having to be in the shop." Additionally, Fountain Tire Edmonton (Roper Road) has also introduced an Uber shuttle service as well as extending opening hours, all in the name of further boosting accessibility and convenience. As Kreiser summarizes, "personalized service has been the core of Fountain Tire's business philosophy since day one."