Quality customer service is a mantra at Fountain Tire Camrose.
Fountain Tire Camrose, located at 4720 36 St. in Camrose, Alta., is owned and operated by Jason Fleck and his partner Jason Pidruchney. The business can trace its origins back to 1968 when it was a single bay shop with the service truck, located in downtown Camrose.
In 1975, the business moved premises and was expanded to five service bays and two support vehicles. Although a fire at the building in 1985 caused some disruption, thankfully nobody was hurt, and an opportunity was presented to upgrade and modernize the business.
In 1988, Fleck's father, Doug, took over Fountain Tire Camrose and a decade later, young Jason joined him, gradually assuming more and more responsibility.
From the ground up
In 2006, the business moved to its current location and Doug took this opportunity to create a ground-up, state-of-the-art Fountain Tire facility that excelled in customer service.
In 2017, Fleck and his business partner assumed the reins and since then it's continued to go from strength to strength. "We have approximately 13,000 sq. ft. with eight service bays, and two additional drive through bays for commercial trucks," says Fleck.
Being situated close to Highway 13 and with a sizable amount of yard space, Fleck says the location allows Fountain Tire Camrose's commercial and agricultural customers ease of access when dropping off and collecting larger vehicles like Class 8 trucks and tractors.
One thing that sets the business apart, is the connections between staff and clients. "We always treat our customers as partners," says Fleck, "which means listening and responding to their needs."
The size and versatility of the shop means that any vehicle, of just about any size can be accommodated, the two large truck bays and outdoor servicing pad providing a great deal of flexibility for both retail and commercial customers.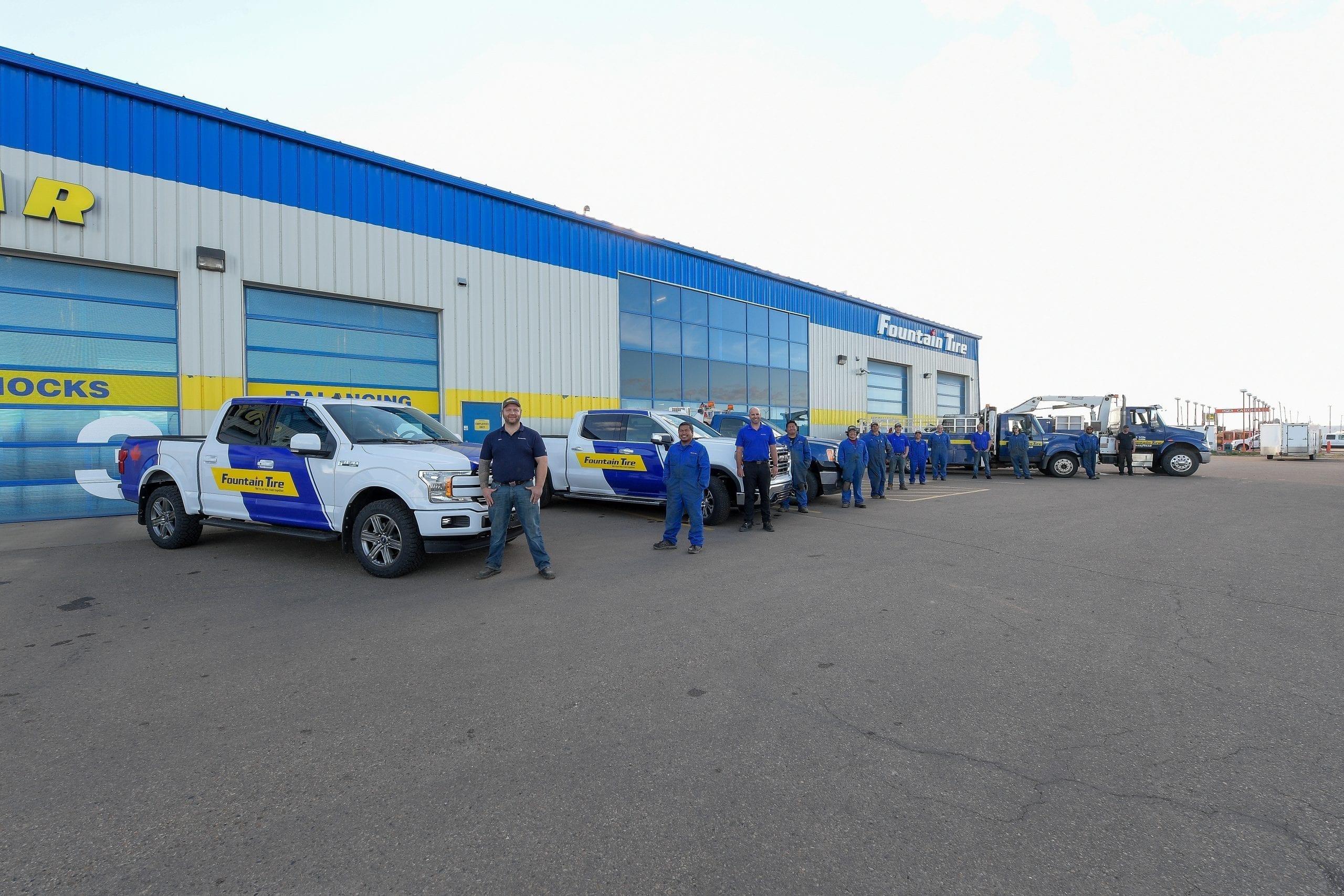 "Vehicles have gotten bigger over the years and we service everything from passenger vehicles to heavy-duty trucks, farm vehicles and tractors, as well as truck-and-trailer units and B-trains at this location," says Fleck. "We say 'We're on this road together' with our customers, and part of that is accommodating their diverse needs here at the shop. That said, if someone requires assistance out on the road or at their farm, we do that too."
Training and technology
Training and technology investments have been a big part of ensuring the business continues to thrive, and when it comes to equipment, these have included two state-of-the-art Hunter Hawkeye Elite Alignment Machines, as well as a Hunter heavy-duty alignment machine, Hunter Road Force tire/wheel balancer, and Revolution Tire Changer.
In 2019, the shop also added a Hunter Alignment Rack System. "This allows the front and rear plates to communicate with the machine," says Fleck, "which saves our associates trips around the vehicle. By increasing our efficiency with each job, we can 'get an extra one done' for a customer.
He notes that the Revolution Tire Changer, with its ability to change any tire, from a low-profile high-performance sports car tire to a 35-inch off-road to oversize tractor tires in just minutes, has proved exceptionally useful, particularly given the varied types of customer vehicles in this rural part of Alberta.
A complete range
As a full-service facility, not only does Fountain Tire Camrose offer a complete tire service including sales, mounting, balancing, service/repair and tire service, but it also offers a complete range of mechanical services, ranging from regular maintenance to air conditioning/heater servicing and maintenance, transmission servicing, shock and strut replacement as well as heavy-duty truck alignments in addition to passenger vehicles.
Fleck says that besides the substantial equipment investments made over the last few years, technology upgrades have also proved extremely helpful, such as digital inspections from AutoServe1. "This has been rolled out across the Fountain Tire network and is designed to increase both the accuracy and efficiency of our business," he says.
Fleck notes that a big benefit of this technology has been the level of transparency and trust it has allowed Fountain Tire Camrose to build with its customer base and in turn, further cement existing client relationships as well as nurturing new ones.
With the COVID-19 pandemic impacting almost everybody, everywhere, Fountain Tire Camrose acted quickly to ensure both staff and customers were safe. "With the support of our corporate head office," says Fleck, we implemented protocols, including: Using disinfecting products to clean all interior and exterior touch points of every customer vehicle before work begins and, most importantly, after work is completed, as well as actively adhering to social distancing protocols by arranging our large showroom to ensure customers felt safe. We also increased cleaning in all customer service and work areas using disinfectants and paid particular attention to high touch points."
Touchless service
Additionally, a protocol was mandated that an associate stay home if showing any signs of illness, while to facilitate customers, a special pick up and drop-off service was enabled to provide a touchless service for those that needed it including front-line and healthcare workers.
Looking to the future, Fleck says that as the Camrose community continues to evolve, so will his Fountain Tire store. "As our customers' needs change, we adapt our approach, equipment and technology," he says. "We're continually enhancing our customer communication, supported by things like digital vehicle reporting and two-way texting." Fleck notes that ultimately, "Regardless of the tools, we're committed to the same personalized service and approach to partnership that have been integral to Fountain Tire since its launch in 1956."