Snap-on markets a multitude of equipment brands and solutions to mechanic workshops to help them meet the challenges they face servicing and repairing today's vehicles.
A large portion of Snap-on's booth was dedicated to demonstrating the John Bean Tru-Point ADAS Calibration system, which allows for a wheel alignment check and ADAS calibration.
"Approximately 40% of vehicles entering collision shops are equipped with ADAS systems (Source CCC Internation)," says Chris Sobieski, Special Projects Manager and ADAS Specialist for Snap-on Equipment. "However, barely a quarter of these vehicles leave workshops with the ADAS recalibrated, which explains why 75% of vehicle owners come back to the shop complaining about their car's performance (Source Insurance Institute of Highway Safety IIHS)."
Sobieski emphasizes the fact that this endangers the safety of motorists and other users of public roads.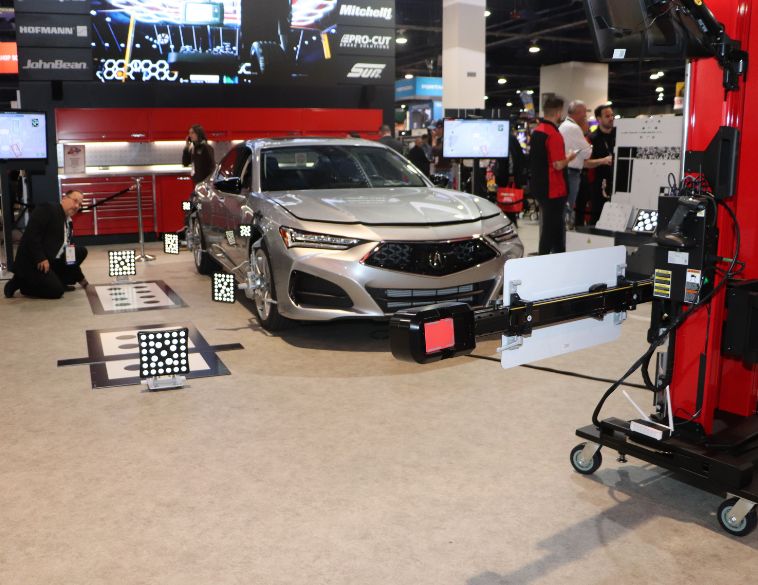 Snap-on, under its John Bean brand, has recently introduced a complete and intuitive system for calibrating ADAS components.
Tru-Point equipment offers a complete ADAS solution that allows to return vehicles back on the road with fully operational ADAS systems.
Since Snap-on also boasts the Mitchell 1 platform, vehicle diagnosis can be performed according to manufacturer specifications.
A diagnostic report indicates which components require calibration.
Subsequently, the technician only has to follow the steps indicated on the device's touch screen to complete the necessary calibration processes.
"OEM position statements and service information inform technicians on what systems need recalibration based on the vehicle damage," Sobieski goes on. "The process on Tru-Point is very visual and quite simple. The technician can see the positioning and set the device and targets in the correct areas. It's a high-precision system and if the positioning is not performed correctly, the device will refuse to move on to the next step. It's very easy to use, because the instructions are clear and simple—it's almost like a video game."
Once calibrations are completed, a detailed report can be produced and added to the digital documentation file. So the client or insurer can see that the required work has been completed.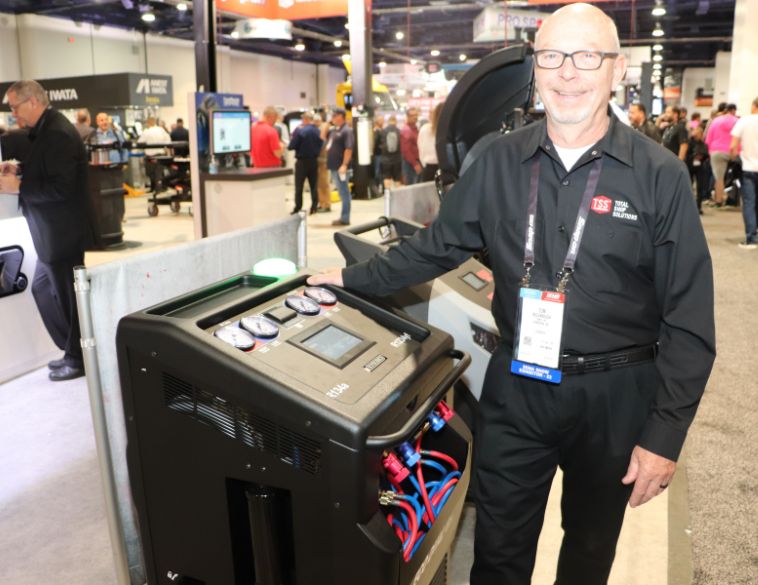 Versatile AC Tool
The Snap-on booth also featured a versatile AC servicing tool under the Ecotechnics brand.
The Eco Dual Gas is an all-in-one tool can process both R134a and R-1234yf refrigerant gases. Perfect for one-off maintenance of various vehicle AC systems, it's actually two tools in one. It allows for the charging, recovery and recycling of refrigerant gases.
"It's a flexible and cost-effective solution," says Snap-on's Tom Bolenbaugh. "It can also flush service hoses and internal circuits to prevent contamination."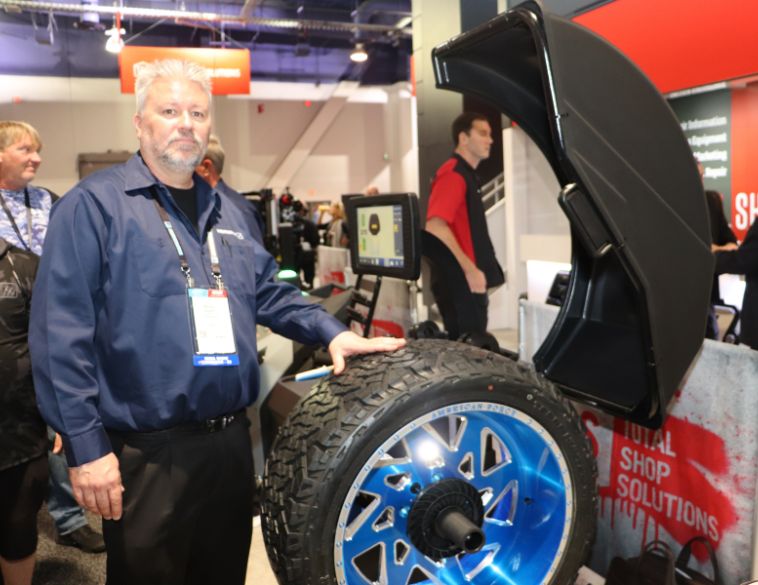 Wheel balancer
Snap-on also showcased a wheel balancer under the Hofmann brand.
The new Armored Series 2400P balancer was designed to service rims with high precision and a gentle touch.
Touch screen operated, the device made of resistant steel is suitable for the toughest conditions, features a compact, ergonomic intuitive design and is a breeze to use.
Workshops can also access reports and training videos on device use via Snapnet.