Autosphere had a very interesting chat with Mike Urban who has a great story to tell, a sense of humour and advice to share.
We asked Mike when he first established his business and found his business journey began in the heart of Oakville, Ontario, right on Maple Grove Dr. where he ran the Petro Canada franchise gas bar and Certigard three-bay repair shop. He said: "Picture this: it's July 3rd, 2004, at a quaint spot in front of the bustling Maple Grove plaza and in July of 2004, we were the go-to neighbourhood garage. This place had been serving the community since 1952—a legacy that spanned generations, and the previous franchisee held the fort for a whopping 40 years!"
Autosphere: How has the business expanded/changed over the years?
"In 2011, Petro Canada decided to disband the Certigard brand and close most repair bay locations, But our location was spared—were offered a 10-year lease to continue operating as an independent repair shop. So, on September 1, 2011, under the banner of Urban Automotive, we embarked on a thrilling new chapter," Mike tells us.
"We were living the dream until 2014 rolled around and Petro Canada decided to rescind our franchise agreement and turned our site into a corporate operation.
"Throughout our journey, we've had the pleasure of working with over 75 bright and energetic students from the local high school. They brought in their family, their friends, and their friends' friends for repairs. And thanks to these fantastic relationships, our business thrived and grew. By 2014, we had two full-time technicians, myself and a talented apprentice."
Autosphere asked about the current facility—size, number of service bays, services provided on-site, etc.
"On January 13th, 2020, Petro Canada dropped the bombshell that they wouldn't be renewing our lease on September 1, 2021, leaving us scrambling to find a new home for our shop! Our current location, just a mile away from the old one, awaited us!" Mike related.
This new place was a real fixer-upper. But with a can-do attitude and a healthy dose of craziness, Mike signed the lease on June 1, 2021, with a bold plan to open by August 1st—a mere eight weeks to completely gut the location and transform it into "a thriving automotive oasis, all while the pandemic continued to throw curveballs!"
Mike goes on, "To add a little extra spice to the mix, my service manager handed in his resignation! So there I was, juggling the daily operations of the business and spearheading the renovation of our new location. While some shops were closing or downsizing, I was opening a shop three times the size of our old one!
"But it was all worth it. Our new "customer oasis" waiting area is ten times the size of our former location, offering a welcoming space for all our valued customers. We're proud to say that we offer a full range of services at our new location, providing top-notch automotive care."
Autosphere: How many staff do you currently have?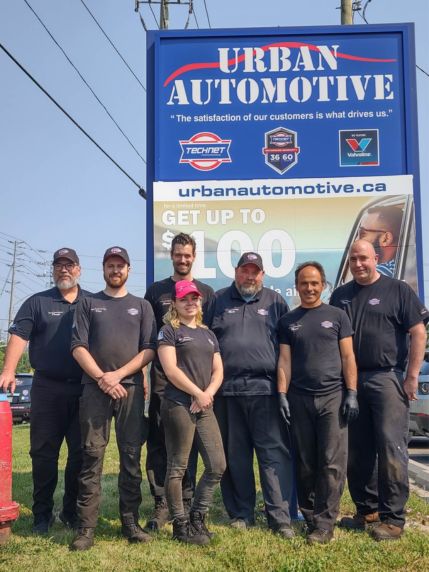 Mike replied, "Behind every successful company is an exceptional team, and we couldn't be prouder of ours! Here's who makes our shop shine—Andrew Douglas, our Senior Tech and Shop Foreman, brings over 30 years of experience and is celebrating an impressive 15 years with us. Derek Elliott, our Chief Operations Officer, boasts 20 years in the automotive industry and leads our mission to provide a Disney-style experience for every customer.
"And our talented technicians are—Mark Borges, with over 30 years of expertise, excels in vehicle repair and diagnosis. Claire Hawkins, our rising star, recently completed her second-year apprenticeship with us after four years in the trade. James Sullivan, with five years of experience, has completed his first-year apprenticeship and shows great promise. And Daniel Brown, after six years in the trade and over a year with us, will be starting his journey this June for his first-year apprenticeship.
"Then we have our financial wizard, Liz Wilson—our trusted bookkeeper and accountant for eight years. And Nina Elizabeth Urban, our head of security, has loyally protected us for a decade.
"Last but certainly not least, we have Amy Lynn Urban, my better half who has stood by my side for an incredible 32 years. As my business partner, psychiatrist, and biggest cheerleader, she has the toughest job of all!
"And me? Well, I'm Mike Urban, and with over 30 years of experience in the trade, I run the show. I realized a long time ago that I'm simply un-hirable because I prefer calling the shots. That's why I thrive as an entrepreneur, leading this amazing team toward success.
"Together, we form an unbeatable force, dedicated to delivering exceptional service and expertise. It's not just about fixing cars; it's about creating a family-like atmosphere and providing an unforgettable experience."
Autosphere questioned Mike's approach to training staff & technicians to keep up with automotive technology/repair requirements.
Mike had a great reply, "Training is a cornerstone of our business, especially in an industry that is constantly evolving. With the rapid advancements in technology and the emergence of autonomous vehicles, staying up to date is crucial. That's why I'm a strong advocate for partnering with reputable companies that can provide valuable training resources.
"Personally, I have benefitted from my association with the Automotive Training Institute (ATI) in Baltimore, MD. ATI has not only helped me grow and manage my business but also kept me informed about the latest trends and technologies. It's essential to align with organizations that can navigate the complexities of the industry and offer comprehensive training programs.
"When it comes to banners, we made a strategic decision six years ago to transition to Carquest TechNet who have provided us with training opportunities for our staff. The Carquest Technical Institute offers online courses 24/7, allowing our team to earn certificates and stay updated. To keep our team motivated, I even set challenges like rewarding the first person who completes 40 courses through CTI with $1,000 cash.
"Additionally, we endorse Valvoline oil at our shop, and they offer university-style training courses at no cost to our employees. This training ensures our team remains well-informed about the latest lubrication trends and helps us understand the distinctions between the different oils, lubricants, and additives we use. We also rely on Snap-on, another vendor, for training on their scanning equipment, alignment tools, and ADAS calibration equipment. Their support enables us to stay ahead of the technological curve.
"By investing in training and partnering with these reputable companies, we equip our team with the knowledge and skills to provide top-notch service to our customers. With ongoing training, we ensure we're always on the cutting edge."
Autosphere asked Urban about his customer base and catchment area.
Mike replied: "As of August 2021, our shop is located at the end of Southeast Oakville, across the street from the beginning of Northwest Mississauga. We managed to retain 85% of our customers during that move. However, as luck would have it, the pandemic hit, and many folks decided to sell their high-value properties and left the area. But our customer base has become quite diverse, and we attribute this success to our soaring Google ratings. With over 400 five-star customer reviews, we're like Oakville's very own rock stars. Every week, new customers come to us and for that, we're eternally grateful and feel truly blessed."
Autosphere inquired about equipment investments Mike had made in recent years.
"Efficiency is foremost and to achieve that, you need the right tools for the job," Mike states. "We've made some massive investments and it's paying off big time. One is the 19-ton truck hoist. With our lofty 20-foot ceilings, we can handle vehicles that our old location couldn't.
"Then we have our John Bean alignment machine. We make sure to update it every year—we're always armed with the latest information to take care of our customers' vehicles. And being pros, our VERUS PRO Diagnostic and Information System from Snap-on allows us to diagnose vehicle issues in a flash—all that valuable data is stored in the cloud through the Altus system. We can even send our customers their alignment and diagnostic scan results electronically.
"And back in 2015, we ditched those old-fashioned clipboards and introduced tablets thanks to our friends at Bolt-on Technology. We've been riding the technology wave ever since."
He continues, "Our latest and greatest addition is Snap-on's TRU-POINT ADAS calibration equipment—the top-of-the-line with every piece of hardware available. We're talking state-of-the-art repairs here and we're one of only 10 shops in the whole of Canada that's rocking this Snap-on gear.
"We're not just any old shop. We've got the tools and technology that make us stand out from the rest and ready to tackle any challenge that comes our way."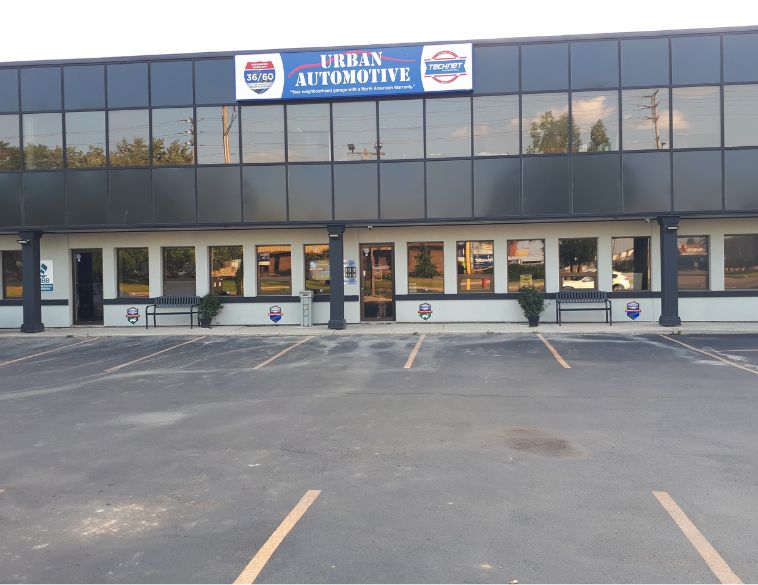 Autosphere wanted to know how Urban marketed to his customers for new clients, and repeat customers.
"We've got a special treat for each of our customers. For the past 19 years, we've sent our customers off with a little something extra—personalized mirror danglers hanging from their rearview mirrors. They have a heartfelt message thanking the customer for trusting us with their vehicle and telling them which skilled technician worked on their ride. A real personalized touch!" Mike tells us.
"We've got some goodies hidden in those danglers too. At the bottom of the message, there's a little $10 off coupon for their next service and it says they can give it to a friend/family member. We've even got a "Refer a Friend" program. We include two of those business card-sized coupons with every invoice. When they hand it over to their friend or family member that lucky first-time customer gets $25 off their first service or repair.
"Flip that coupon card over and they find a handy map to our shop. But here's the real kicker—there's a spot on the card for the person who shared it to write their name and once that card is presented to us, we drop it into our raffle box. At the end of every month, we draw a lucky winner who gets to take home a fabulous $100 Amazon gift card!
"When you visit our shop, you not only get top-notch service and expertise, but you also get a little something extra. We're all about making our customers feel special and spreading the love."
Autosphere asked if COVID-19 impacted business operations in terms of safety for staff as well as services and protocols for customers.
"Thankfully," Mike states, "I must say we've been incredibly fortunate that none of our staff was hit with the COVID-19 virus. We owe a big thanks to my CFIB (Canadian Federation of Independent Business) affiliation, who kept me updated on government requirements guiding us on how to handle the situation. In fact, we stepped up our game during the pandemic and kept our shop thriving.
"We introduced a pickup and delivery service for our customers—they loved it! We made sure the whole process was contactless and squeaky clean. Armed with sanitizing cloths, masks and gloves, we'd zip over to your place and give your vehicle a good sterilization before our technician set foot inside. We went all out with our five-point vehicle protection package, covering everything from the steering wheel to the shifter, seats, floor mats, and door handles.
"We liked it so much we've decided to keep these extra perks even as things get back to normal. Our five-point protection package is now a staple for every vehicle we service. And that pickup and delivery service we started during COVID-19 is still going strong! Plus, we've amped up our convenience game with authorize.net, so customers can pay for their vehicle with just a click through an email link.
"So we've got you covered with top-notch service and safety measures."
Autosphere inquired if Urban has any plans for the business in the future.
Mike staunchly replied, "Heraclitus, the wise old Greek philosopher, hit the nail on the head with his timeless quote: "The only constant in life is change." And we're embracing that philosophy here at Urban Automotive! We're on the lookout for a stellar service writer to join our front counter team because we believe in delivering a Disney-like experience to every single customer.
"Our sights are set on conquering the ADAS calibration service realm. We're leading the charge for surrounding collision centres and repair shops, making sure those advanced driver assistance systems are perfectly calibrated."
Autosphere asked if Mike wanted to add anything else.
"First and foremost, I want to say that change is our middle name here at Urban Automotive—we embrace it! From our humble beginnings as a Petro Canada franchise to our current location. We've weathered storms, danced with technology, and come out stronger than ever. We've even managed to keep our staff COVID-free.
"But our customers are the real stars of the show! We've got a diverse bunch, thanks to our Google ratings shining very brightly. With over 400 five-star reviews, we've become the talk of Oakville. People come to us from far and wide. We like to sprinkle a little laughter into every interaction because life's too short to be serious all the time. And our team is the engine that keeps this operation running smoothly.
"So, to answer your question, is there anything else I'd like to add? Only this: Life is a highway, and we're cruising down it with a full tank of gas, a toolbox of laughter, and a team of automotive enthusiasts who are ready to make your experience unforgettable. Whether it's ADAS calibration or a friendly chat about classic cars, we're here to serve you with a side of humour and a sprinkle of automotive magic."
Sounds like Urban Automotive has what many repair shop owners dream about!