This year saw another successful Slapshots event raising money to help those in war-torn Ukraine.
Chalk up another big score for Slapshots for a Cause as 40 determined skaters took to the ice to have a fun hockey game but more importantly raise much-needed funds for the suffering people of Ukraine through the Canadian Ukraine Foundation (CUK).
Orest Sklierenko, Volunteer President of the CUK was on hand to receive the cheque from Slapshots for $7,000.00 on behalf of his organization. He told those gathered about some of the items they help provide to those in Ukraine and for those who had made it safely to Canada for refuge from the horrors of the war with Russia.
Sklierenko sincerely thanked the organization and said it was an honour and a pleasure to be there with Slapshots for a Cause again. He went on to give a rundown of what is currently still happening in Ukraine saying there are still 6,000,000 Ukrainians internally displaced and 8,000,000 have left the country. So he is grateful for the support as it supplies monies to the temporary hospitals, ensures hygiene and the supply of medical kits. The Foundation of 31 volunteers is doing all it can with monies donated to help the people of Ukraine.
And you can help too! Next year, get out those skates, get them sharpened, grab a stick and get out on the ice with the rest of the aftermarket people—men and women—and help raise more monies for the people of Ukraine.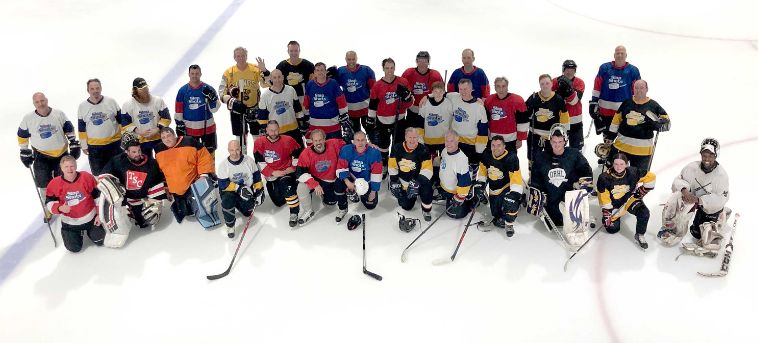 Challenge plus one
Slapshots for a Cause has four principles—a little skating; a little drinking; a little eating; a little donation and a lot of laughs! And more people need to take part in this fun event.
In fact, Slapshots for a Cause President Matt Koval has issued a challenge—'Challenge Plus One!' He asked that everyone who was on the ice for this game get one more person to sign up for next year—that way they can double the monies to be presented to the charity! C'mon, aftermarket people… make it a date to get in on this for 2024… get out on the ice and do your part! Remember, it's also a fun time with all your colleagues!
Another big hit at Slapshots was an autographed Mike Bossy hockey stick donated by Luc Champagne of Autosphere! This caused a lot of excitement and tickets were sold to see who would win the treasured stick of this famous hockey legend—who we learned is Ukrainian! And the winner was Paul Thompson!
Slapshots for a Cause was started by Brad Shaddick thirty years ago, as he wanted to do something for a charity and decided on a hockey tournament rather than another golf event. Lube Koval came forth and happily offered to sponsor the ice rinks for these tourneys. Unfortunately, Koval passed away a few years ago but his widow Janice has gamely stepped up and has been sponsoring the rinks since that time for which the organization is deeply thankful.
To sum up the day, it was determined that Team Three was the winner of the Lube Koval Memorial Trophy as the best team in the tournament. Congratulations to all!