The use of foreign labor is a very interesting solution for shop managers, when the process is well prepared.
Difficult to find local workers for automotive aftermarket shops. In a context that is close to full employment, recruiting an automotive technician is quite a feat. It's no wonder that some garage managers are turning to foreign labor to fill vacant or potentially vacant positions.
Co-Owner with Guillaume Lavoie of the NAPA AUTOPRO Pierre Lavoie shop in Baie-Comeau, Benoit Michaud explains that the difficulty in finding workers for his large workshop is not due to its remoteness, but rather to the presence in the region of large employers who offer attractive conditions.
"There are a lot of foreign workers in the area," noted Michaud, who, unable to clone two of his best technicians, turned to an agency, JobGo, to help him find two rare gems. "I wanted to deal with an agency, because the process of bringing foreign workers here is terribly long and complex."
The process took 16 months, a delay compounded by the extensions of the pandemic. In this search, candidates were evaluated on site in the Philippines and Michaud chose two experienced technicians, including Jaypemel Recana, who has been on the job for just a few weeks.
A solid preparation
Before the arrival of this first worker – a second should have arrived in Quebec by the time you read this article–the garage owner had prepared the ground. In anticipation of adding these two workers, Mr. Michaud simply purchased a house to accommodate them. An investment according to him which will prove its profitability and allows him to offer a housing of proximity at moderate cost. At the end of the three-year contracts of these immigrants, he wants to keep them in the team and sell them or put it on the market.
Same thing in Rimouski where David D'Astous, Co-Owner of Service Ruest et Babin, member of the OTOBOX network, prepared the arrival of Ruffy DeCastro and Paul M Yuson well in advance.
"I managed to find a large apartment, which is not easy here, where the occupancy rate is almost 100 percent," says the entrepreneur. "I get along with them on the rent, but I'm very reasonable. These two technicians send a lot of money home to their families and sometimes a little too much, so I helped them put together a budget. For them, the salary is impressive. However, the cost of living is high in Canada compared to their home country."
Local immigrant-serving agencies have played an important role in the integration of these foreigners who are starting from scratch, without driver's licenses or bank accounts, among other things.
D'Astous also turned to an international recruitment agency, RM Recruitment, a decision that made the process 95% easier, he says.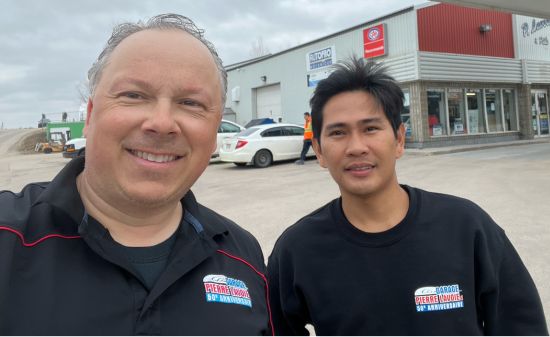 It's all in the attitude
Both Mr. D'Astous and his colleague from Baie-Comeau are excited about the attitude of these new employees. Certainly, an update of the knowledge is necessary, but the technical bases of the Filipinos were solid. "One worked for a BMW dealership and the other had experience with prestige cars," says D'Astous. "They are incredibly resourceful, get it right the first time and show a natural willingness to learn."
Mr. Michaud was equally enthusiastic about his worker, who started learning French as soon as he arrived and showed a great willingness to learn to work on unfamiliar equipment.
The investment to recruit from abroad is high. We are talking about more than $12,000 per head without counting all the extras, such as the supply of tools or new accessories in the dwellings.
Both garage owners insist that the operation is profitable. "We need them, because we can't find a new generation of workers here," explains Michaud. "The sustainability of our companies depends on it. In addition, these are people who have the right values and are hard-working. For me, the possibility of helping them realize their dream of a better life and of soon inviting their family to settle here is of great value."
David D'Astous also recommends that garage owners with hiring problems seriously consider international recruitment. "If I can't find one here, I'll definitely recruit from abroad," he concludes.
A concern for AIA Canada
When asked about AIA Canada's position on the use of foreign labour to fill positions in the automotive aftermarket, the Association responded that the shortage of workers in the industry requires not only new and innovative domestic strategies, but also reinforcements of workers from outside our borders.